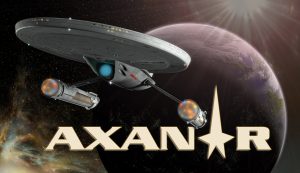 Just when we thought it was winding down…
Three days after J.J. Abrams announced that the copyright infringement lawsuit against AXANAR and Alec Peters was "going away," the Axanar attorneys at Winston & Strawn filed a legal Response to the most recent amended complaint and ALSO filed a Counterclaim for Declaratory Relief.
Now why would they go and do a provocative thing like that just when the studios were about to start playing nice???
I decided to ask Axanar's lead attorney in the case, Erin R. Ranahan.  It turns out there was a filing deadline on Monday that, if missed, could have severely and negatively impacted Axanar's ability to successfully navigate this lawsuit.  Ms. Ranahan explained the situation…
We filed the counterclaim only to preserve Axanar's rights in the event that Paramount and CBS do not dismiss their claims as J.J. Abrams and Justin Lin stated they would, do not issue reasonable guidelines, or the parties are not able to reach a settlement. 
While it is our contention (as described in the counterclaim) that Alec has been attempting to play nice both before and after he was sued for creating fan fiction in the universe in which he has been a lifelong fan, unfortunately the lawsuit remains pending, and we are thus required to abide by the deadlines governing this case.
Axanar was required to file an answer and any counterclaim yesterday pursuant to the case deadlines, and we know from experience that the Court is not likely to push back any deadlines (e.g., the Court moved up the trial schedule proposed by the parties, and denied Plaintiffs' request to have more time to respond to Axanar's first motion to dismiss). 
The announcement by J.J. Abrams and Justin Lin Friday night was a complete surprise to Axanar, as was the announcement shortly thereafter that CBS and Paramount would be issuing guidelines for fans moving forward.  Of course we are grateful for this support, and are pleased that Plaintiffs have reversed their position on providing guidelines.
We can confirm that since the case was filed we have made multiple settlement offers to Paramount and CBS, and have been engaging in ongoing discussions with them.  
I then asked about the Counterclaim itself.  Obviously, if a Response was due yesterday, then so be it.  But even though yesterday was also the deadline for any Counterclaim to be filed, that doesn't necessarily mean Axanar has to file one, right?  After all, if Paramount and CBS have decided to move toward a settlement or even a dismissal, isn't this the wrong time to suddenly "up the ante" with a Counterclaim?
Ms. Ranahan responded…
While we have included a single claim for declaratory relief, this claim is not "upping the ante" given that we are not seeking any monetary damages, but simply a declaration of fair use or non-infringement in the event that the case is not resolved, which we intend and hope that it will be.  Of course, if CBS and Paramount dismiss their claims against Axanar, or we are otherwise able to resolve these claims, we have no intention of pursuing the declaratory relief claim, and would agree to dismiss it as part of any settlement.
And there you have it.  For those not familiar with the term"Declaratory Relief," it simply means that Axanar is asking the Court to make an official statement (a declaration) and is not asking for any monetary damages.
In this case, according to the filing (which you can read here) Axanar would like the Court to state as a ruling, "…the rights and obligations of Plaintiffs and Defendants under the Copyright Act, and declare that Prelude to Axanar and the planned Axanar scripts and film are not infringing."
The first half of the filing is filled mainly with legalese guaranteed to make the eyes of the non-lawyer glaze over.  However, beginning on page 15, the filing begins to outline the defense strategy as this case proceeds and their reasons supporting the Counterclaim.
I am certain that many fans will revert to their former "professions" as armchair attorneys in analyzing and debating those arguments…even though I really wish we would all just keep quiet and watch the show from a safe distance.  I still believe we should be fans and not lawyers.  It's certainly an interesting read, folks, but there's no need for the rest of us to do the judge or jury's job for them
---
The Axanar website now features an official statement regarding  yesterday's filing, very consistent with what Ms. Ranahan told me:
Yesterday, Axanar Productions, through its law firm Winston & Strawn, filed a response to the first amended complaint filed by CBS Studios and Paramount Pictures. The response includes a Counterclaim for Declaratory Relief that previews Axanar Productions' fair use defense, provides substantive background on how Alec Peters operated in good faith in his dealings with the Plaintiffs, and describes Alec's fruitless four year struggle with CBS to obtain fan film guidelines.
This filing was necessary because, despite J.J. Abrams' assurance that the lawsuit would be "going away," and confirmation that CBS is in settlement talks and finally working on fan film guidelines, Paramount and CBS have not yet dismissed the lawsuit. Axanar Productions must therefore meet deadlines set by the court and proceed as if the lawsuit will continue until the situation is resolved.
We're also still working to address the concerns of CBS and Paramount in a manner that will allow us to produce AXANAR, and satisfy over 10,000 backers and fans as well as the tens of thousands who have rallied to our side on social media and in public.
Regardless of the outcome, we are overwhelmed with gratitude for the words of support and encouragement we've received from J.J. Abrams and Justin Lin (as well as many other professionals in the filmmaking community). We are especially thankful for the support we continue to receive from our fans and backers.