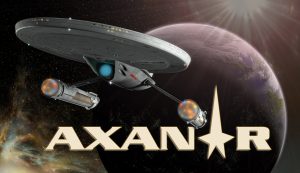 Four weeks ago, I wrote a very impassioned op-ed decrying that Trekkers should be fans and not lawyers.  I am now going to turn myself into a complete hypocrite and become an armchair attorney myself…partly because of the shameless reason that it seems to boost readership of one's blog but also because I think there's a fascinating details about the latest Axanar lawsuit news that's not being reported at the moment.
First, though, a very important set of disclaimers!  I am not a lawyer; I never went to law school; and I have NOT spoken to Alec Peters or anyone at Axanar about the strategies of the legal team.  I spoke briefly by e-mail to Axanar lead attorney Erin Ranahan, and I reported pretty much everything she told me in this blog entry.  Also, although my wife is an attorney at a separate law firm in Los Angeles, she makes it a point NOT to discuss the Axanar case with me, and nothing I will be saying today reflects in any way her thoughts or opinions about this case.
That said…
By now, many of you probably know that the copyright infringement lawsuit by CBS/Paramount against Axanar and  Alec Peters has NOT "gone away" as J.J. Abrams announced it would on May 20.  And we know it hasn't gone away because yesterday the CBS/Paramount attorneys at Loeb and Loeb filed an ANSWER to the COUNTER-CLAIM that Axanar filed on May 23.
Keep in mind, the answer to the counter-claim was due yesterday, and unless CBS/Paramount was 100% certain the complaint would be either dropped or settled, they HAD to file their answer.  Does this mean that the case is NOT being dropped or settled?  There's no way to tell.  Alec Peters himself made the following public comment in a podcast from June 11:
We'll see what happens.  J.J., who was absolutely wonderful in his support of us, and Justin Lin…there's only so much they can do.  There's Paramount and there's CBS.  CBS owns the I.P. [intellectual property -Jonathan]; Paramount owns the rights to make movies.  So they're both parties to this lawsuit, and until they both decide that they're gonna settle this, nothing's gonna happen.
So, yeah, people are like, "Oh, the lawsuit's over!"  No, it's not over.  We're in settlement talks.  That's it.  And I can't really talk about that.  So until you hear, "The lawsuit has been settled," nothing is settled.  It keeps going.  We keep filing our paperwork; they have to file their paperwork.  Nothing's over.
That being said, we're so grateful to J.J. Abrams.  For him and Justin Lin to both step up and support us…we're really incredibly grateful.
So where does that leave us?  Well, there's still a chance that the lawsuit will either be dropped or be settled, but the other option is that it goes to trial in January, and it's that contingency I'd like to address here because, as I said in my rather provocative title to this blog entry, I think that Axanar may have gotten a bit of a "gift" in the answer filed yesterday by CBS/Paramount.
First, though, let's take a brief look at the counter-claim itself.  As I said, I don't have any inside information, but it's pretty clear that the counter-claim is intended to "open up the discussion" to include additional talking points that weren't included in the original complaint.  Had Axanar not filed the counter-claim, CBS/Paramount would have pretty much controlled the entire scope of discussions, and things that Axanar may have wanted to bring up might be ruled as inadmissible or irrelevant by the judge.
So the counter-claim (start reading it on page 16 of 28) brings up the following points:
Gene Roddenberry publicly embraced Star Trek fan fiction efforts.
There has been a proliferation of Star Trek fan creations in all media (print, video, artwork, etc.) intended to both honor and expand the fictional universe of the franchise
Historically, the Star Trek license holders have not sued any fan over their efforts to contribute to the world of Star Trek in any way.
It brings up the biography of Alec Peters as a huge Star Trek fan looking to embrace the franchise like so many other Trekkers have done and not simply as some outsider seeking fame and fortune from exploiting existing IP for his own selfish gains.  (Some of you reading this are already typing up a nasty comment.  Please don't, as I am simply summarizing the counter-claim, not commenting on the validity of any particular point.)
Alec Peters has worked directly for CBS assisting them in their preparation of items from Star Trek: The Experience in Las Vegas for auction.  He donated his time, services, and even warehouse space in order to help CBS.
Alec Peters reached out to CBS licensing and spoke directly with multiple representatives of that corporation about his Axanar fan film project.
This is a direct quote from the complaint (and critical, in my opinion): "Though CBS would not provide specific guidelines, Mr. Peters understood from these discussions that as long as his works stayed non-commercial they

would be tolerated, and that CBS would let him know if he had "gone too far."

Rather than contacting Alec Peters to tell him he had "gone too far," CBS and Paramount simply sued him (17 months after Prelude to Axanar had premiered).
The counter-claim finishes by including the comments by Justin Lin and J.J. Abrams regarding the complaint, showing their support of the fans, and announcing the case would be "going away."
And of course, Axanar argues for a "fair use" defense, something you can read more about here.
"Fair use" is a tough thing to prove on either side of the courtroom.  But it seems to me there's an 800-pound mugato in the cave that is going to factor in heavily to this case, and that's all the many, many Star Trek fan films that have been made so far that CBS and Paramount have (for the most part) done nothing about.
I'd assume that Axanar's lawyers have long ago found the amazingly complete and expansive Star Trek Reviewed blog from Barbara Reader.  It's amazing, and I take my fan hat off to Barbara for being so thorough.  She's catalogued, commented, and linked to over a hundred different fan films and series going back half a century to Super-8 home movies of kids in their living rooms playing Star Trek back in 1967…all the way forward to the "giants" like Star Trek: Renegades, Star Trek Continues, and of course, Star Trek: New Voyages/Phase 2 (and everything in between like Farragut, Exeter, Intrepid, Hidden Frontier, Dark Armada, Antyllus, and countless others).
So part of the argument for "fair use," I'm guessing, will be the question of "Why us and not them?"  Certainly it could be argued that using a couple of characters like Garth and Soval isn't nearly as derivative as using the entire TOS bridge crew and several other minor characters, as well…along with the USS Enterprise, Klingons, and even George Takei and Walter Koenig reprising their roles as Sulu and Chekov.  So why do Star Trek Continues and New Voyages get a pass and Axanar doesn't?  Star Trek: Renegades cost four times as much to make as Prelude to Axanar, was 90 minutes long, and even had a red-carpet premiere at a Los Angeles theater with paparazzi and limos and everything.  Or if it's the use of a permanent studio that bothers CBS and Paramount, then New Voyages and Starship Farragut/Star Trek Continues beat Axanar to the punch years before Alec Peters raised his first dollar for the project.  (And for those arguing that Ares Studios is "for profit," interestingly, that fact was not mentioned in any of the documents filed thus far by the plaintiffs.)
Of course, there's other aspects of "fair use" potentially in play, as well, but the only thing I wanted to mention (and already did) is that now those hundreds of hours of other fan films and series are now part of the discussion, admissible into discovery and evidence, and relevant to the case.  They weren't necessarily admissible before (they might have been with some arguing), but now they most definitely are.
So what about that "gift" I mentioned??  Thanks for being patient…here's your reward.
In their answer to the counter-claim, Loeb and Loeb mostly said things like
The allegations in Paragraph X are legal conclusions and no response is required…
and
Counterdefendants lack knowledge or information sufficient to form a belief as to the truth of Counterclaimants' allegations in Paragraph X and, on that basis, deny the allegations.
Fair enough.  That's pretty standard.  But here's a few places where a door is now open that wasn't before:
Counterdefendants admit that Star Trek has been celebrated through conventions, books, movies, videos, art, short stories, and Fanzines.
So now other fan film projects ("videos") are absolutely on the table for discussion.  CBS/Paramount acknowledges that they are aware of these as well as fanzines.  And of course, the studios have not exactly been aggressive in trying to shut them down.  Which brings us to…
Counterdefendants admit that they have not sued with respect to all uses of the Star Trek Copyrighted Works, but deny that they have not previously sued to enforce their intellectual property rights in the Star Trek Copyrighted Works.
So this allows for both sides to explore how many lawsuits CBS and Paramount have actually filed over the years…although the studios have now admitted that they've let some things pass without action.  And that's fine.  It's their I.P., and if they don't want to put resources behind suing every Tom, Dick, and Harry Mudd with a camcorder, that's their business.  But it does become something worth considering if the studios' previous litigation actions have actually been rather few and far between.
Why is this point so important?  Because if CBS and Paramount almost always "look the other way," then wouldn't it be reasonable for a fan filmmaker like Alec Peters to expect more of the same if he played by the same "rules"?  So the number and frequency of other lawsuits initiated by the Star Trek license-holders over the years could well have a significantly bearing on the resolution of this case should it go to trial.
But the real "gift" in the answer from the studios (in my somewhat humble opinion) comes in the following three statements:
Counterdefendants admit that CBS Consumer Products Inc. worked in the past in a limited capacity with a company with which Alec Peters was involved.
Counterdefendants deny that Defendant Alec Peters "reached out to CBS" on multiple occasions, admit that Defendant Alec Peters spoke to Bill Burke and to John Van Citters, but state that Mr. Peters was never given permission to use Star Trek Copyrighted Works, nor was he provided with "guidelines" regarding ways in which he could use Plaintiffs' intellectual property for his Star Trek film projects, for either commercial or non-commercial use, nor was he told that his use of such Star Trek Copyrighted Works would be tolerated. Counterdefendants admit that Peters met with Liz Kalodner on the Paramount Studios lot and spoke with Ken Ross, who attended a portion of the Prelude to Axanar showing at the 2014 Comic-Con.
Counterdefendants deny that they did not "express any concerns" to Alec Peters prior to filing this lawsuit.
So why is that potentially a "gift"?
Remember, I ain't a lawyer, but here's what I'm thinking as a layman…
First, CBS is acknowledging that Alec Peters did, in fact, do work for them.  (And in fact, they can't deny such a fact, as that would be perjury in open court.)  And while the phraseology does try to minimize the direct relationship (note the "in a limited capacity with a company with which Alec Peters was involved" way they describe it), it still establishes the official contact.  Alec Peters did, in fact, deal with CBS previously and in a positive and mutually-beneficial way.  CBS's wording is purposefully vague, but it doesn't dispute anything in the counter-claim, which is very specific about the services that Alec Peters provided.  So point for Axanar…albeit a small one.
But the second and bigger point is that CBS acknowledges that Alec Peters spoke directly with not one, not two, not three, but FOUR different representatives of their corporation…and in one case, even came to the Paramount Studios lot to do so!
Again, this is all true, so the "gift" is simply that CBS and Paramount didn't try to obfuscate the facts.  And even though Loeb and Loeb bend over backwards in their answer to state that Alec Peters was not given permission or guidelines, and that they deny that they did not express concerns, it still brings up a "he said/they said" situation that could play out very interestingly during discovery and, quite possibly, cross-examination.
You see, without any written follow-up to any of these meetings, it will be hard for CBS and Paramount to argue that they specifically told Alec Peters that what he planned to do was not allowed.  Granted, Alec will probably have a hard time proving that he was given permission either…except that now we hearken back to what I said before about acknowledging other fan films.  None of them were given permission either, and yet none of them got sued.  Axanar did.  What was different?
The actual content of those four discussions will be critical to the resolution of this case.  Unless any of these four representatives specifically said, "No, don't do this," is it fair for Alec Peters to say, as he claims, that he "…understood from these discussions that as long as his works stayed non-commercial they would be tolerated, and that CBS would let him know if he had 'gone too far.'?"
After all, it's impossible for CBS and Paramount to establish what Alec Peters was thinking.  And unless they have documentation of the discussions, and unless there's a paper trail directly from them to Alec Peters recording their feelings on the matter (and I don't believe there is), this isn't simply a "he said/they said" situation as much as a "they implied/he inferred" situation.
And that, my friends, could make for a VERY interesting day in court!