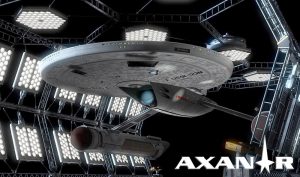 And so we come to the fourth and final part of this blog series.  (Time sure flies when you're writing 2,000 words a day!)  Here are links to Part 1, Part 2, and Part 3.  If you haven't read them yet, to quote Pavel Chekov, "Now vould be a good time."
It's probably pretty darn busy right now at CBS and Paramount.  What are been asked for (or rather, ordered) by the judge will most likely require all hands on deck for much of the week–tracking down documents and e-mails and financial records, compiling them, composing careful answers to submitted inquires from the defense, and creating a full privilege log.  Plaintiff's Attorney Jonathan Zavin said as much in court last Friday toward the beginning of his presentation (I'll post the court transcript when I receive a copy) and even called the amount of documentation requested "unduly burdensome" 25 different times in the plaintiff's responses in the Joint Stipulation document.
So, where does everything go from here?
Well, the path seems pretty obvious for Team Axanar: stay the course.  As I've discussed these last three days, they're going to head into trial armed with potentially a lot of useful stuff, and the only way they really lose and lose big is if the court finds BOTH no "fair use" AND finds the violations were all WILLFUL.  And as I've explained previously, that latter conclusion is gonna be tough for the plaintiffs to prove.  So while I wouldn't describe Alec Peters as "verdict-proof," he and his team are nonetheless sitting in a much more legally advantageous position.  (In Star Wars parlance, you could say the defense "holds the high ground."  And no, I don't mean the moral high ground, just the legal high ground.)
This by no means implies that Axanar is guaranteed to come out of this lawsuit unscathed and smelling like a rose.  Anything could happen at trial…it's just that some outcomes are more or less likely than others.
The studios, however, have a major decision to make right now: go to trial or end the lawsuit now?  Which option will they choose?  Well, let's play out this chess game hypothetically…
OPTION 1: PLAINTIFFS GO TO TRIAL
Obviously, the only way the studios have to win this case is to go to trial.  Settling or dropping the lawsuit gets them nothing.  But to get to trial, the studios now have to ante up (poker term), and the buy-in is their full Star Trek financials for the last 8 years…plus a huge amount of other documentation, some (possibly much) of which will likely make the case significantly easier for the defense.
There's also one other thing I haven't mentioned yet, and it comes from an exchange that happened during Friday's hearing.  Magistrate Judge Charles Eick was discussing the potential financial harm alleged in the complaint with plaintiff's attorney Jonathan Zavin.
And then the judge said this:
You have to defend–do you not?–the allegations made in the pleading.  If you had no basis for making the allegations in the pleading, then there's a Rule 11 problem.
I scribbled this down in the notes and then wondered what a "Rule 11 problem" was after I got home.  Fortunately, the American Bar Association website was happy to help:
Rule 11 states in part that attorneys must not file suit without evidentiary support for the allegations contained in the complaint.
What this means is that CBS and Paramount needed to have already collected some hard evidence or a solid indication that Axanar had or will directly harm them financially in some way.  Simply saying, "We'll prove that later in court with our expert witness," isn't enough.  You have to have evidence before you file a lawsuit, otherwise you risk wasting the court's time with a frivolous complaint.  As such, any lawyer who hasn't done his due diligence on the alleged damages before filing a pleading may be sanctioned (or his firm sanctioned and forced to pay a penalty) and/or held in contempt.
The fact that it was Magistrate Judge Eick who brought up the possibility of a Rule 11 violation (as opposed to Axanar attorney Erin Ranahan) was significant, as it serves as a warning to the plaintiffs and a possible "road map" for the defense to score some major points if the plaintiffs don't deliver a damn good basis for their claim of damages.
It was hard to tell from listening to Mr. Zavin whether or not the studios had such a basis when they initially sued Axanar Productions.  At one point, it sounded more like the plaintiffs were planning to delve into those damages during trial with an expert witness on the stand.  But according to the judge, that won't be acceptable to the court.  By this Friday, the studios need to share everything they've got on exactly how much financial damage Axanar will do them and also how precisely they arrived at that amount.
If the studios actually had all that already, then there's no problem and everything I've just written for the last six paragraphs is irrelevant.  But if they didn't do the homework, it's pretty late to start writing the essay for class now.
But let's assume that the studios get everything together by this Friday and decide to go to trial.  And let's even assume that the studios win (which is quite possible–"fair use" is a fickle mistress and challenging to prove).
So assuming the studios win, they likely won't be able to prove specific damages and so will probably opt for a statutory award as their verdict.  And as I said in Part 2, unless they can show WILLFUL infringement, the best the plaintiffs will get is likely a 5-figure or low 6-figure verdict.  This case is already costing the studios hundreds of thousands of dollars…and the price-tag will spike up during this current week as the studios race to gather all of the discovery documentation they've been ordered to produce.  So at best, the studios break even on legal costs…and probably don't even cover them (and attorneys fees are seldom included in the verdict during cases like this…or so I am told).
And then there's the counterclaim.  Remember that from back in May?  It isn't just CBS and Paramount suing Axanar.  Axanar is counter-suing the studios, as well (counterclaim begins on page 15 of this document).  They'll be asking for legal fees (which they probably won't get) but also most likely for a few hundred thousand dollars to replace the funds that were lost keeping the studio open and operational while waiting for the first lawsuit to play out.
So even if the studios win the current lawsuit, there's no guarantee they'll win the counter suit.  And if Axanar comes out of the current lawsuit victorious, then they'll likely have an even easier time winning their counter-claim.  (In short, their argument would sound something like, "You wasted our time for over a year in a frivolous lawsuit that actually lost you money in the end…and for what?  Everybody lost, including our donors.  You could have avoided all of this with a phone call before you sued.  And now we're out a half million dollars, and we want you to pay us back.")
The gambit just might work…or it might not.  My lawyer friends tell me it's WAY too early to even guess what would happen in a counter suit.  But it is still hanging over the studios, whether they take it seriously or not.
So yes, the studios could go to trial and try for the win.  But it'll cost them time and labor to get there, they will have to release their finances (something studios HATE to do), they risk a Rule 11 violation if they don't sufficiently explain a direct causal link between Axanar and monetary losses, and their chances of winning big with a large, favorable judgment just dropped significantly with last Friday's ruling.  The studios still have a reasonable chance of winning the case; it just probably won't be worth it if/when it happens.
Or…
OPTION 2: PLAINTIFFS SETTLE OR DROP THE CASE
Well, first of all, I don't think the studios will just drop the case.  They have way too much invested already, and they really don't like Alec Peters all the much (or so I've been told by somebody who knows somebody–take from that what you will).  And if CBS and Paramount just walk away, other fan films may feel suddenly emboldened to "push the envelope."  Also, Alec would still have that counterclaim that the studios would have to deal with.  So that leaves settling the case as the real option 2.
A week ago, I would have placed the odds of the studios successfully settling with Alec Peters as somewhere between slim and none.  Now, to be honest, I think it's close to 50-50.  And the reasons are what I just cited above:
Studios hate to release their financials
They run the risk of a Rule 11 violation
Their judgement award will likely be modest at best
And add to that list the possibility of something damaging or embarrassing coming out during trial.  Simply having the judge rule that Starfleet uniforms aren't eligible for copyright protection (and, no, they aren't if they don't have patches or comm badges attached to them) could cost hundreds of thousands of dollars in licensing revenue from Halloween costume licensees and companies like Anovos.
And of course, another reason to settle is that it guarantees that the studios won't look like laughing stocks if they actually LOSE this case (or win with just a tiny slap on the wrist for Alec Peters).  "The studios sued their own fans," the trade magazines will read, "and came away with nothing.  Was it really worth it?"  Hollywood is watching.
And finally, there's still that counterclaim.  Regardless of whether the studios win or lose the current lawsuit, they'll still need to defend themselves in the counter suit.  And if they lose that one–and as I said, it's waaaaay too early to predict anything–it'll be even more embarrassing for the studios.
So in addition to eliminating any risks associated with losing the current case, a settlement by the studios now could include an agreement for Alec Peters to drop his counterclaim against the studios.  They'd probably have to pay him off (yeah, I know some folks out there just went, "Oh, HELL, no!"), but fans and other studios and the media would never know because settlement agreements are 100% confidential.
(On the other hand, if after the settlement, Alec makes more Axanar fan films, doesn't get sued, and suddenly has a bunch of money in his bank account to operate the studio…well, we'll all kinda know what happened.)
WILL THEY SETTLE?
As it turns out, Judge Klausner, the main judge in the Axanar lawsuit, has ordered both parties to sit down for one last attempt at a settlement next Monday, October 31.  Magistrate Judge Eick will facilitate.  The idea is to save Judge Klausner and both parties the hassle of a long, expensive, drawn-out trial that'll likely end up bruising everybody except the lawyers.  It's fairly common for judges to say, "Okay, try one last time to resolve it all yourselves before I have to step in."
But will it settle?  Well, now I get to shift from armchair lawyer to armchair psychologist (although I do actually have a psychology degree). Let's try to read the minds of Alec and the studios–and please note, this is all pure conjecture from here on out…
Okay, it's pretty reasonable to assume that the studios believe they are in the right.  They feel that Alec Peters has injured their property and cost them hundreds of thousands of dollars in legal fees.  In their mind, he's looking at a judgement in the millions.  So if they let him off the hook for just a million dollars, or even a half million, that sounds like a fair settlement, right?  More than fair!  And to let him off so "easy," I'm sure the studios will also make Alec agree to NEVER work on a Star Trek fan film ever again…and probably close down Ares Studios or Industry Studios or whatever it's called this week.
Now, what is Alec thinking?  Keeping in mind I don't know for certain, I would guess that he would love to go to trial (or else he'd probably have settled already) and win this case outright.  Unlike CBS and Paramount, he's not imagining a 7-figure verdict against him.  So if the studios offer to "let him off" for only a few hundred thousand, he'd probably laugh.
In fact, I suspect that Alec would want the studios to actually pay HIM…say, a half million dollars for all the trouble they've caused.  Remember, the settlement will likely include Alec agreeing to drop his counter suit, which could be worth at least a few hundred thousand if he wins.
Oh, and the studios will probably have to promise never to sue Alec again for anything Axanar related as he goes on to finish his fan film(s) like he promised the donors…and naturally, he'd get to keep his studio open, too.
As you can see, the two sides are starting off FAR, FAR away from common ground.  So the question is: who will blink?  I don't think it'll be Alec.  As I've mentioned in previous blogs, Alec really has nothing to lose but the case, and even in the unlikely event of a huge verdict, he's been through a bankruptcy before.  And remember, this is his dream he's fighting for.  And for those of you who don't believe in coincidences, this sign was next to a bus stop in front of the 9th Circuit Federal Courthouse on Friday morning…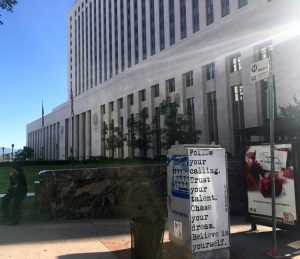 On the studio side, the main motivations are a combination of business practicality and pride (which, I suppose, is also true of Alec).  Although they still probably think they'll win this and win big, the discovery ruling complicates the equation quite a bit and threatens to sour the milk.
And then there's the risk of not winning and having to explain all these expenses and negative publicity to both Les Moonves (head of CBS) and the shareholders.  Somebody decided to sue Alec Peters and keep this lawsuit going.  How certain is this person of absolute victory?  Will Captain Ahab risk everything to harpoon the Great White Whale?
And of course, if there's any pressure from the top NOT to release the financials (and all of the other stuff I mentioned), then I suspect we'll see a surprisingly fast settlement within the next week or two.  A week ago, I didn't think the studios would be at all flexible finding a fair compromise to settle the case.  But as I said, I think it's about 50/50 now that the discovery ruling has come in and the studios likely aren't feeling quite as comfortable or confident.
And that, my friends, is why I said at the beginning of this previous blog I wrote about discovery: "…the entire case could be won or lost right now by either side–months before trial even begins–and both teams of lawyers know it!"
We'll learn more soon, folks.  The studios' delivery deadline is this Friday.  Settlement talks are next Monday, and Wednesday marks the end of the discovery period.  If anything major happens before trial, it'll likely appen in the next week or two!
Stay tuned…