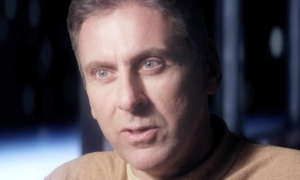 ALEC PETERS, the executive producer of AXANAR PRODUCTIONS) has arguably become one of the most controversial and polarizing figures in the world of fan films.  Having worked on the fan series Star Trek: New Voyages/Phase II, Alec ultimately set his sights on producing a Star Trek fan film of his own: Axanar.  Using the relatively new crowd-funding tools of Kickstarter and Indiegogo, Alec was able to go where no Star Trek fan filmmaker had gone before: past the $1 million mark in fan donations to build a studio and produce his dream project.
He also became the first-ever Star Trek fan filmmaker to get his ass sued simultaneously by two major Hollywood studios.
Rather than turning into a mass of quivering jelly and accepting a potentially multi-million dollar judgment against him, Alec was able to find a top intellectual property law firm to represent him pro bono (for free), and "David" took on "Goliath" in a case that I've analyzed extensively here on Fan Film Factor.  It was ugly, surprising, frustrating, amusing at times, full of twists and turns, and even covered by the mainstream media.  The case carried the potential of settling huge precedents in copyright law that could affect all fan films…for good or ill.  And thousands of fans and donors watched eagerly to see what would happen next.
But fandom was not united in their opinion of this case nor their feelings about Alec Peters.  Some fans (like myself) were huge supporters and proudly proclaimed, "I Stand With AXANAR!"  Others felt just as strongly that an arrogant and overconfident Icarus had flown far too close to the sun and deserved to plummet to a painful, smashing oblivion far below.
And then, unexpectedly to almost all fans watching the case (including yours truly), nearly 13 months after the legal complaint was first filed jointly by CBS and Paramount and just 11 days before the actual trial was set to begin, the two opposing parties announced to the public that they had reached a settlement.  The case was now officially over.
The settlement terms (those that have been revealed publicly–most of the details remain confidential) included the following provisions:
Alec Peters gets to make Axanar.  However, it cannot be 90-to-100 minutes as first planned.  He has to follow the constraints of the fan film guidelines and limit his film to two 15-minute segments.
Alec is ALLOWED to feature the original cast–which includes Gary Graham, reprising his role as Soval, and JG Hertzler–two professional actors who would otherwise have been banned from the production by the guidelines because they had previously worked on various Star Trek television series for Paramount.
Axanar Productions gets to distribute DVDs and Blu-rays of the finished film to fan donors (something else the guidelines prohibit other fan films from doing).
Prelude to Axanar can remain on YouTube.  Since Axanar is a sequel to that fan film, it gets to skirt the "no sequels or ongoing series" guideline.
All the other guidelines must be followed.
Alec will not be allowed to sponsor more public crowd-funding campaigns on Kickstarter or Indiegogo, but he will be allowed to solicit donations directly from backers into the project.
Alec had to admit that his production(s) crossed boundaries and were never approved by the studios (well…d'uh!), but he did NOT have to admit any infringement or purposeful wrongdoing.
It has been reported elsewhere that there will be no monetary penalty paid by Alec to the studios.  However, this detail remains unconfirmed.
It appears that Industry Studios (formerly Ares Studios), funded by a half million dollars in fan donations, gets to remain open.  This is also unconfirmed by the two press releases and donor e-mail that were released so far.
Alec will be allowed to make additional Star Trek fan films in the future, as long as they follow the guidelines.
These details of the settlement have shocked some, angered others, and generally left the community of Star Trek fan films talking almost non-stop about what they think happened and what they predict or hope will happen.
But there's one particular fan who has NOT been heard from yet…and he's key to everything that's going on.  Alec Peters has agreed to give me an exclusive interview with NO preconditions on any questions.  I was allowed to ask him anything–although I understood that there are some things he won't be able to discuss for reasons of confidentiality imposed by the court.  But everything else was fair game!
So here we go…
---
JONATHAN: Alec, thank you for agreeing to do this interview.
ALEC: Well, you were pretty damn persistent!  And I do appreciate all that Fan Film Factor has done to present a fair and accurate account of this case as it's progressed over the past year.
JONATHAN: Well, someone had to do it.  [Laughs.]  Okay, are you ready to play "Twenty Questions"?
ALEC: That many, huh?
JONATHAN: Yep, I counted.  And most of these are taken from comments I've received both here on Fan Film Factor and over at Project: Small Access.  These are NOT softball questions, my friend!
ALEC: I'm ready to answer anything I legally can.  Fire away.
JONATHAN: Okay, almost immediately after the settlement was announced, the first detractor comments came in.  I'm paraphrasing here, but it was essentially: "It's been over an hour since you announced the settlement!  Where the hell is the completed Axanar film???"
But seriously, you and Axanar Productions raised nearly $1.5 million in crowd-funded money over 18 months ago (I think that's the latest number I've seen).  So why isn't Axanar finished yet?  Why didn't you just film the feature while you were getting sued instead of waiting?  (By the way, I'm counting that as just one question.)
ALEC: That's all just one question?  This is gonna be a loooong interview!
JONATHAN: People want to know these things, Alec.
ALEC: I gotcha.  All right, here goes…
Well, first, of all, we just went through 13 months of a major lawsuit.. The good news is we had Winston & Strawn donating their services to Axanar. But the magnitude of what we just went through is important. We stopped production for 13 months because we felt it was too risky to proceed without knowing what level of changes we were going to have to make.  And understanding this, we knew we'd have to make changes; we just weren't clear what it would take to satisfy CBS and Paramount.
So asking where a movie is a bit unrealistic. We have spent the past year trying to keep Axanar afloat, settle the lawsuit, address the potential for monetary damages, and now we finally have clarity as to what's acceptable to the studios…so there is a lot to do now.
As to the dollars raised, let's unpack that number.
Because even though we've raised approximately $1.3 million through Kickstarter and Indiegogo, not all of it was for a feature film. Our first crowd-funding project was to finance PRELUDE TO AXANAR, which we completed, has won over 47 film festival awards around the world, and is considered one of the finest fan films ever.
As part of our second Kickstarter campaign, which was laid out, we rented a facility and built it out into a sound stage; built sets we would need; and covered some design and pre-production expenses.
Our third campaign, run on the Indiegogo platform, raised just over $500k which was, when added to the pre-production money we were able to use from the second campaign, approximately a third of what we projected the actual production budget of the feature was going to run. That's a lot of money, but in terms of producing a high-quality, feature length, science-fiction film, and building out a sound stage to professional quality, $1.3 million is not enough to cover all costs.
Our project, with original music, original visual effects, high-quality production design work, costumes, props and the rest was really ambitious and relatively cheap–it couldn't be done for only $1.3 million without the contributions of dozens of Star Trek fans who are also really good at what they do in the motion picture and TV industry.
So when it comes to answering the question "Why isn't Axanar on YouTube yet?" we ask people be patient given that this lawsuit just finally ended, and that a project of this magnitude takes time to come together in a finished form that we can be proud of…especially when you have to rely on folks who are giving their time and talent to us at low or no-charge.
And then, of course, there was the matter of the lawsuit…
JONATHAN: Yeah, a lot of people on both sides of this case wonder why you suddenly decided to stop all production just because of a little thing like a multi-million dollar lawsuit?
ALEC: Well, when we were served with the lawsuit at the end of December in 2015, we had some choices to make. We were, literally, weeks away from starting principal photography on the first third of the movie, but that presented some risks.  So we decided to put all new production on hold and just wrap up the work that had already been assigned.
JONATHAN: Like what?  What kind of work had already been assigned?
ALEC: Well, as you know, we were building sets for shooting. We were also pretty far down the road on costumes and props, so we honored our commitment to those companies to pay for materials and get that work finished. We also had a composer working on new music and our visual effects team were up to their elbows producing shots of starship fly-bys and firefights.
In addition to that, the script was getting polished, and we were wrapping up set construction and soundstage modifications.
During those first few weeks, we figured if we suspended production and offered to make whatever changes CBS and Paramount wanted, we could get back into production…albeit on a slightly modified feature film project. Our goal from the beginning was get the first part of Axanar in the can and share that progress with our backers and fans to help us raise the rest of the money we thought we'd need to produce the rest of the movie.
Unfortunately, things didn't work on the timeline we originally hoped.
JONATHAN: But after a few months, and especially after J.J. Abrams said the lawsuit was "going away" and it didn't, it seemed pretty clear that the studios weren't going to simply allow you to make a "few changes," shake hands, and let bygones by bygones.  And there was nothing specifically in the lawsuit that prevented you from producing Axanar anyway, was there? Why not just grit your teeth and make Axanar while the lawsuit was still going on?
ALEC: That wasn't really a viable option from where we stood. It could have just made everything more complex and, potentially, more expensive in terms of damages…especially from a "willful damages" perspective. Our attorneys recommended we hold off on production until we got the guidance we needed from either a settlement or the resolution of the lawsuit. Our production team agreed, and I thought it was the right thing to do.
JONATHAN: So here's a question that a bunch of people have asked: why did you choose to fight this lawsuit in the first place and not just agree to play nice after you got sued?
ALEC: I believe it would have gone differently had we been given a cease and desist letter or a heads up about the lawsuit. But once the lawsuit was filed, the game changed. The original suit sought monetary damages that could have potentially financially wiped out not just me and Axanar Productions but put other people in harm's way, as well (no one knew who CBS or Paramount were going to name as the "Doe's" cited in their complaint). So, caving in when the lawsuit was filed wasn't really a viable option.
All I can say is, "Thank God for Winston & Strawn!" because without their advice and representation, we would have had to fold immediately and shut down Axanar. So now I'm optimistic that we'll be able to make some really fun Star Trek now that the case is resolved.
JONATHAN: Okay, there's been a lot of discussion and controversy over this next question: how much money is left?
ALEC: From the funds raised through our crowd-funding campaigns? None.
JONATHAN: Actually, I knew that…but it leads into the real next question: how much of that $1.3 million was left when you found out you were being sued?
ALEC: At the end of 2015 when the lawsuit was served, we had $267,000 in the bank. That would have gotten us through principal photography and into post-production…in order to produce the material we'd need to launch one final fund-raising campaign and cover the rest of the budget. But as things dragged out, overhead and the remaining outstanding production costs killed us.
In the meantime, we've received some additional private funding from people who wish to remain anonymous. And when you add that to what I've put in personally, we've been able to keep the doors of Industry Studios open…and we're now marketing the facility to other productions and production companies to generate enough revenue to keep the lights on.
JONATHAN: Well, that confirms something that's been assumed by many…that you don't have to give up the "for-profit" studio…
ALEC: To date, our rented studio has not earned any profits.
JONATHAN: But it's intended to eventually earn profits, right?
ALEC: Our studio is intended to operate as a real, professional soundstage and generate revenues for Axanar Productions (the business entity that operates it). That revenue will be used to fund our operations–which includes producing Star Trek fan films. We see it as a way to help relieve the  financial burden of funding projects like Axanar from the shoulders of the fans who want to see great fan fiction.
As far as I know, the only "for-profit" studio in the Star Trek fan film universe is James Cawley's Star Trek: New Voyages Set Tour in Ticonderoga, New York. He turned his fan film studio into a CBS-licensed tourist attraction. It's a fine example of how a fan's passion can be leveraged to the advantage of the franchise…but that's not what we set out to do.
It's all a piece of a much larger vision we have for Axanar Productions that goes well beyond Prelude to Axanar and the Axanar feature film.
JONATHAN:  All right, Alec, let's talk about the Axanar feature film for a second. According to what's been published about your settlement with CBS and Paramount, it sounds like you're stuck with having to live within the fan film guidelines…which means Axanar will now consist solely of two 15-minute segments available only on YouTube. Is that right? And if so, hasn't this settlement essentially gutted your dream project?
ALEC: That's half-right. Actually, while the Axanar feature film is limited to just two 15-minute segments, those guidelines relate exclusively to fan films and not to other forms of media. From an artistic, story-telling point of view, we've been given an interesting challenge by CBS and Paramount: live within these guidelines and try to tell your story.
When you think of what we accomplished with Prelude to Axanar, I think we can tell a pretty compelling story in 30 minutes. That is 50% more film than Prelude. And there are ways to tell the larger story of Axanar and the Four Years War in much more depth now…and a piece of that storytelling will be done via the two 15-minute video segments.
There are a lot of options to consider now that the suit has been settled. I'll be reassembling our team to look at what's allowed under the terms of our agreement with CBS and Paramount, review the work completed to date, talk through the story of Axanar as it currently exists, and go through all of our options. Then we'll present our plan to donors and backers.  It's my hope they'll be pleased with our intended plan.
JONATHAN: But I know from some of the comments folks have made on FAN FILM FACTOR and in the SMALL ACCESS Facebook group that there are at least a few donors (perhaps a lot of them; it's hard to know for certain) who have soured on both you and Axanar. And then there are those people who think you shouldn't have settled and that 30 minutes of Axanar is so short that it's a travesty.  One poster even said in a comment that NO Axanar would be better than this watered down version.
So while you can hope all you want, what happens if not everyone is "pleased" with your revised plan?
ALEC: Well, we have been very good at listening to what our donors want. Hey, good ideas can come from anywhere, and we'll use the constructive feedback if we feel it makes the project stronger. There will be some though, I'm sure, who will not be happy. In fact, I'm sure there will be some people who won't be happy no matter what we try to do. You can't please everyone, and our focus is on the vast majority who have passionately followed Axanar and who we really want to make happy.
JONATHAN: Okay, remember when you said I could ask you any question?
ALEC: Oh, boy…
JONATHAN: How much personal blame do you accept for the lawsuit and the delay in producing Axanar?
---
Oh, you KNOW you want to read the answer to that question!
Come back tomorrow for the conclusion.