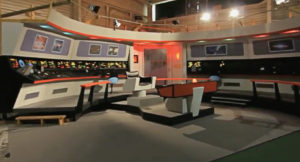 Fans gave a sigh of relief in early February when it was announced that the STAR TREK CONTINUES sets in Kingsland, Georgia had been purchased by a fan filmmaker who intended to make the sets available to other fan filmmakers to create their Trek fan productions.  The new owner is a fellow by the name of RAY TESI, and his own fan project was STARSHIP REPUBLIC, which had released the 9-minute "Serpent of Yesterday" vignette in February of last year.
But I was curious about something: how was Ray affording all this?
Y'see, after releasing his fan film vignette, Ray launched an Indiegogo campaign to try to raise $16,000 to continue the production of his fan series.  That campaign only made it to $2,351, and the project was shelved indefinitely.
Now, I didn't know whether Ray had purchased the sets from VIC MIGNOGNA of Star Trek Continues or had gotten them for free (turns out Ray bought them).  But I did know that the rent for the warehouse where the sets reside is tens of thousands of dollars per year!
So how is a guy who needed $16,000 in crowd-funding a year ago suddenly able to afford thousands of dollars a month in rent?  Did he win the lottery?  Rob a bank?  Blackmail a rich politician?
It turns out, fortunately(!), that it was none of the above.  In fact, when you hear the actual story behind Ray's purchase of the STC sets, I think that you—like me—will gain a new respect for Ray Tesi and feel truly inspired and positive about the future of this wonderful fan resource.
Here's the interview…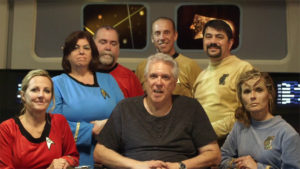 And for anyone wanting to see how awesome these sets are, here's a walkthrough from a few years ago (before they added Engineering, which makes it all even MORE awesome!)…