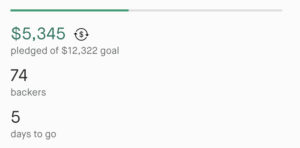 Lately, some of my readers have complained that the fan film guidelines have essentially ended quality Star Trek fan films.  "You can't make a decent Trek fan film in just 15 or 30 minutes," they say, "and limiting crowd-funding to just $50,000 is ridiculously constraining."
To them I reply, "Watch CHANCE ENCOUNTER!"  This 20-minute TNG-era fan film out of the U.K. had real actors, real sets, a fantastic script, wonderful directing, emotional music, great effects…you name it!  And it was made for just a few thousand dollars (or rather, pounds, since they're all British).
Now these guys want to make another fan film…and they're struggling to reach their Kickstarter goal of $12K.  They're nearly halfway there, have raised an impressive $5, 345 from 74 backers (including me)…
…BUT THEY HAVE ONLY FIVE DAYS LEFT!!!
And the problem with Kickstarter is that, if they don't reach their goal, they get ZERO!  Show-runner GARY O'BRIEN and co-writer PAUL LAIGHT are trying very hard to reach out to fans.  They've produced multiple spotlight videos, have been living on Facebook, and even did a podcast.  But so far, they've only made it half way…and time is running out!
Please help.
This is the kind of quality Star Trek fan film you've been wanting to see, folks.  But without donations, you won't see it.  That's why I'm pushing so hard to assist these guys…because I really want to see it, too!
Here's the link to donate:
Please consider making a pledge.  But whether or not you do, at least share that link on Facebook, Twitter, in chat-rooms, forums, e-mail lists, skywriting, smoke-signals, semaphore…whatever you've got!
And just to get you a teensy bit more excited, here's their latest spotlight video with a look at their LCARS…