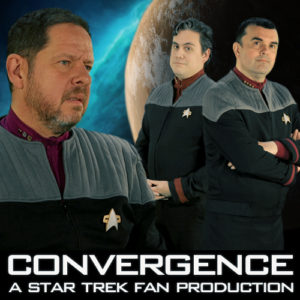 So, have you seen Avengers: Infinity War yet?  Pretty cool how a whole bunch of Marvel characters who each have movie series of their own—Iron Man, Captain America, Thor, Spider-Man, Hulk, Doctor Strange, the Guardians of the Galaxy—all come together in a single movie to fight the bad guys.  If only something like that could happen with Trek fan films.
Oh, wait…
SAMUEL COCKINGS, whose fan film TEMPORAL ANOMALY will debut later this year after he makes certain changes requested by CBS, has just announced his latest Trek fan project: CONVERGENCE.  This new production has been a closely-kept secret for several months now, and those folks who did know about it were sworn to secrecy.  And certain nosey bloggers who did know about the project were told only that it was code-named "Star Trek Avengers."  In fact, even the title Convergence was only revealed to the actors a week and a half ago when they all, um, converged on the U.K. to film some initial scenes in front of Samuel's green-screen backdrop.
What makes this project extra-exciting is that it will be a full-on fan film CROSSOVER featuring actors and characters from multiple different long-running Trek fan series.  In attendance at this initial shoot were NICK COOK from Intrepid (Scotland), ROBIN HIERT  from Dark Armada (the Netherlands), and CHRIS BURDETT and NIMRAN SAUND from Temporal Anomaly (England)  They came together to film some of the initial scenes along with some promo videos, including this fun one…
Eventually, the plan is to add on actors from an additional two fan films/series for a total of FIVE.  That will be a record, as there have been a number of two-series crossovers (for example Hidden Frontier and Intrepid) and multi-fan film cameo appearances (three actors from New Voyages appeared in the pilot episode of Starship Farragut, and Vance Major featured several quick cameos of fan film notables in his later episodes of the Minard Saga).  But this isn't just the Falcon briefly appearing in Ant-Man or Hulk joining Thor for Ragnarok…this is full-on Avengers, man!
Samuel launched a new Facebook page for the project, complete with photos introducing the cast.  He'll be adding one new photo per day for the rest of this week.  In another month or so, Samuel plans to launch a crowd-funding campaign to raise money to complete filming (including transportation to the U.K. for all of the cast) as well as post-production.  And yes, he fully intends to follow all of the the fan film guidelines.
More Convergence news soon!