Today, please welcome special Guest Blogger ERIC L. WATTS, Chairman of the annual TREKLANTA convention in Atlanta, GA and the organizer of the BJO Awards that honor the top Star Trek fan films each year.  Eric and Treklanta have been an important and integral part of theTrek fan film community for many years now—screening fan productions, featuring fan film panel discussions and guests, an generally giving support and validation to the genre.
Treklanta 2018 took place over the Memorial Day weekend and featured a couple of panels focusing on fan films.  Everything was going great until it was announced that ALEC PETERS of AXANAR would be taking part in these panels.  Then the shat hit the fans, and Eric was berated by angry e-mails and Facebook posts and even a phone call telling him how wrong he was for letting Alec Peters anywhere near his convention…let alone allowing Alec to be an announced guest on two panels.
The blowback both privately and on social media blasting Eric over Alec's presence at Treklanta became so intense that I asked Eric if he'd like to comment on it here on Fan Film Factor in a blog I was preparing last week about the Bjo Awards.
Eric agreed, but his comment was so thorough and heartfelt that I decided it would be better to let it stand in its entirety as a separate guest blog.  My apologies to you and Eric for the delay in getting it posted (one week), but with two different crowd-funders ending, it's been a very crowded seven days of blogs (and I was away in Santa Barbara over the weekend).
Anyway, here's what Eric had to say about Alec Peters and panels at Treklanta…
---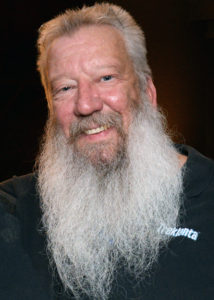 I am aware that Alec Peters' presence at Treklanta has become an issue for some people, particularly those who donated to the Axanar project following the release of "Prelude" and feel they wasted their money, as well as many fan film creators who hold Mr. Peters personally responsible for the fan film guidelines issued by CBS following the settlement of the lawsuit brought against Mr. Peters and his team, guidelines which they feel have severely restricted or outright crippled their productions. He has become a lightning rod for controversy within Star Trek fandom and the object of online attacks unlike anything I've seen in my 40 years in fandom.
Many of these folks who previously supported and attended Treklanta now refuse to do so because of Mr. Peters' presence at the convention, regardless of his membership status as either an announced guest or attending member. This saddens me a great deal, as I have worked very hard over the last eight years to make Treklanta a convention that all Star Trek fans would enjoy, and it's troubling to me to know that certain people will not attend the convention simply because of one particular person who does.
Although I, personally, have my own concerns regarding the fan film guidelines and the future status, if any, of the Axanar project—which I have, in fact, had the opportunity to discuss with Mr. Peters—he has, in return, been nothing but entirely supportive of Treklanta and the Bjo Awards program (formerly the Independent Star Trek Fan Film Awards) that I created to recognize excellence in achievement among Star Trek fan films. He has appeared at Treklanta as a guest of honor twice, in 2015 and 2016, mostly at his own expense, has promoted Treklanta in social media, and has encouraged the legion of Axanar fans and supporters to attend, many of whom actually have. Given his track record of support of the convention and the awards, I have absolutely no reason to tell Mr. Peters that he is unwelcome at Treklanta, regardless of what anyone else may think of him.
In early May, some fans and supporters of Axanar asked if they could get a fan table at this year's Treklanta. I told them that if they followed the established and published policies governing fan tables, of course they could. They purchased their full-weekend memberships as required and purchased a fan table for a nominal fee, just like everybody else who wants a fan table. Then they asked me if it was okay for Mr. Peters to attend the convention, since they already had the fan table for Axanar. I said of course he could, as an attending member, just like everybody else. And then, Randy Landers—executive producer of the various Potemkin Pictures fan film series—asked me if Mr. Peters was attending the convention, and if so, would I add him to his fan film executives panel, which was already on the schedule. I told him yes and yes. Then the folks who purchased the fan table asked if they could do a panel about Axanar and again, I said yes, and since Mr. Peters was already doing one panel with Mr. Landers, there was no reason to not let him do one on Axanar, too. Because if Alec Peters is in the building, it would seem really odd to NOT have a panel discussion about Axanar on the schedule.
As soon as Mr. Peters' name was added to the online programming schedule, I started reading the cries of outrage about it on Facebook. Then I received email about it. I even got a phone call from a notable figure in the fan film community, asking me—politely and respectfully—to reconsider. I listened, I heard, I thought about it, I considered my options. If I removed Mr. Peters from the programming schedule—refusing to allow someone who has been nothing but supportive of the convention to participate in programming—I would be capitulating to an angry mob carrying cyber torches and pitchforks who will not be satisfied until Mr. Peters is literally hanging by the neck from a tree. If I allowed him to remain on the programming schedule, I would be inviting those same people's ire and scorn toward myself… something I did not particularly look forward to.
I weighed all the alternatives and finally decided that Mr. Peters, in spite of the acrimonious controversy surrounding him and the Axanar project, should not be removed from those two panels or disinvited from the convention. I knew I would receive flak for it—and already have—but I stand by my decision. If this decision causes Treklanta to lose support in the rabid anti-Axanar faction of Star Trek fandom… that's sad, but so be it. Until and unless Mr. Peters commits some act or makes some statement that specifically and directly causes harm or injury to Treklanta, he is welcome to attend and participate in programming.
Let me be clear: I am not defending anything Alec Peters may or may not have done with regard to the proposed Axanar film project, the crowdfunding campaigns or the money that was raised, the planned studios in Los Angeles, any promised perks or anything else associated with Axanar. My decision on whether or not to allow Mr. Peters to participate in programming at Treklanta was based solely and exclusively on how he has treated me, personally, and my convention, over the last four years. I understand why so many people are upset with him, and I am not saying that their issues are not without merit. But those issues do not affect the planning, production and operation of this convention.
That said, I have to close by stating that I despise being dragged into the middle of this controversy. I despise being the target of attacks by people who do not know me. All I've ever wanted to do was to put on an event where Star Trek fans could come together and celebrate their mutual love of the Star Trek franchise and just have a good time. This matter with Mr. Peters and the Axanar project—which does not or at least SHOULD not affect me in the least—has made me want to reconsider any further involvement in the very fandom that I so dearly love.
Eric L. Watts
Chairman, Treklanta