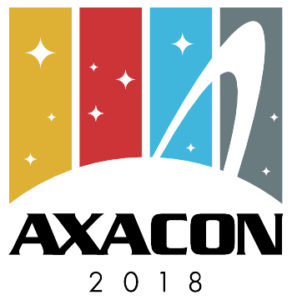 Welcome back to another emotionally-charged episode of "As The AxaCon Turns"…the fan film controversy that asks the eternal question: Is Lane ever gonna stop blogging about this crap???
Well, I thought I was finished on Monday when I posted this blog about the detractors trying their darnedest to interfere with any chance of success for AxaCon by inundating the host convention, SphinxCon, and its chairman, DAVID WEINER, with all sorts of negative public and private comments about ALEC PETERS, AXANAR, and the invited guests (including yours truly).
Because it's important to today's blog, let me remind you what started the whole upheaval.  Noted Axanar detractor and frustrated New York Mets fan SHAWN P. O'HALLORAN posted this lovely comment onto the SphinxCon Facebook page…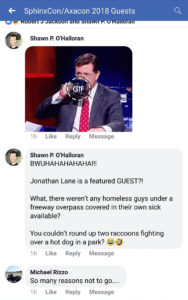 Yeah, that happened.  Then everything else happened.  Then I blogged about it.  That lit up the fan film quadrant of the Internet for many hours on Monday while I took my son to see the King Tut exhibit at the California Science Center.  There were literally hundreds of comments waiting for me to read when I got home!
But one message stopped me in my tracks.  It was an APOLOGY from Shawn O'Halloran to Dave Weiner for disrupting his convention page!
It's probably best if I let Shawn speak for himself with this screen cap that Dave sent me…
Continue reading "An APOLOGY about AXACON leads to a question: Did ALEC PETERS personally profit from AXANAR?"