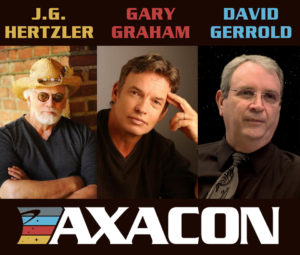 The first-ever AXACON is less than three weeks away, and ALEC PETERS has just released the schedule.  It's a pretty busy weekend, filled with all kinds of activities and panels…most of them focused on AXANAR (both past, present, and future), but also a few opportunities to expand beyond just one fan film.
Here's a look at some of the things that will be going on:
FRIDAY
A set tour of OWC Studios (including photo ops on the USS Ares bridge)
A reading from the full 90 minute version of the Axanar movie script (featuring J.G. Hertzler, Gary Graham, Alec Peters, and Steven Jepson)
Socialize at the bar with the actors and Axanar team (donor funds will NOT be used to pay the bar tab!)
SATURDAY
The Top 10 Star Trek fan films (at least in our opinion…and we don't all agree!)
J.G. and Gary talk about their time on televised Star Trek
An Axanar UPDATE with Alec Peters and director/co-writer Paul Jenkins
Alec discusses how the Honor Harrington novels influenced Axanar
A special Axanar donor lunch with the actors and production team
Axanar fan fiction with three people who are writing/drawing/animating it
Alec and Paul discuss the evolution of Axanar from story to screenplay
The Axanar fleet – designing cool starships from 20 years before TOS
A preview of upcoming Star Trek fan films
Klingon kostuming…er, costuming
The Axanar project from a fan's perspective
Everyone hits the bar again, including J.G. and Gary
SUNDAY
Starship combat in the Axaverse (when did we start calling it that?)
J.G., Gary, and Alec discuss working on Prelude to Aanar and plans for the remaining two Axanar films
When fan films become professional independent films…what does the future hold?
Alec discusses James T. Kirk's hero: Garth of Izar, and Steven Jepson discuss the infamous "Admiral Scaredy": Conrad Slater
Axanar trivia…with PRIZES!
As you can see, a lot of careful consideration went into filling this mini convention with diverse content while still keeping it centered around Axanar.  I think the organizers did an excellent job with that.
They also scheduled me to host five panels and appear on an additional three…for a total of EIGHT panels in THREE days!  Oy.  But in one of those panels, I have to interview J.G. Hertzler, Gary Graham, and Alec Peters about their work on Prelude and plans for the two upcoming Axanar films.  And that's where I need YOUR help…
I love it on Talking Dead when Chris Hardwick reads questions from viewers or asks audience members to come up and ask questions of their own.  So I'd like to gather some questions from YOU folks out there.  What are you yearning to know about the production of Prelude to Axanar?  What questions are gnawing away at you about Axanar yet to come?
Post your question(s) in the comments section of this blog, and I just might ask what you suggest…and read your name out loud (unless you use an offensive pseudonym).  Oh, and speaking of offensive, please don't be.  While detractors are welcome to participate (I can't stop you from typing a comment), you guys know what kind of questions are just gonna get tossed out the airlock.  So why waste your time and mine?  Instead, consider this an opportunity.  What do you POLITELY want to know?  Your question could very well be answered by J.G., Gary, or Alec.
And for those of you who can make it to Axacon, yes, we'll also be taking some questions from the audience during this panel.  So I hope to see some of you there!
And if you can make it to Atlanta, GA on November 2-4, here's information on where Axacon will be and how to purchase tickets:
And here's the schedule (click on it to view at full size)…