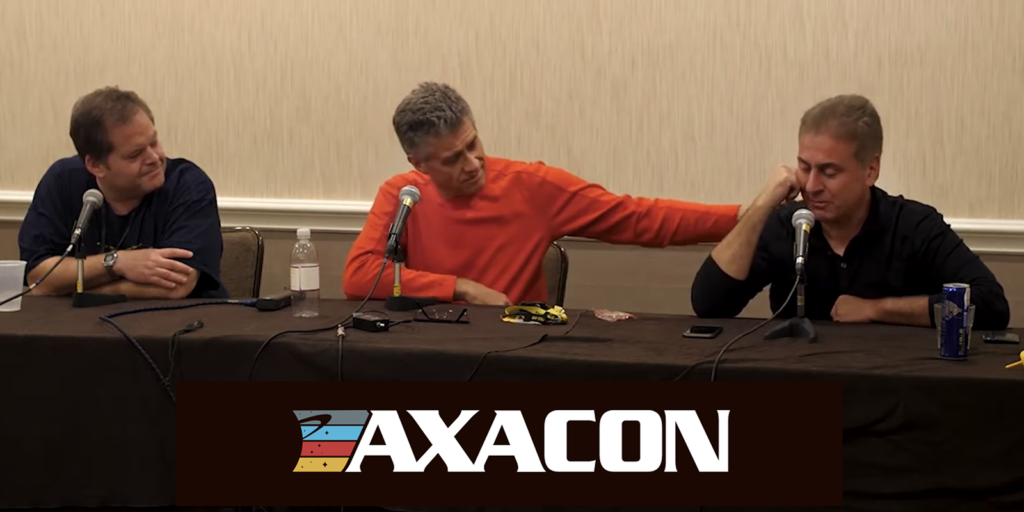 In the TOS episode "Whom Gods Destroy," Kirk mentions that Garth's exploits were required reading at Starfleet Academy. Well, if you're a fan of AXANAR and ALEC PETERS, then the video below should be considered "required viewing."
AXACON took place last November in Atlanta, and about 30 people attended. However, knowing that there were thousands and thousands more supporters of Axanar who wouldn't be able to make it, Alec hired a video crew to film every panel—along with several interviews with the guests—through the 3-day weekend event. About ten of these interviews have already been released for early viewing to ARES STUDIOS Patreon donors, with about half of those now posted publicly to YouTube. (You can view all of the public Axacon videos here.)
The latest video to be released to the public debuted on Friday evening as a livecast on YouTube. Since then, it's been viewed nearly a thousand times…and with good reason. It's a really FANtastic panel…especially if you love Axanar. And for me, it was probably my favorite panel of the weekend. Why, you ask?
Well, it was an exhausting weekend…three days of non-stop fun mixed with hard work and little sleep (or was it hard work mixed with fun and almost no sleep?) where I conducted countless interviews and led seemingly endless panels. And honestly, I totally don't know how to lead panels! I'm not sure if there are classes in it, but it there are, I never took any of them. So for most of the weekend I was flying by the seat of my pants and getting terrorized by J.G. HERTZLER and GARY F-ING GRAHAM. (You'll need to watch my interviews with them to get that joke…and some haven't been released yet.)
By the time we got to the "Elite of the Fleet" panel—the next-to-last of the weekend—I was totally spent. You can tell it from watching the video below. But now I had to lead STEVE JEPSON and Alec as we discussed Admiral Slater and Garth. I'd already interviewed Steve about Slater a few hours earlier, and Alec had already spoken on another panel about Garth. So I just kinda winged it…as did Steve and Alec.
To my utter surprise, this exhausted trio managed to have a fascinating and lively discussion—just three obsessed Axanerds chatting about their favorite fan film. It's the kind of geeked-out conversation we fans love to have from time to time, and it was totally engaging and fun. Each of us got ample time to talk, and everything was SO interesting.
And then a very unexpected and special "moment" happened.
Continue reading

"ALEC PETERS chokes up at a panel from AXACON…"