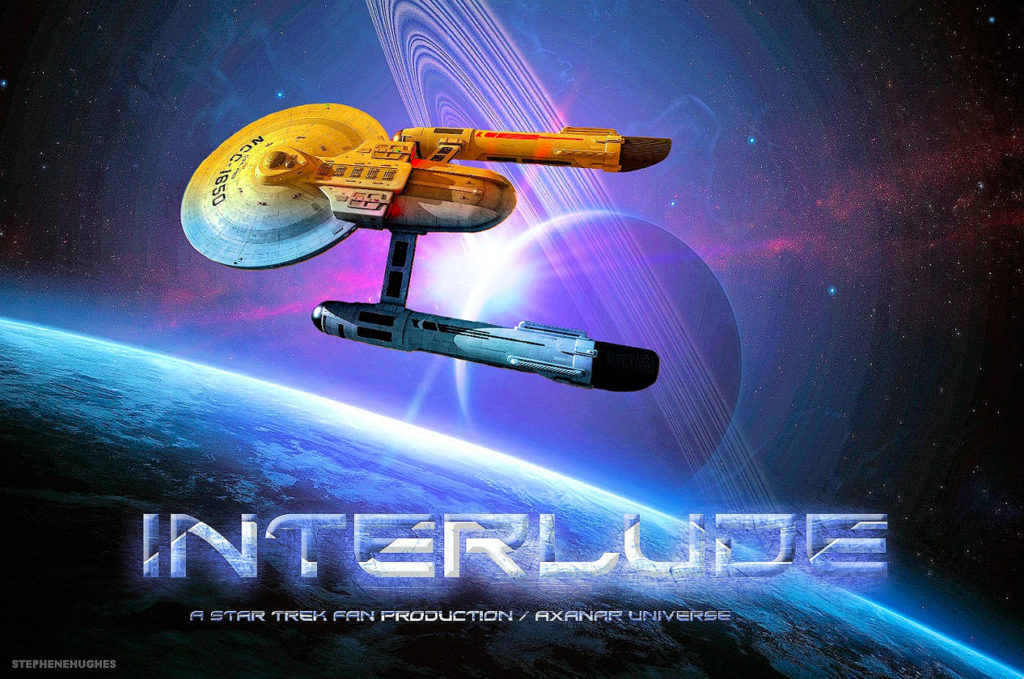 Um, about that July 25th release date…
As I've said before ,when I first set out to make INTERLUDE, my goal wasn't simply to make a Star Trek fan film. I wanted to EXPERIENCE making a Star Trek fan film and then share that experience with with all of you through these blogs.
But there was one fan filmmaker moment that I hadn't experienced yet—until now, that is. Over the decades-long history of Star Trek fan films, many projects have announced their premiere dates…only to miss them. For some fan films, multiple premiere dates were missed.
Well, you can now add Interlude (and me) to that list. After announcing my premiere date in this really cool trailer that I edited together…
…I can now confirm that Interlude will NOT be coming to YouTube on July 25th after all. And I sincerely apologize. It won't be delayed too much—and I can say that because I know what still needs to be done (more on that shortly).
To quote The Talking Heads, "You may ask yourself: 'Well, how did I get here?'" The answer isn't as simple as "letting the days go by." Lots of people have been working really hard on post-production. But since these blogs are meant to assist other and future fan filmmakers by sharing my experiences (both good and bad), here's what happened…
Let's start with the original post-production schedule. The things that needed to happen (in pretty much this order) were the following:
JOSHUA IRWIN, VICTORIA FOX, and I needed to come up with a picture-locked edit. This means that no more scenes will be added, removed, trimmed, or expanded. Essentially, the timing would be locked. There might still need to be some VFX shots finished, but as long as there were place-holders that timed out the same, the edit could be locked and given to…
KEVIN CROXTON would compose all of the music. The reason the timing can't change anymore is because that'll screw up whatever music Kevin gives us and the beats it hits. Then, once the music is composed, everything goes to…
MARK EDWARD LEWIS does the sound-mixing, adding in sound effects and balancing the voices, music, and sounds so the viewer can hear and understand everything without one sound overwhelming another.
And then we're done. Granted, some aspects of the above tasks actually overlap a little, but for the most part, these steps happen in a sequence.
Originally, the plan was to lock the edit by the second week in April. Kevin would then squeeze in composing the music between April 15 and the beginning of May, at which time he would need to switch over to working on music for a multi-part documentary series (a project that would actually pay him!).
But then the COVID-19 pandemic hit.
At first, it didn't really affect us much. We'd filmed our last shoot at Ares Studios in March just before everything shut down (literally, like a week before!). And all of our post-production could happen remotely. And in fact, the pandemic initially helped us out a bit. Kevin's documentary got delayed. He suddenly didn't have to rush everything out in just two weeks.
Great! This actually gave Josh, Victoria, and me a little extra time to finalize the edit, which ended up happening the first week in May. We were then ready to send everything over to Kevin.
This is when Jonathan's scheduling brain started thinking about premiere dates. And it just seemed so obvious that we could premiere on the same date we would have had Comic Con happened—July 25. I asked everyone if that date was doable. Kevin said yes, Mark said yes assuming he got stuff from Kevin in time, and Josh and Victoria said it was doable assuming that Kevin and Mark both got their tasks done in time.
Well, that was good enough for me! I spliced together that nifty trailer and debuted it on May 20…effectively announcing and locking in the premiere date.
Victoria and Josh pointed out to me later that saying that something is "doable" isn't the same thing as promising it will happen. Things can still go wrong. Life can throw the unexpected at you at any time.
And that's what happened.
Kevin has been working diligently on the music for Interlude, but other commitments are also popping up, and it's been taking longer than we'd anticipated. Also, Kevin really wants to take the time to do this right. The original 2-3 week estimate would have meant a lot of rushing to get things done. When his documentary assignment got delayed, Kevin decided that Interlude was important enough and high quality enough to justify a complex musical score with many instruments carefully tailored to the emotional drama of each segment of the film.
Even though the run-time of the film itself (not counting opening and closing credits) is only ten minutes, we're going to have a continuous soundtrack. So every second of those ten minutes (plus the two-and-a-half minutes of credits) will have original music. And unfortunately, music doesn't write itself.
When all is said and done, there's no "fan film police" waiting to arrest me for not hitting my announced premiere date. Trust me, I would have loved to have released Interlude a week from this Saturday instead of writing this blog apology. But with the quality of the music I've heard so far, I'm totally okay waiting a little longer to get something as awesome as possible.
As of last week, Kevin has shared his music with us for the opening credits and the first 3 minutes of the film. He's also begun working on the next minute or two of music, but it's not ready to share yet. After that, the music gets a little easier to compose. There's the climactic sequence with almost no dialogue followed by a short calm segment. Then the remaining three minutes is the "documentary" style of PRELUDE TO AXANAR where the music doesn't need to be as complex.
Long story short, Kevin has scored about a third, but he's really closer to halfway done…and he's already tackled the more challenging half. So it won't be too much longer.
But before anyone asks, "So how much longer will it be?" let me say definitively: "Soon." More specifically, it'll be ready when it's ready, but I'm not confident enough to commit to an exact date. I've learned my lesson when it comes to announcing a premiere date. When the music is finished and Mark Edward Lewis gets a handle on the sound-mixing complexity, I'll start thinking about a setting new premiere date. But right now, I don't want to get anyone's hopes up….including mine.
However, since I'm asking you guys to wait for just a little bit longer and you're being so patient, the least I can do is to give you a taste of how the music is turning out. Keep in mind that the sound levels haven't been balanced yet, so the music is going to overpower the voices in some places. Also, these aren't the final sound effects. But here's a short snippet of Interlude, my friends…
Worth the wait…?