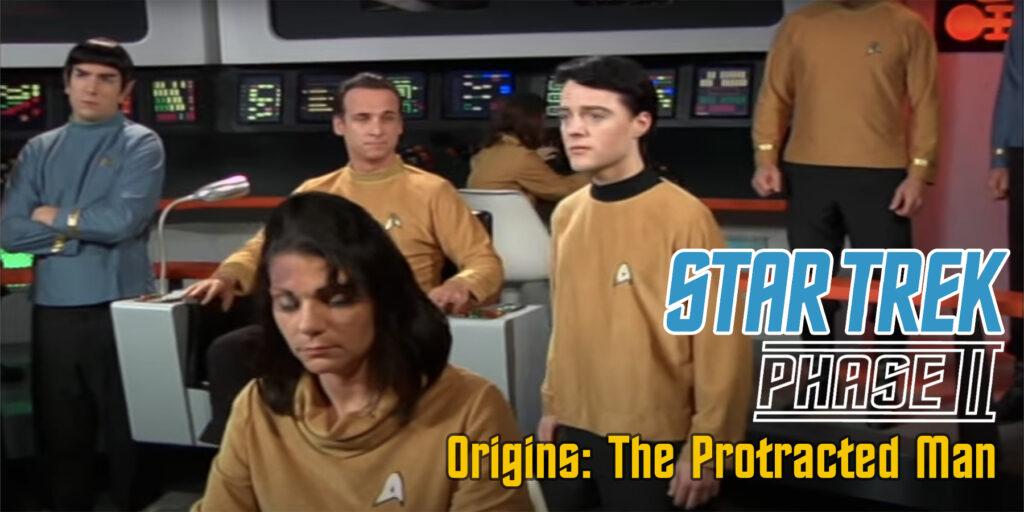 It's been five years since fans have seen anything new from STAR TREK: PHASE II (a.k.a. STAR TREK: NEW VOYAGES). The most recent completed Phase II episode to debut was "The Holiest Thing" in January of 2016. But that changed last week with the unexpected release of a never-completed episode filmed way back in 2010-2011: "Origins: The Protracted Man," directed by DAVID GERROLD and co-written by him along with Trek novelist DAVE GALANTER.
Phase II founder and show-runner JAMES CAWLEY had announced, shortly before the unveiling of the fan film guidelines by CBS in June of 2016, that Phase II would cease all fan film production. Then two weeks after the guidelines came out, James announced that his TOS sets in Ticonderoga, NY would become a brand new, licensed STAR TREK Original Series SET TOUR.
Fans were certainly excited by the opportunity to walk these amazing TOS set recreations that had previously been reserved only for fan filmmakers and special guests. But what about the episodes of Phase II that had already been filmed (or partially filmed)? Would these be completed and released? There were still three unfinished Phase II projects: "Bread and Savagery" (a sequel to the TOS episode "Bread and Circuses), "Torment of Destiny" (a sequel to "For the World is Hollow and I Have Touched the Sky" and featuring the now-deceased RICHARD HATCH), and "Origins: The Protracted Man."
The answer seemed to be that these three episodes would forever remain in limbo. None was in any condition to be released (or so we were told), and with Retro Studios in upstate New York now turned into a licensed set tour, James didn't appear to be in interested in having any of these remaining Phase II projects completed. In fact, in the case of "Bread and Savagery," the director, MARK BURCHETT, had passed away in 2014. Certain actors were also no longer available, and in some cases, the footage that had been filmed wasn't shot properly (camera and/or sound issues), and wouldn't be usable…and reshoots were rather problematic.
And so these three episodes remained hidden away, inaccessible to fans beyond this really exciting trailer for "Torment of Destiny" and this equally exciting trailer for "Origins: The Protracted Man" (along with a couple of scene clips, including one of Kirk's Koybashi Maru test and another in sickbay).
Fan were desperate to see more, as these two episodes looked amazing. They were also quite special for other reasons. In addition to "Torment of Destiny" featuring the late RICHARD HATCH, "Origins" featured actor COLIN CUNNINGHAM as Christopher Pike (Cunningham's extensive Hollywood career includes recurring and regular roles in such series as Stargate SG-1, Falling Skies, and Preacher). Also, voice-over actor JEFF JOHNSON turned in such an amazing performance as Cadet Finnegan that you would've sworn they'd managed to kidnap original Finnegan actor BRUCE MARS by beaming him through time!
Other members of the cast would go on to become familiar faces in the Star Trek fan film community. In 2012, FRANK HERNANDEZ would play Dr. Gene Carter, the father of JOHN BROUGHTON's character of Captain Jack Carter in STARSHIP FARRAGUT's "The Price of Anything." KIM STINGER, who played Uhura in a number of New Voyages/Phase II episodes, would go on to the play the same iconic character in the entire run of STAR TREK CONTINUES. Also appearing briefly as a helmsman in the framing sequence of "Origins" was TODD HABERKORN, who later became STC's Mr. Spock.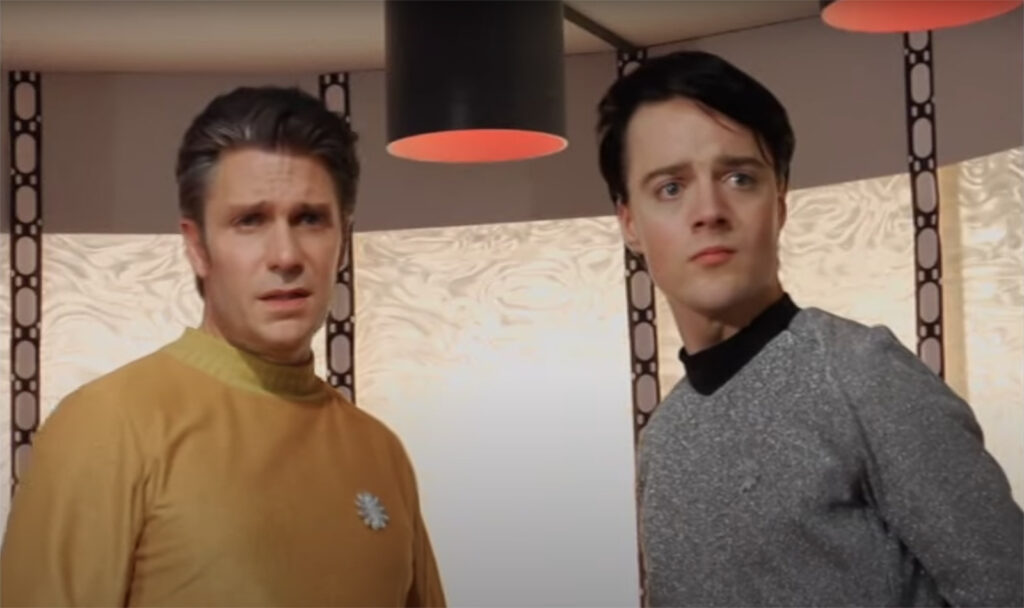 But certainly the most notable and familiar fan film face in the cast was VIC MIGNOGNA, who would go on to portray Captain Kirk in all eleven episodes and three vignettes of STC. But this time, Vic was portraying George Kirk, Captain Kirk's father, and did an amazing job in the role. At the time ("Origins" was filmed in the summer of 2010 and additional scenes were shot the following winter), Vic was a rising star in the world of Phase II. The previous year, he had directed their most ambitious episode to date "Kitumba," along with playing the Klingon character Malkthon, a fairly significant role. Unfortunately, not long after filming his scenes in "Origins," Vic and Phase II would part ways among quite a bit of conflict and controversy (but that's a blog for another day).
Speaking of Captain Kirk, "Origins" marked the final time that Phase II founder James Cawley would don the gold tunic as the iconic character, and only in two brief framing sequences bookending the episode. Following "Origins," actor BRIAN GROSS would be brought in to play Kirk beginning with his introduction as the character in the vignette "Going Boldly."
A final familiar fan film face appearing briefly in "Origins" was ALEC PETERS, playing Garth of Izar a fictional decade before the events of the TOS episode "Whom Gods Destroy." This was actually Alec's first trip to Retro Studios in upstate New York and his first-ever appearance as Garth. He would return as Garth in the Phase II "Going Boldly" vignette, and then later in the groundbreaking Star Trek fan film PRELUDE TO AXANAR. Alec will be reprising the role again in the upcoming fan films INTERLUDE and the two-part AXANAR sequel.
"Origins" actually got its start way back in 1967 when script writer David Gerrold was hoping to land a job writing for TOS. After turning down David's first script submission, Star Trek producer GENE L. COON asked David for five additional story ideas. One eventually developed into the fan-favorite episode "The Trouble with Tribbles." The other four were never used, but one of them was titled "The Protracted Man." (You can read a synopsis here—don't ya just love the Internet?)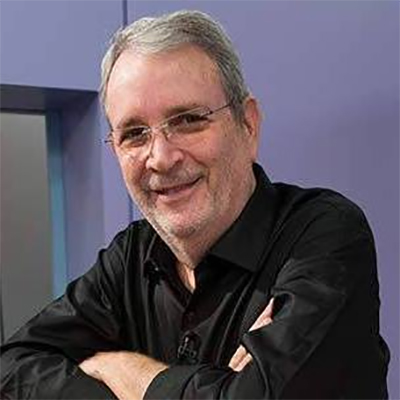 David Gerrold had initially gotten involved with Star Trek: New Voyages/Phase II a few years prior to 2010 when he co-wrote the two-part "Blood and Fire," based on a ST:TNG script idea dealing with homosexuality and AIDS that had been rejected by Paramount for being too hot-button. However, when David joined the group in Ticonderoga, that script was adapted by CARLOS PEDRAZA, and David directed the episode, the first to transition the series name from New Voyages to Phase II.
Star Trek novelist DAVE GALANTER came aboard for Phase II's next episode, "Enemy: Starfleet" (based on a story by Dave and writing partner GREG BRODEUR), and also updated the writers guide for the series. When the opportunity came to adapt David Gerrold's "The Protracted Man" into an episode of Phase II, the idea merged with something that Dave Galanter had wanted to try: a story focusing on young Cadet James Kirk at Starfleet Academy. The J.J. ABRAMS' 2009 Star Trek reboot had premiered the year before, establishing that Jim Kirk's father, George Kirk, had served in Starfleet. The hybrid story, co-written by both David and Dave, used certain elements of the original 1967 idea but with Cadet Kirk trying to save his father George, who is serving on board the U.S.S. Enterprise under command of Fleet Captain Christopher Pike, first officer Number One, and an annoying Vulcan science officer named Spock.
Last week on January 4, 2021, without any fanfare or explanation, James Cawley quietly posted "Origins: The Protracted Man" in its unfinished format. The film is still very close to completed, but there are some obvious places where the sound and/or image quality is off, the VFX are low resolution or missing entirely, and some scenes remain unfilmed. And the entire film is has a slight horizontal compression. But nevertheless, there is enough to get a good feel for how this excellent fan film would have turned out…including amazingly powerful performances by Colin Cunningham as Pike, Vic Mignogna as George Kirk, BRANDON STACY as Spock, and perhaps most impressive, MATTHEW EWALD as Cadet James Kirk.
I've reached out to James Cawley to see why he decided to post this 2-part fan film now, but he has not yet responded. It's possible that James felt it was appropriate to release "Origins" now following the untimely death of Dave Galanter on December 12, 2020. Six weeks earlier, Dave had announced via Facebook and Twitter that he had cancer originating in his bile ducts and had been fighting the disease for the past year. His doctors now said that he had perhaps another 3 to 6 months to live, but sadly, he passed away only a month and a half later. It seems appropriate that this fan film that he worked on is now finally being shown to the public.
---
UPDATE – A day after this blog was posted, the two videos of "Origins" were removed from YouTube by James Cawley, a week after initially being posted.
Just as I was considering pulling down this blog, I was made aware of a separate YouTube channel posting the same episode as a single 52-minute video. I've just spent some time thinking about whether to publish this link or just pull down this blog entry. You see, unlike "Torment of Destiny"—which James Cawley had also posted online in an uncompleted version and then took down but which will, in fact, one day be finished—"Origins" will never be completed. There is footage that was never shot, and the actors who need to finish it are no longer available and are a decade older now anyway. So really, this is the only chance for fans to see this important piece of Star Trek fan film history.
And so, after much thought, and in honor of Dave Galanter's recent passing, I have decided to keep the blog posted and include the following new link to a separate posting of the episode. Not being the one to have posted the video, I am simply linking to a version of the videos that are out there anyway. Assuming that this person leaves the video posted, fans will be able to view it below…