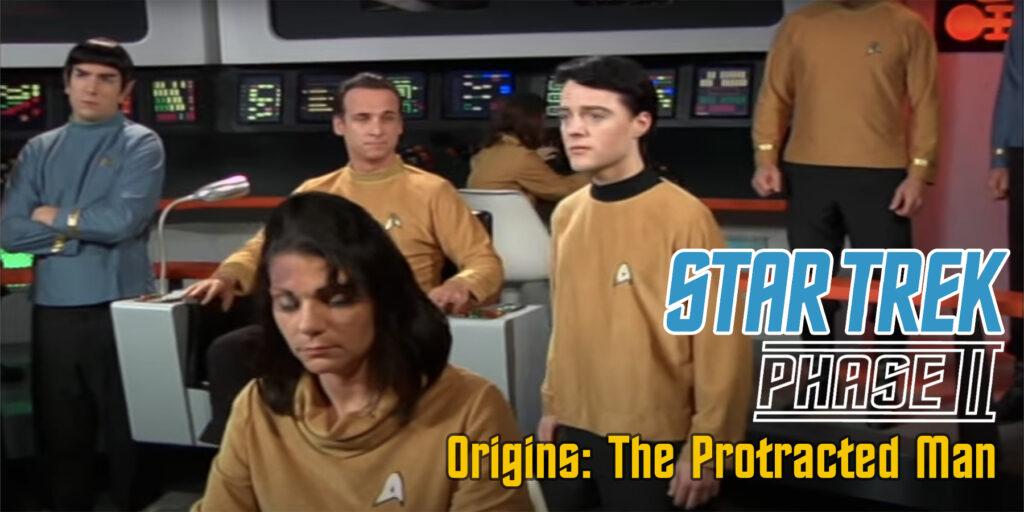 It's been five years since fans have seen anything new from STAR TREK: PHASE II (a.k.a. STAR TREK: NEW VOYAGES). The most recent completed Phase II episode to debut was "The Holiest Thing" in January of 2016. But that changed last week with the unexpected release of a never-completed episode filmed way back in 2010-2011: "Origins: The Protracted Man," directed by DAVID GERROLD and co-written by him along with Trek novelist DAVE GALANTER.
Phase II founder and show-runner JAMES CAWLEY had announced, shortly before the unveiling of the fan film guidelines by CBS in June of 2016, that Phase II would cease all fan film production. Then two weeks after the guidelines came out, James announced that his TOS sets in Ticonderoga, NY would become a brand new, licensed STAR TREK Original Series SET TOUR.
Fans were certainly excited by the opportunity to walk these amazing TOS set recreations that had previously been reserved only for fan filmmakers and special guests. But what about the episodes of Phase II that had already been filmed (or partially filmed)? Would these be completed and released? There were still three unfinished Phase II projects: "Bread and Savagery" (a sequel to the TOS episode "Bread and Circuses), "Torment of Destiny" (a sequel to "For the World is Hollow and I Have Touched the Sky" and featuring the now-deceased RICHARD HATCH), and "Origins: The Protracted Man."
The answer seemed to be that these three episodes would forever remain in limbo. None was in any condition to be released (or so we were told), and with Retro Studios in upstate New York now turned into a licensed set tour, James didn't appear to be in interested in having any of these remaining Phase II projects completed. In fact, in the case of "Bread and Savagery," the director, MARK BURCHETT, had passed away in 2014. Certain actors were also no longer available, and in some cases, the footage that had been filmed wasn't shot properly (camera and/or sound issues), and wouldn't be usable…and reshoots were rather problematic.
And so these three episodes remained hidden away, inaccessible to fans beyond this really exciting trailer for "Torment of Destiny" and this equally exciting trailer for "Origins: The Protracted Man" (along with a couple of scene clips, including one of Kirk's Koybashi Maru test and another in sickbay).
Fan were desperate to see more, as these two episodes looked amazing. They were also quite special for other reasons. In addition to "Torment of Destiny" featuring the late RICHARD HATCH, "Origins" featured actor COLIN CUNNINGHAM as Christopher Pike (Cunningham's extensive Hollywood career includes recurring and regular roles in such series as Stargate SG-1, Falling Skies, and Preacher). Also, voice-over actor JEFF JOHNSON turned in such an amazing performance as Cadet Finnegan that you would've sworn they'd managed to kidnap original Finnegan actor BRUCE MARS by beaming him through time!
Continue reading

"JAMES CAWLEY releases the unfinished STAR TREK: PHASE II "Origins: The Protracted Man"!"