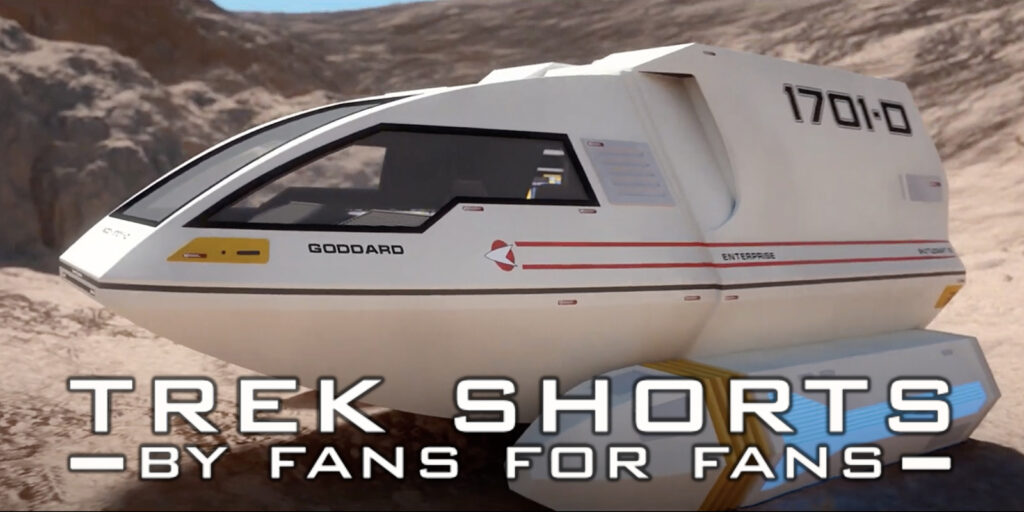 Let this be a lesson to all of you crowd-funders and would-be crowd-funders out there: ALWAYS check your campaign pages…not just once but often!
When SAMUEL COCKINGS, the Sensei of CGI, launched his new Indiegogo for his ambitious SIX-episode TREK SHORTS project (six fan films for the price of one!), he included an absolutely amazing and snazzy pitch video. I mean, it's a totally MUST-SEE pitch video, with the kind of jaw-dropping CGI that'll leave you drooling plus clips of cast members spanning Trek fan films from four different countries on two different continents. There's catchy music, exciting behind-the-scenes details, and even a hilarious ending.
Just one small problem: the Indiegogo campaign page lost the link to the video!
Had the video been linked, fans would have seen this…
Sam has no idea how it happened. The video was up there when he first launched it. But I visited the page and donated just a few hours later, and I didn't see it. I just assumed there wasn't a pitch video. After all, they're not required.
Even without the pitch video, the campaign still managed to raise about a third of the $10,000 goal in just 10 days, which is certainly impressive. But I kinda wondered why it wasn't doing better. However, there were still three weeks left, and I was prepping a two-part interview with Sam to help promote the campaign.
By the way (before I forget!), if you want to donate, here is the link:
https://www.indiegogo.com/projects/trek-shorts-2021-by-fans-for-fans#
Fast forward to Monday, and I was preparing the Sam interview for later on this week (you will definitely want to read this two-parter, trust me!). While questions and answers were going back and forth across the Atlantic, Sam typed the following…
SAMUEL – I'm particularly pleased with the Norway bridge as seen in the Indiegogo pitch video.
And then the following exchange happened…
JONATHAN – What video?
SAMUEL – The video on the Indiegogo page. It's in the part where Jakub says we have made it in 3D.
JONATHAN – Um….
JONATHAN – https://www.indiegogo.com/projects/trek-shorts-2021-by-fans-for-fans#
JONATHAN – Watch the video. I'll wait.
SAMUEL – It's there in the video. I know it is.
JONATHAN – Seriously, click on the link. Watch the video.
SAMUEL – Why is the video not showing up? It was there when I launched it.
JONATHAN – Dude!!!
SAMUEL – I know because I watched it. Wonder when that glitched out.
JONATHAN – It was never there for me, but I'm sure it was awesome.
SAMUEL – Well, that explains why there were fewer views on the pitch video then I'dd like. But you did see the pitch video, right? I did send that to you, didn't I?
JONATHAN – Nope and nope.
SAMUEL – Some journalist you are, not even looking for the pitch video.
JONATHAN – I didn't know there was one! I think you're confusing me with Q.
SAMUEL – When the f*ck did it de-link? What bollocks. 😛
JONATHAN – You're welcome. 😛
SAMUEL – Yeah seriously. Well…go take a look now. lol
And again, here's that link to donate, folks:
https://www.indiegogo.com/projects/trek-shorts-2021-by-fans-for-fans#