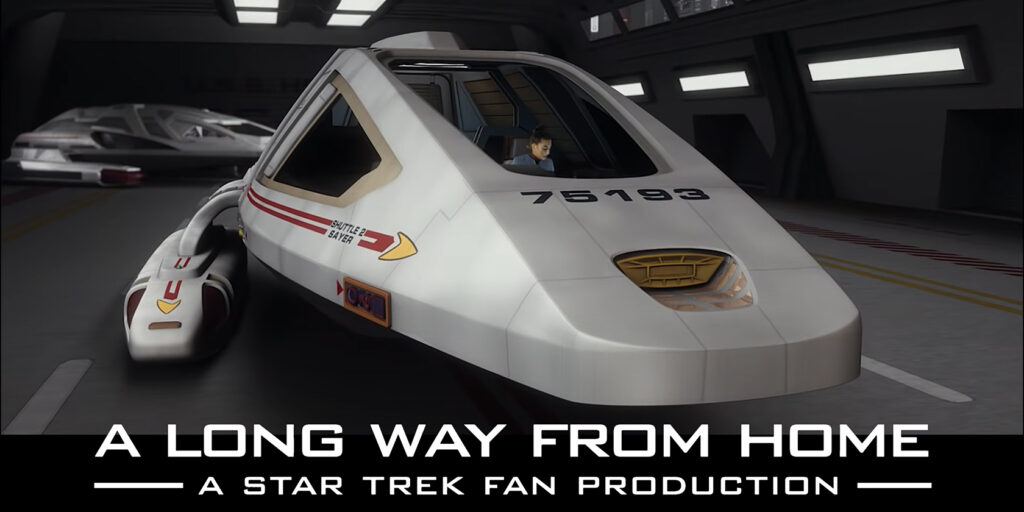 In Part 1, we began discussing the new TREK SHORTS fan film A LONG WAY FROM HOME. And whoever said that the CBS guidelines "killed off" all Star Trek fan films obviously forgot to inform SAMUEL COCKINGS!
With the talent and ingenuity of Willy Wonka and the uncanny productivity of a factory full of Oompa Loompas, Samuel has lent his considerable VFX skills to more than TWO DOZEN different Star Trek fan projects in five different countries on three different continents! In his "spare" time, Sam is also the co-host of the long-running and prolific TREKYARDS video podcast series. And in his "other" spare time, Sam also created the ambitious fan film TEMPORAL ANOMALY, six years in the making!
In late 2018, Sam successfully crowd-funded $7,385 from 114 backers for another ambitious fan project, this time a crossover bringing together characters and storylines from five different Star Trek fan series. Called CONVERGENCE, part 1 was filmed in 2019 prior to the pandemic. But part 2, requiring travel of cast members to England from the United States, Holland, and Scotland, was indefinitely delayed due the outbreak of COVID-19 and subsequent quarantine orders.
This didn't stop Sam, though. Wanting to release something that could be produced during the pandemic, Sam came up with the concept of Short Treks, high-quality Star Trek fan films produced on shoestring budgets utilizing Sam's prodigious CGI skills for exterior starship VFX combined with actors filmed remotely both on location and in front of green screens with super-realistic digital backgrounds composited behind them.
But Sam wasn't content to just make one fan film; he got it in his head to create SIX separate stories, each set in different periods of Starfleet history with different characters and starships. And so Sam launched an Indiegogo with a $10,000 goal. And with 10 days left, Sam is about two-thirds of the way there with more than 100 backers. If you haven't donated yet and have a few bucks to spare, the perks are pretty cool. Here's the link (pass it around to your friends, too):
https://www.indiegogo.com/projects/trek-shorts-2021-by-fans-for-fans#
But Sam couldn't wait for the campaign to fund before releasing the first of the six Trek Shorts fan films: A Long Way from Home. It stars NIMRAD SAUND (from Temporal Anomaly) and NICK and LUCITA COOK (from the fan series INTREPID), as well as featuring MICHELE SPECHT (from STAR TREK CONTINUES). It's a really well done production, having already generated more than 27K views on YouTube in just three weeks. Check it out…
Other Trek Shorts will feature ships and actors from DREADNOUGHT DOMINION, AVALON UNIVERSE, DARK ARMADA, and a couple of other characters from Temporal Anomaly in addition to Nimrad's Lt. Keeley.
Continue reading

"A LONG WAY FROM HOME is a great way to crowd-fund! (interview with SAMUEL COCKINGS, part 2)"