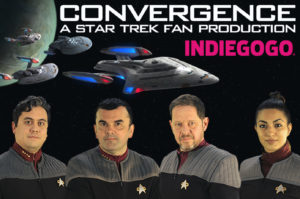 At midnight Pacific Time last Friday (while I was on East Coast time in Atlanta…don't worry, folks, Axacon coverage is coming later this week!), the 5-way crossover fan film CONVERGENCE finished up its Indiegogo campaign with $7,385 from 114 backers!  This was a third over their posted goal of $5,500, and allowed them to surpass two stretch goals.  The first (at $6,000) would cover the Indiegogo fees and perk production costs, meaning that all $5,500 could go to the production itself.  The second stretch goal ($7,000) will fund both a new late TNG/DS9 era uniform for actor Jim Von Dolteren (of a quality to match the others) as well as a special behind-the-scenes bonus video with interviews, bloopers, and "making of" features.
Even though Indiegogo offers the "In Demand" status for any campaign that exceeds its goal (meaning, you can continue raising money even after your campaign "ends"), sh0w-runner and Hobbit ring-bearer (to bring them all, get it?) SAMUEL COCKINGS has decided that he's now got enough to make this happen.  So the campaign is now officially closed.
As you might remember, Samuel was contacted by a concerned CBS when they saw the trailer to his other upcoming Trek fan film TEMPORAL ANOMALY.  And even though discussions with CBS were cordial, and Samuel reached an agreement when Temporal Anomaly could be released with some changes and is now allowed to exceed the 30-minute runtime limit, Samuel prefers not to poke the bear when it comes to the Trek copyright holders.  He set out to raise $5,500.  He did so, got a little extra to improve the finished project, and now he doesn't need to keep taking in more money.
On the final day of the campaign, Samuel released a sneak-peek "test scene teaser" showing what Convergence will look like when finished.  Well…kinda.  Y'see, it's a TEST scene, and it still needs quite a bit of work.  Samuel says it's got the wrong LCARS, it's missing a Master Systems Display, a dedication plaque, and possibly some extra crew members in the background.  The sound and music aren't finalized yet either.  "It's a work-in-progress (WIP)," Samuel told me with the enthusiasm of someone tackling a challenging project that he's really excited about.  And I'm also excited!
And I think, after you watch this sneak-peek video, even though it's still rough around the edges, you'll be excited, too…