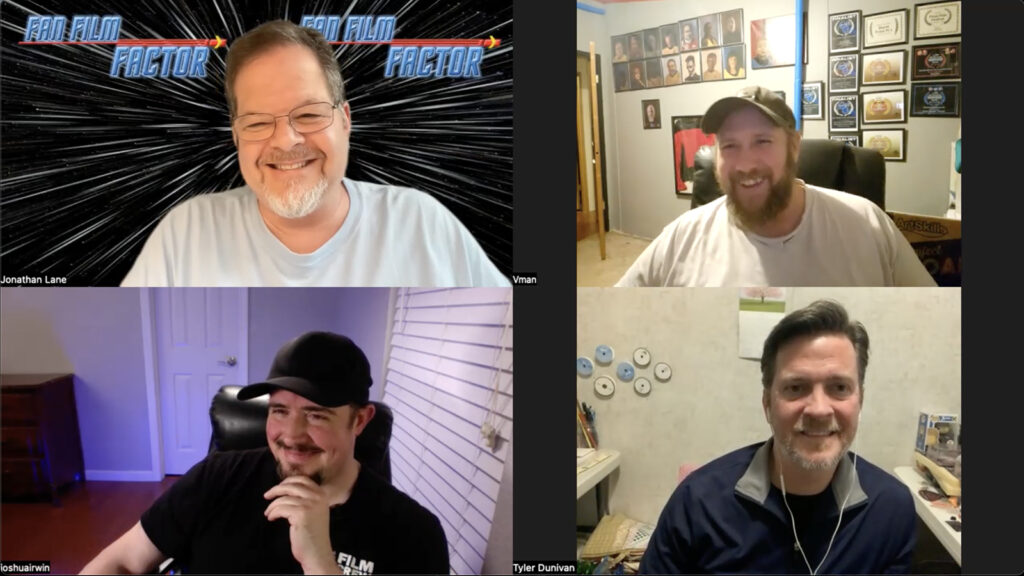 if showrunner JOSHUA IRWIN and his team from THE AVALON UNIVERSE can shoot three different and highly complex fan films simultaneously, then I can definitely do a blog that covers two things at the same time, right?
Those two things are 1) the release late last year of a new Avalon Universe fan film THE TRUTH WITHIN, starring CHUCK MERÉ as Captain Lance Ramirez and VANCE MAJOR as Engineer Erick Minard, and 2) Team Avalon's current efforts to wrap up their fan series by tackling not one, not two, but THREE ambitious fan films all at once!
First, let me show you their latest fan film…
For those unfamiliar with the Avalon Universe, Chuck Meré joined the cast for their second episode, AVALON LOST, which also marked the departure of series lead TYLER DUNIVAN. Chuck stayed for two additional episodes, DEMONS and AIR AND DARKNESS, before departing the series along with co-star VICTORIA FOX. Tyler Dunivan returned to the series shortly thereafter with the episode COSMIC STREAM.
Meanwhile, Vance Major is a bit of a legend of Star Trek fan films, having written, produced,edited, directed, and/or starred in a total of 146(!!!) Star Trek fan films featuring his character of Erick Minard and the U.S.S. Constar. Many of his fan films feature interstellar "Facetime calls" between two or more characters, which are pretty easy to shoot (just record your lines into your computer or camera phone at home!). And indeed, The Truth Within looks more like a Minard/CONSTAR CHRONICLES fan film than a typical Avalon production.
Lots of questions abound, like why that simplified format, and does this mean that Chuck Meré is returning to Avalon or just making a cameo appearance? I ask both of those questions during this blog's video interview below.
The second thing we chat about is something that I personally find even more intriguing. As some Avalon fans know (and are a little saddened by), the series will soon be coming to an end. The Truth Within marks the eleventh Avalon fan film (watch them all on this playlist), and only three more episodes remain: KNIGHTS OF THE VOID, CRISIS ON INFINITE EXCALBURS, and THE ONCE AND FUTURE CAPTAIN. (Dontcha just love the Arthurian titles?)
And these aren't "little" episodes!
Knights is full of action and adventure. Crisis is a huge undertaking crossing realities with the same actors playing multiple characters from different universes and sci-fi franchises. (And thanks to Josh for letting me add a couple of fun characters to the script, including a "Space Elvis" tribute to STAR TREK: NEW VOYAGES's show-runner JAMES CAWLEY. You're all going to love this character!) And Once and Future Captain is a gripping and poignant series finale with a huge cast.
But rather than shooting these three films one at a time, Josh has decided to produce them all simultaneously. And we're not talking about taking a long weekend to work on the first film Friday, the second on Saturday, and the third on Sunday. No, sir!
Continue reading

"AVALON UNIVERSE releases THE TRUTH WITHIN and then shoots THREE new fan films SIMULTANEOUSLY! (video interview with JOSH IRWIN, TYLER DUNIVAN, and VANCE MAJOR)"