OF COURSE THERE ARE SPOILERS! ARE YOU NUTS???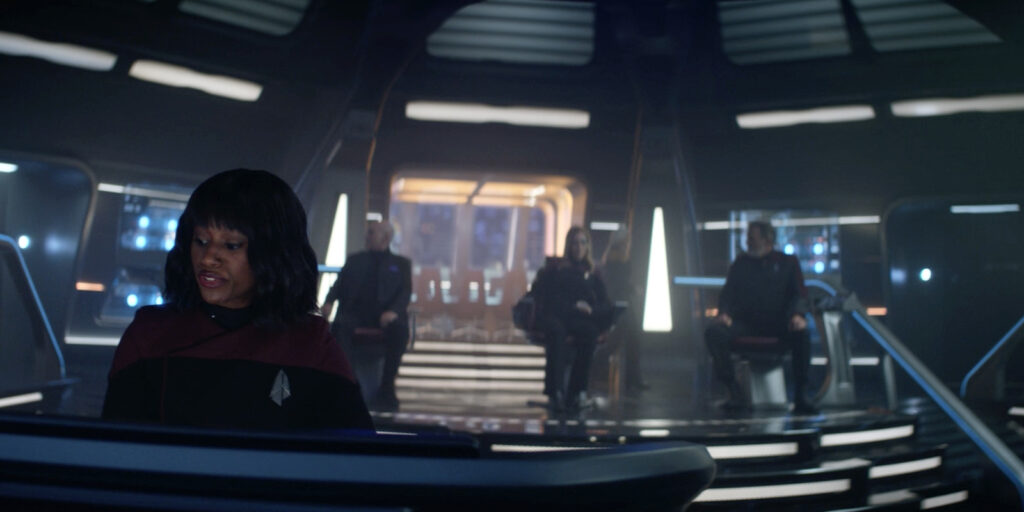 Let's not kid ourselves, the reviews from fans for the premiere of Season 3 of STAR TREK: PICARD have been stratospherically euphoric with a teensy-tiny percentage trying to find something to complain about. In fact, one of the complaints I saw was that yet another Picard season storyline starts with "Help me, Jean-Luc, you're my/our only hope!" Of course, Star Trek II starts that same way with a message from Carol Marcus; Trek III has McCoy/Spock saying, "Help me, Jim;" Trek V begins with "I need Jim Kirk;" Trek VI has "Only Nixon could go to China" (Kirk is Nxon); and so on. In other words, the criticisms I've seen so far are reaching deep, folks, and nearly all of them include, "I liked it, but…"
Yeah, you loved it. You know you did.
But WHY did we love it so much (or at least "like it, but…")? With so many reviews already out there, I've decided that, rather than going through everything or most things that were great about this season premiere, I am going to look at just ONE THING, and it is a very important thing! Do you remember the movie City Slickers with Billy Crystal and Jack Palance? In it, the latter's character of Curly holds up his index finger and says, "One thing." Imagine me doing that right now…
Oh, there's way more than one thing to love in this first episode. But for me, there was one 3.5-minute sequence that encapsulated everything that was oh-so-right about this new season, and what's been missing from ALL of the other CBS-produced Trek series so far. Literally. It's one scene that made me confident that writer and showrunner TERRY MATALAS is a fan who gets what Star Trek is and wants to give us other fans what we've been clamoring for these past six years.
Ladies and gentlemen, my "one thing"…
Goosebumps, anyone?
Actually, I can already hear the (very few) complainers out there saying, "Yeah, but we've seen a ship leave spacedock SOOOOOOO many times before!" And it's true. Variations of that same launching sequence appeared in Star Trek: The Motion Picture, Star Trek II, Star Trek III, Star Trek VI, and even Star Trek Generations (plus twice in Star Trek: Enterprise). But that's the point of this sequence. It is, in many ways, the quintessential Star Trek scene. And y'know what?
CBS STUDIOS HAS NEVER GIVEN US A PROPER LAUNCH SCENE!!!
Oh, they've included a few launch scenes across their various series, but those sequences—for various reasons that I'll get to in a bit—didn't feel quite right. But this one did.
Why? Well, let's take a look at what characteristics mark a "proper" Star Trek starship launch scene like the ones we saw in those Trek movies I just listed and in the pilot episode and fourth season of Enterprise.
Continue reading

"Why ONE SCENE from the PICARD season 3 premiere lets us know that STAR TREK IS REALLY BACK! (editorial review)"