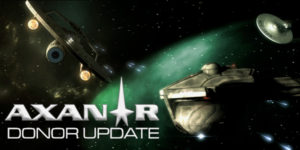 And now the moment you've all been waiting for!  (Well, at least some of you were probably waiting for it.)  AXANAR PRODUCTIONS is finally answering that oft-asked question: what the heck did you spend $1.4 million on???  Obviously, it wasn't all tires and sushi!  But did it really all go to turning a warehouse into a studio, building some sets, fulfilling a few (thousand) perks, and filming a 4-minute Vulcan scene plus 15 minutes of other visual effects?  Well, now you can finally find out for yourself.
Axanar has also released an update on its plans for the future–what the now 30-minute Axanar movie will look like, how the full Axanar story will manage to get told, what's going to happen to Industry Studios, and whether Axanar Productions will be producing other Star Trek fan films after Axanar (and will they be following the guidelines…well, of course they will!).
There's a full DONOR MEMO that's been published on the Axanar website with the headline "Lay in a course for the future."  I encourage you to read it in its entirety.  Here on Fan Film Factor, I am just going to present some of my own insights on those announcement plus a screen cap of the financials themselves at the end.
I have also been approved by ALEC PETERS to open up the blog comments section to collecting QUESTIONS FOR ALEC for him to answer.  But there are a few ground rules before you start feverishly typing:
Questions must pertain to the contents of the donor memo: the Axanar financials and the plans for the future.  Questions about the lawsuit and what happened in the past just aren't relevant to the topic(s) at hand.
Not every question will be selected to give to Alec.  Rest assured that I'm not just going to cherry pick the "easy" ones, but I am going to pick the best ones that I think will give us all the most important information and clarifications.
Don't be a jerk.  Your question has a MUCH better chance of making it into the "finals" if you're polite and don't treat Alec like a swindler, con-man, liar, and rogue.
Post your question(s) in the comments section below, and in a few weeks, I'll publish Alec's answers to the questions that I select.
And now, here's my take on the plans for Axanar Productions (from the memo) and the financial report…
Continue reading "AXANAR FINANCIALS and FUTURE PLANS…plus YOUR chance to ASK ALEC PETERS!"