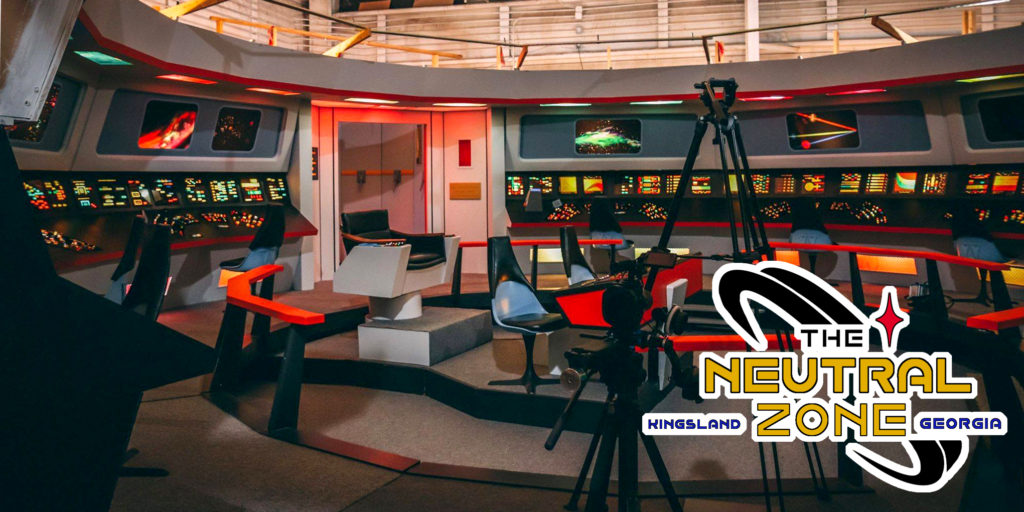 Man, I hope nobody misread that headline as "NEUTRAL ZONE STUDIOS is ON FIRE!" No, no, no…that is NOT what's happening!
But what is happening is that donations are coming into their Patreon campaign at an awesome pace! It was barely three weeks ago that I published a blog marveling at a single donor committing to pay more than $800/month(!!!) to help keep the rent, utilities, maintenance, and insurance paid on the building housing the amazing TOS sets that had first been used for both Starship Farragut and Star Trek Continues.
After purchasing the sets from VIC MIGNOGNA in late 2017, uber-fan RAY TESI decided to open up the renamed NEUTRAL ZONE STUDIOS in Kingsland, GA to any fan filmmaker wanting to shoot there (cost is $300/day). Already, Dreadnought Dominion, Ghost Ship, and the upcoming Constar Chronicles have all shot there…with more projects scheduled soon, including an appearance by NICHELLE NICHOLS for the proposed documentary about her amazing life and career.
The sets were also opened up to the general public for a weekend last October and will be opened up again this coming weekend for Fan Appreciation Weekend 2. (It's free to attend, and you can still sign up here.)
But while they say the best things in life are free, in this case, someone has definitely been paying for the "free"—Ray Tesi himself. Considered by many (including me) to be one of the nicest guys in our fan film community, Ray has been paying the costs for this studio out of his retirement savings for the last year and a half. That's about $3,500/month or $42,000/year.
Think about that number for a second. Ray isn't a Kardashian (or even a Cardassian). He's just a nice guy with a modest income and some decent savings wanting to keep these unbelievably beautiful and important sets out of the dumpster.
So Ray set up a Patreon last summer to try to bring in some much-neeeded financial support to keep him from going broke in this noble endeavor. For the first seven months, the campaign mainly flatlined. But starting in mid-February, it began really catching on. Donor totals grew steadily and, as I said, in late April, one donor pledged a staggering $826/month to take the monthly Patreon total up to $1,696.
I had wondered how things would go after that. As you can see from the chart below (listing the previous name, Stage 9 Studios), the answer is AMAZINGLY! In the four weeks since that one mega-donor, the Patreon has added a staggering 40 NEW BACKERS and an extra $457/month ($5.5K/year) in additional donations (actually, since I did this screen cap last night, two additional patrons have signed on!)…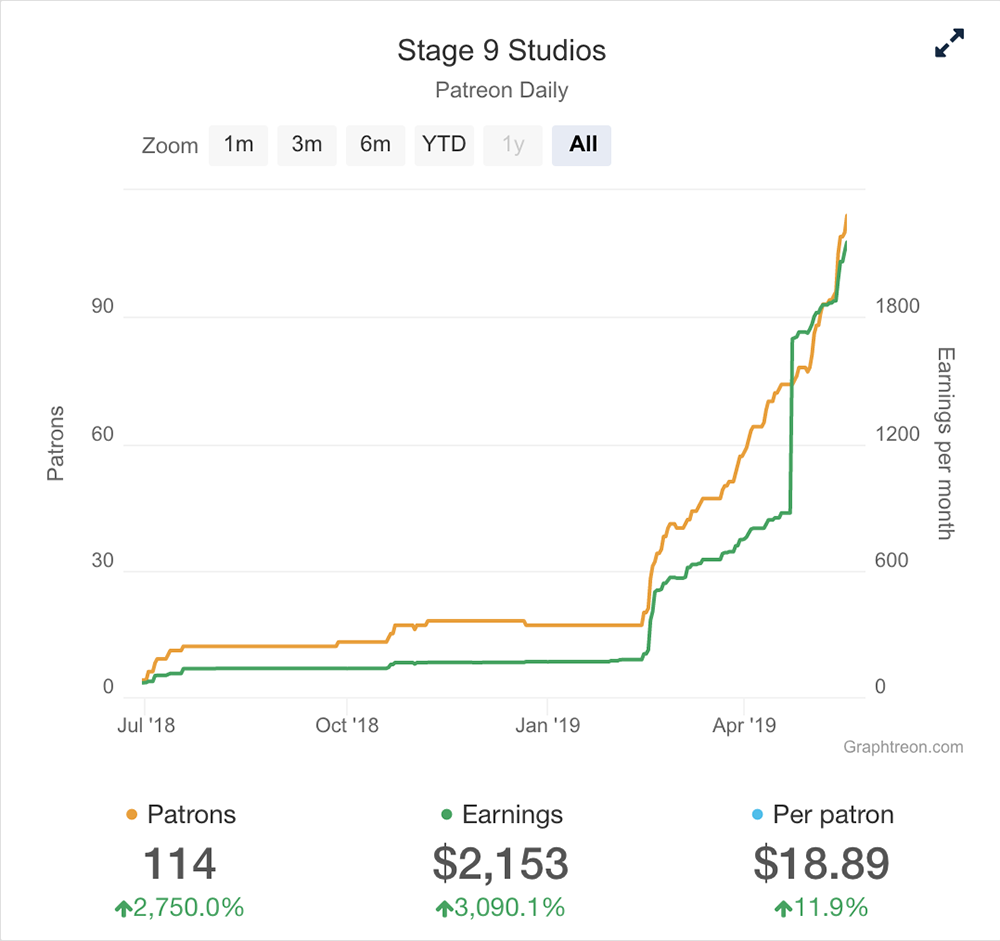 This has taken Ray close to two-thirds of the way to completely covering his expenses (allowing him to spend money on studio improvements like fixing and/or adding new set pieces or maybe even an air conditioner). But we're not there yet. Even at the current level of support, Ray is still covering over $16K/year in expenses from his own pocket. But that's a lot less than the $42K/year he started with!
If you haven't signed up yet to help keep this cherished fan film resource available for fans, please consider clicking on the Patreon link below…