It was the best of times, it was…aw, heck! IT WAS FRICKIN' AWESOME!!!
I'm referring, of course, to the main shoot of my Axanar Universe fan film INTERLUDE that took place about a week ago as I write this. It's taken me this long just to process the amazing, kaleidoscopic experience I had.
With so much to tell you all about what happened, I wondered how best to do it. A single blog about the weekend would read like War and Peace and still barely scratch the surface. So instead, I'm going to break it down into smaller chunks, and each will end with a series of on-set photos. (I'm still editing through everything…and there's gonna be at least a few hundred pictures!)
I've decided to call this blog series Interlude Confidential. (Not quite sure what made me think of that title…maybe ALEC PETERS can tell me.) Anyway, if you don't want to read that much, then feel free just to look at the photos and enjoy the captions. But if you're curious what the experience of being a first-time Executive Producer on a Star Trek fan film felt like, then these blogs will be my "Vulcan mind-meld" with you.
And speaking of executive producing, that's a really good topic for the first blog about this fan film production. What exactly did Jonathan do?
Many months ago when I first kicked off the Interlude GoFundMe campaign (still accepting donations, by the way!), a few folks in a certain Facebook group complained that I was doing little to make my own fan film besides simply raising money for it (which is quite a chore in and of itself, y'know!). And truth to tell, I initially thought that was the extent of it.
Sure, I also wrote the script, was designing the insignia, and getting uniforms and patches made. But my Directors VICTORIA FOX and JOSHUA IRWIN are the experienced industry professionals. I'm just a guy who likes fan films and blogs about them obsessively. So I figured that, once I raised the money, I'd hand the steering wheel over to them, climb into the back seat, and take a well-deserved nap for the rest of the trip.
Yeah…that totally did NOT happen!!!
In order for Victoria and Josh to direct this film, they had to have everything they needed ready and waiting for them. And during filming itself, they needed to not have to worry about a host of little things: there had to be equipment, costumes, paperwork, support staff, and people assigned to specific tasks who, when asked, would quickly and competently do their jobs—whether it be hair and make-up, wardrobe, lighting, keeping the set clean, or a host of other tasks.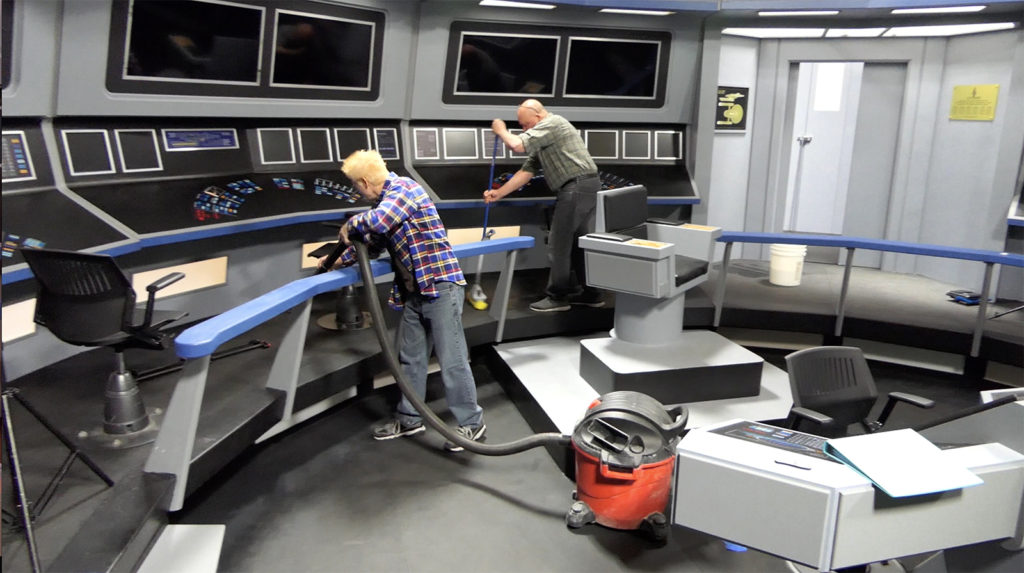 Now, some of those people and items Victoria and Josh brought along themselves or had delivered, like video and lighting equipment and their sound-mixer EARL HALE, who drove 11 hours from Arkansas with them. And some people associated with the production were interviewed and selected by Victoria and Josh, like our 1st Assistant Director JOSH WILCOX and our hair and make-up people. Some of these folks I reached out to first; others Victoria and/or Josh reached out to first. But it was a team effort all the way through.
And a fair number of people were folks whom I signed up entirely by myself (no interviewing by the directors), including a whole bunch of actor-extras and a slew of other volunteers. Many of these wonderful folks approached me, asking how they could help. I love this fan film community!
Granted, I always knew I'd be the one paying for things like costumes and patches and our beautiful admiral's tunic for Ramirez to wear when he's wounded in sickbay. (That tunic just arrived in Arkansas from Italy last week.) During the filming weekend itself, I was paying for things left and right both with my credit card and reimbursing people via Paypal. Even though CBS and Paramount say you can have only volunteers on your set, there's still gas, lodging, materials (like make-up and hair products) and a host of other expenses that have to be covered along the way. And as I said months ago: no one will be expected to PAY for the privilege of volunteering on my fan film (except me!).
Of course, not everything happened during the filming weekend. Some vendors has to be paid ahead of time. For example, I needed to find a caterer whom we could afford. Alec's caterer for the Axanar shoot a month earlier was feeding 80 people a day and so offered a bit of a bulk discount. I was feeding 30 people, and couldn't afford the guy. Fortunately, the locally-based Chef Rob was agreeably within our price-range for breakfast and lunch for two days…just with no drinks beyond coffee and tea. No worries; we'd just go to Costco for water and sodas and Gatorade and snacks. I signed him up about three weeks in advance when we finally had a reliable head count of cast and crew for each day.
It wasn't until two weeks later that I woke up in the middle of the night in abject terror: I'd completely forgot about tables and chairs! I needed to find a place to rent them from or else 30 people were gonna be eating on the floor!!! Fortunately, I found a local place that handles weddings and other events and would rent us eight 6-foot folding tables and 30 chairs. But we needed to pick them up on Friday, as their warehouse was not open on weekends. I wasn't going to be arriving until late Friday, so I couldn't do it. I had to find someone nearby with a large SUV or pickup truck who was willing to go for me.
Fortunately, the Axanar shoot was full of very helpful local volunteers…and a whole bunch signed up for Interlude, too. One of them, SCOTT G., lives an hour away and has a trailer. As long as I agreed to pay for his gas (of course!), he'd be happy to pick them up and return them on Monday. So I set up the rental.
It was at about this point that I began to truly understand just how important an Executive Producer (or a show-runner or just an organized person) is to a production. I mean, obviously the show-runner runs the show. But I hadn't realized before this just how many moving parts have to be overseen and watched like a hawk. Had I forgotten to handle even one important item, there was no one else who would be reminding me. My directors—and indeed, the entire production team—were counting on me not to screw up…just as I was counting on all of them.
My work prepping for the shoot went on right up until I departed Friday morning. One of my last critical tasks before leaving happened late Wednesday night when Joshua and Victoria had me order a series of special camera and lens equipment for weekend rental and have it overnighted to Alec's house from Tennessee. By doing this last minute, there was a $90 shipping fee, but we also didn't have to pay for an extra day or two of rental…so the expensive shipping actually saved us some money. But there I was, at 10:45pm, navigating an online interface and paying a pretty darn large amount of donor funds, hoping (praying!) that someone would be home at Alec's house on Friday (as the rental company, of course, requires a signature). So the next morning, I had to verify with Alec that he or someone else would be home to sign for the package when it arrived. (Major butterflies on that one during my flight!)
Let's see, what else did I do leading up to the shoot? Oh, yeah…costumes! Well, measurements actually.
We ordered those awesome tunics months before we knew who would be cast in the various roles. So there was a lot of guesswork and finger-crossing involved when we estimated how many of which sizes would be needed for both Interlude and Axanar. The factory made the tunics in standard sizes of S, M, L, and XL. But in order for them to fit our actors perfectly, they would need to be tailored by a seamstress. And that seamstress was the awesome KAREN SHUEY.
In the real world, had this not been a Star Trek fan film, Karen would have likely been paid several hundred if not a few thousand dollars for traveling up from Tampa to Lawrenceville for four days (two on set and two before), tailoring the uniforms. She almost literally spent all of those four days in a small room, away from the action, sewing! The fact that she did it simply for gas money and hotel cost still amazes me.
Anyway, in order to get all of those tunics ready in time—there were nearly TWO DOZEN!—Karen had to have measurements for all of the actors and extras. Fortunately, Alec already had his uniform fitted, as did the two USS Ares crewmembers from the Axanar shoot that agreed to do Interlude, too. That still left twenty tunics to sew…and guess who had to track down all of those people's measurements? (Hint: he's typing this sentence.)
Some folks provided me their measurements quickly—chest, waist, hips, and sleeve length from shoulder to cuff. A few needed to be nagged a bit. I had less than a week to collect all of these numbers and get them into a spreadsheet to send to Karen in time for her to have every tunic ready before the weekend.
I was also asked by Victoria to collect the contact information for EVERYONE involved in our shoot—all 45 of them—emails and phone numbers (even for the caterer!) for our 1st Assistant Director to have. So that was quite an organizational chore! But someone had to do it…and that someone is the Executive Producer.
Of course, being EP does have its benefits…including the fact that I get to make a whole bunch of decisions without worrying about clearing it first with the "boss." (That said, I do run most things past Victoria and Joshua.) However, I was able to make three casting decisions that I was particularly enthusiastic about.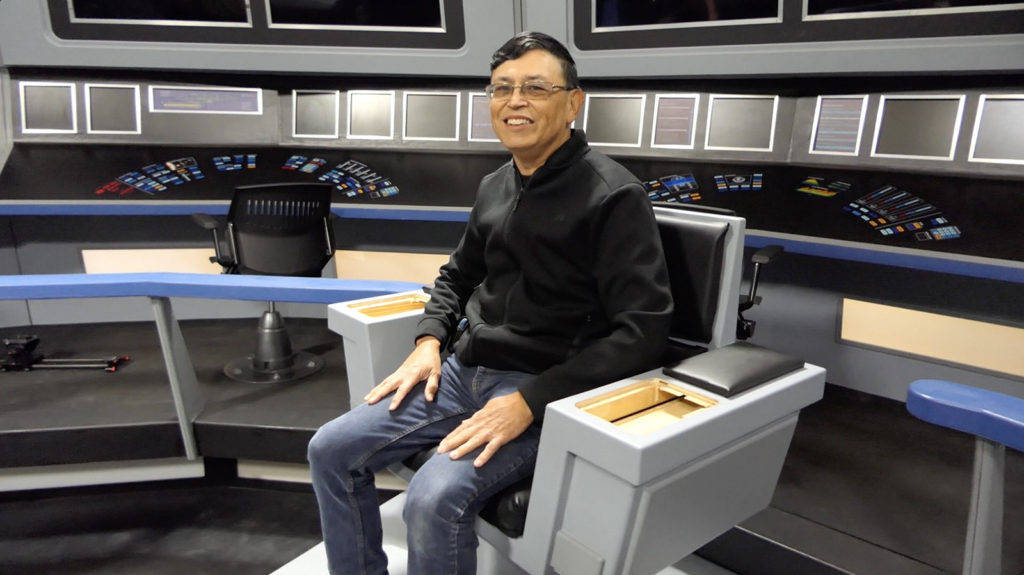 In addition to inviting fellow fan filmmakers LEZLIE SAWYER and JOSE CEPEDA to be extras, I also asked my $3,000 donor, RAY MYERS (who was invited to attend the shoot and also gets his name on the Game of Thrones coffee cup) if he wanted to appear as a crewman on the USS Artemis. Ultimately, he even got to be first officer!
Another fan "dream come true" moment was when I invited TREY McELWAIN to be an extra. The creator of Axanar Comics, Trey was the reason Interlude happened in the first place. So when he told me that he and his wife Nicole were planning to be at the Interlude shoot, I suggested they BOTH be extras. This nearly made Trey jump through the phone and hug me…and Nicole, well, let's just say she loves her husband very much and patiently indulges his "hobby." Both did an awesome job on Saturday, and particular kudos to Trey for totally nailing the role of the Artemis helmsman. Even Victoria commented on how well a "non-actor" did with so many close-ups.
But most of all, I made the call to allow STEPHEN SHUEY (son of our seamstress Karen) to don a red tunic and sit at Engineering. Stephen is on the autism spectrum, but he is a HUGE Axanar fan. He used us all of his vacation money to come to Alec's first shoot and had an amazing time handling wardrobe. While Stephen is a little "hefty," he isn't unbelievable as a Starfleet engineer (heck, just look at Scotty!). And so, when he asked me on Friday night if he might be able to play a role as an extra on one of our two starship bridges, I said "yes." Folks, I have never seen such a big smile! Stephen was on cloud nine the whole rest of the weekend.
Of course, not every decision was made quite so calmly and easily. I recall Saturday morning when the hair and make-up ladies showed up and asked where they should set up. Where indeed! The front two offices were being used for sign-in and computer operations. The next big office belonged to Karen and all of her costumes and was where people would change. The next office…there wasn't a next office! That was the hallway area in front of the bathroom. Definitely can't put hair and make-up there!
Lunch tables were set up, but we kinda needed those for, well, lunch. As I looked around and began to panic, a crazy idea suddenly hit me. Garth's quarters! We're not using that set. Why not set them up in there? Garth's bunk became the perfect make-up and hair supplies table (along with another table we unfolded). Garth's quarters was out of the way, quiet, and because it had two entrances, the person getting their hair done in back could come and go without the person in the make-up chair having to move. Perfect! Decision made; mischief managed.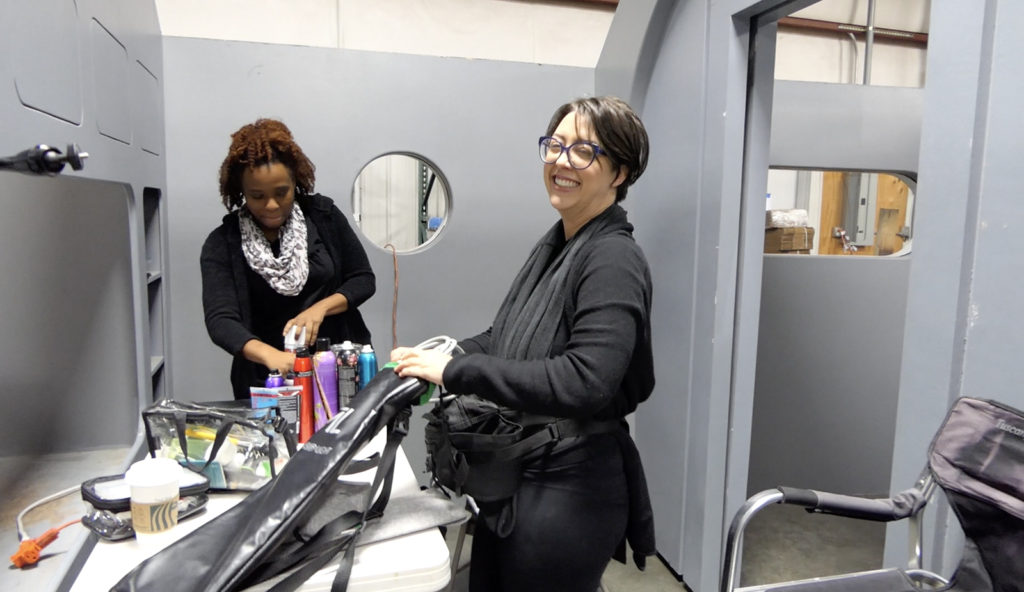 The whole weekend was filled with little and big decisions like that. And I was truly blessed—blessed, I tell you!—with a team of talented, competent, and agreeable volunteers who were ready at a moment's notice to do anything that was needed to help. They were, all of them, the wind beneath my warp engines. And while this blog has a lot of "me-me-me," I could not have done any of it without THEM-THEM-THEM. Each member of the team has my eternal gratitude.
Amazingly, in the end, no one complained to me about anything! (Well, Alec said the coffee cups were too small and kvetched that we didn't have stevia…but I'm fairly sure he was only pretending to be a frickin' diva.) Okay, so with the exception of Alec, no one complained. In fact, so many people thanked me (when all I could do was just thank them back double)—both in person at the shoot itself and afterward in e-mails and texts. Everything went so smoothly. Even the weather was perfect (highs in the low 60s…about forty degrees cooler than during the stifling Axanar shooting weekend).
In coming blogs, I am going to talk MUCH more about the "them-them-them" I mentioned—starting with my ultra-talented directors. They and others will get their blogs in the weeks and months to come.
In the meantime, here's the first batch of photos from the shoot…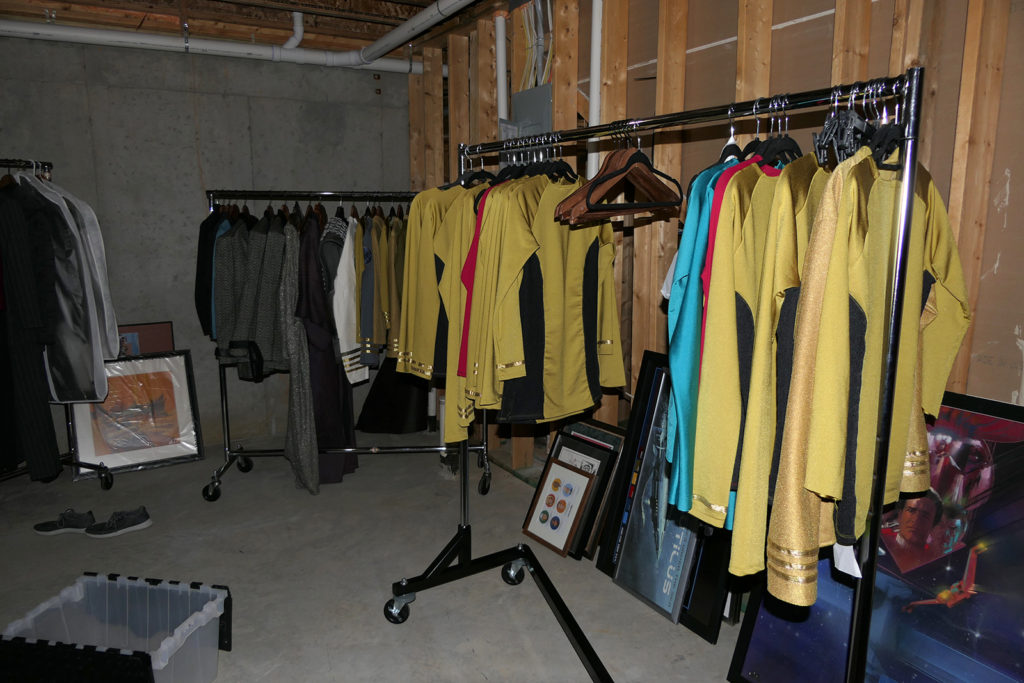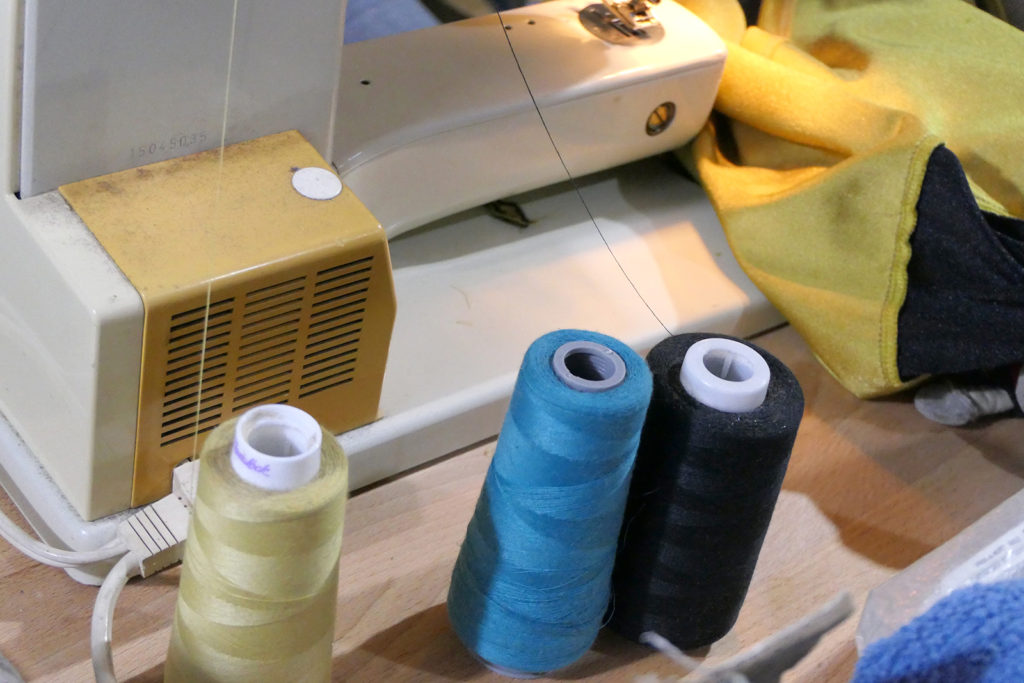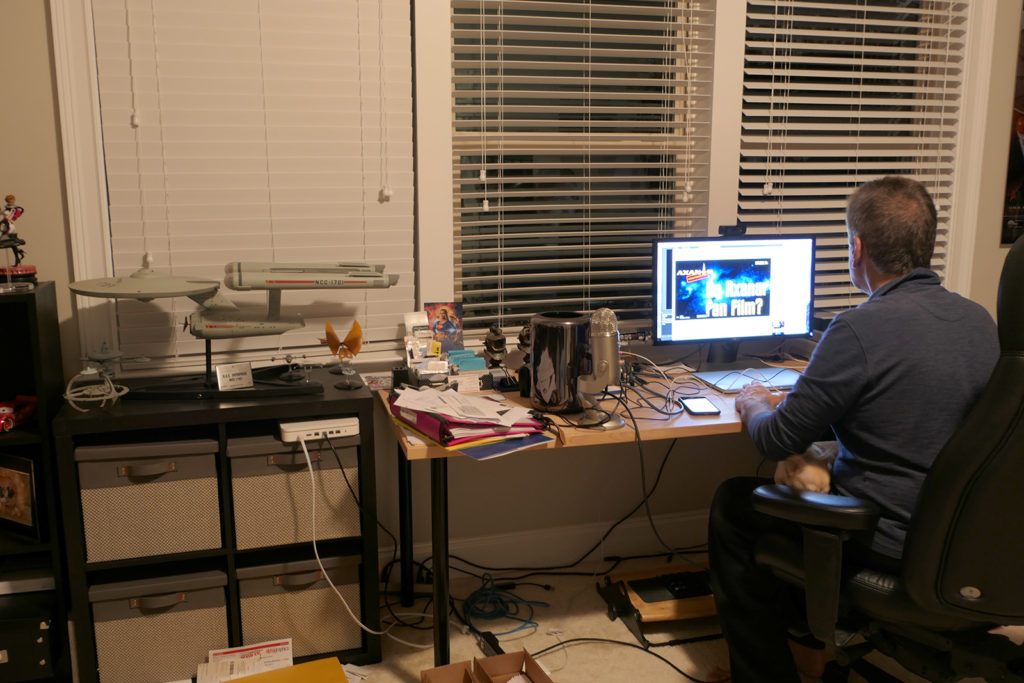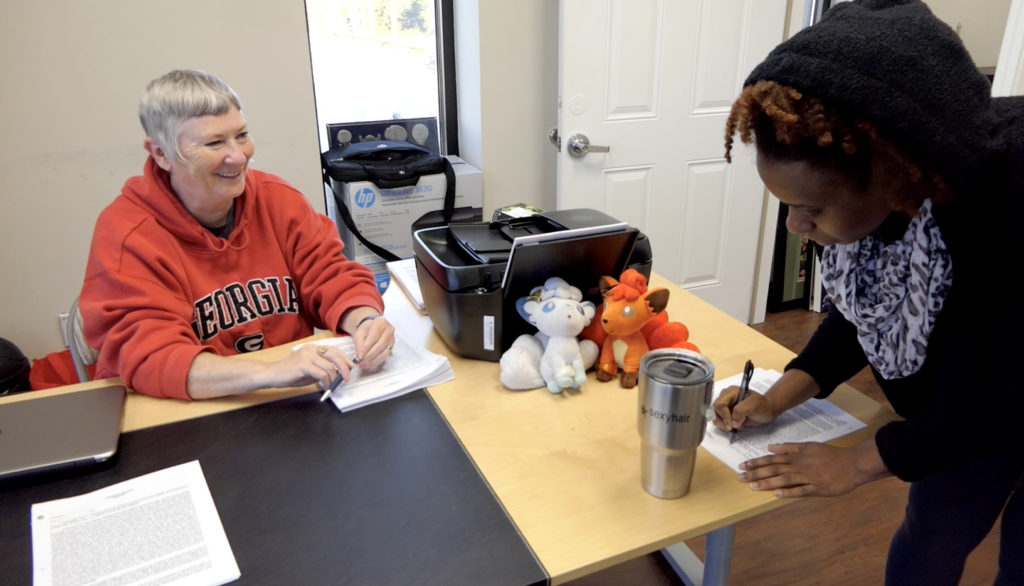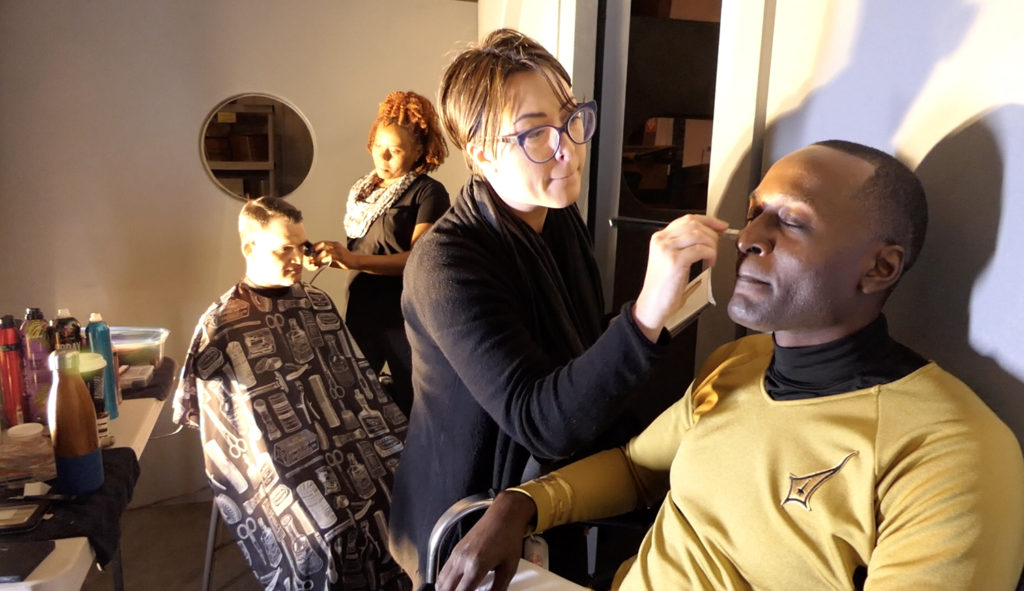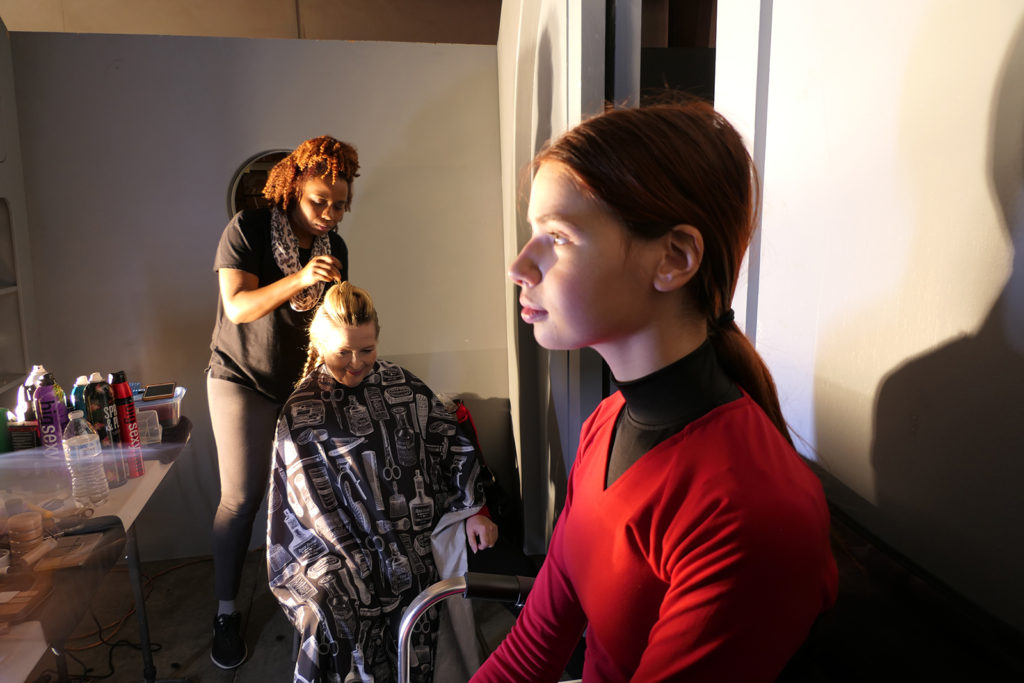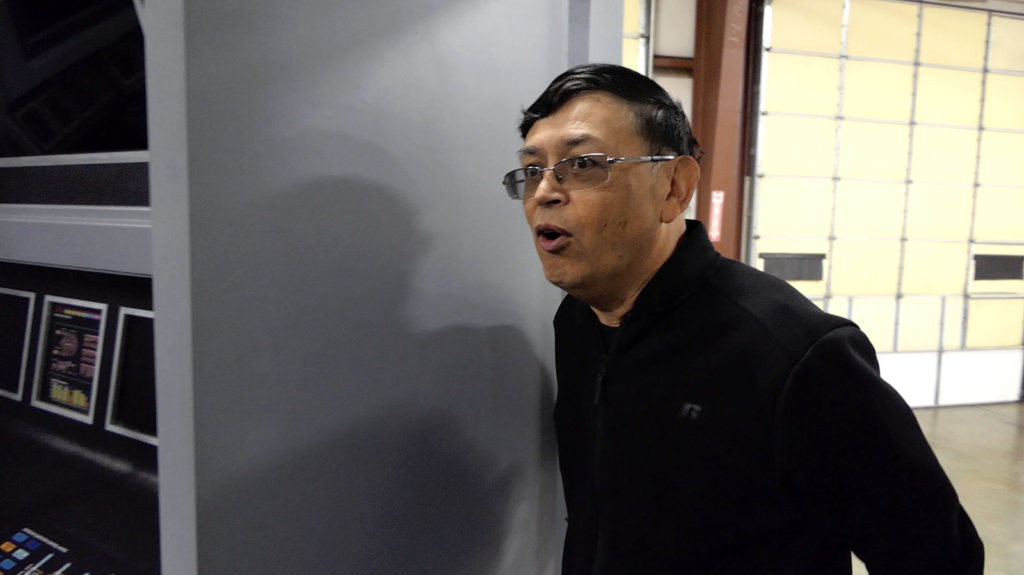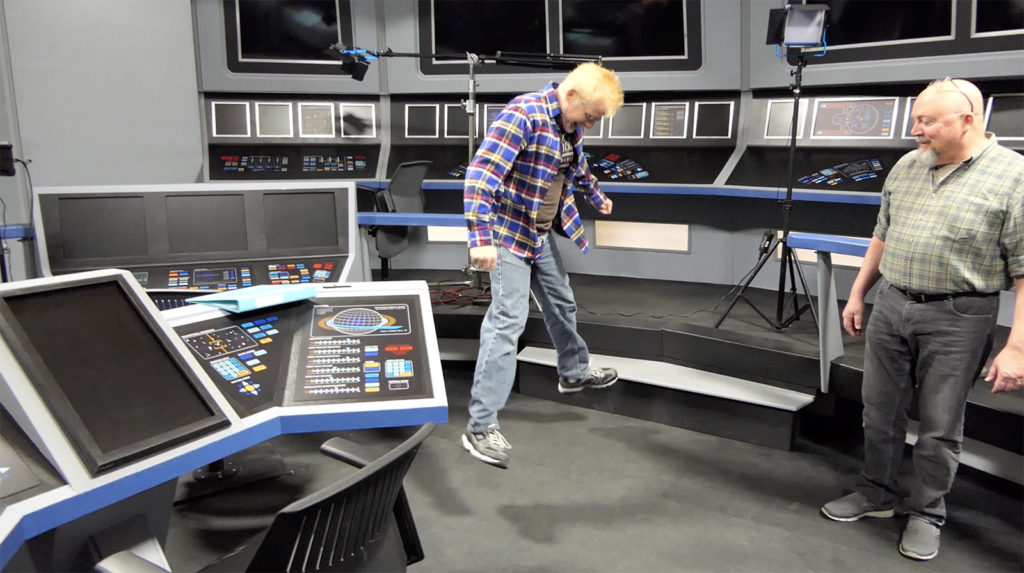 Y'all come back now, y'hear?