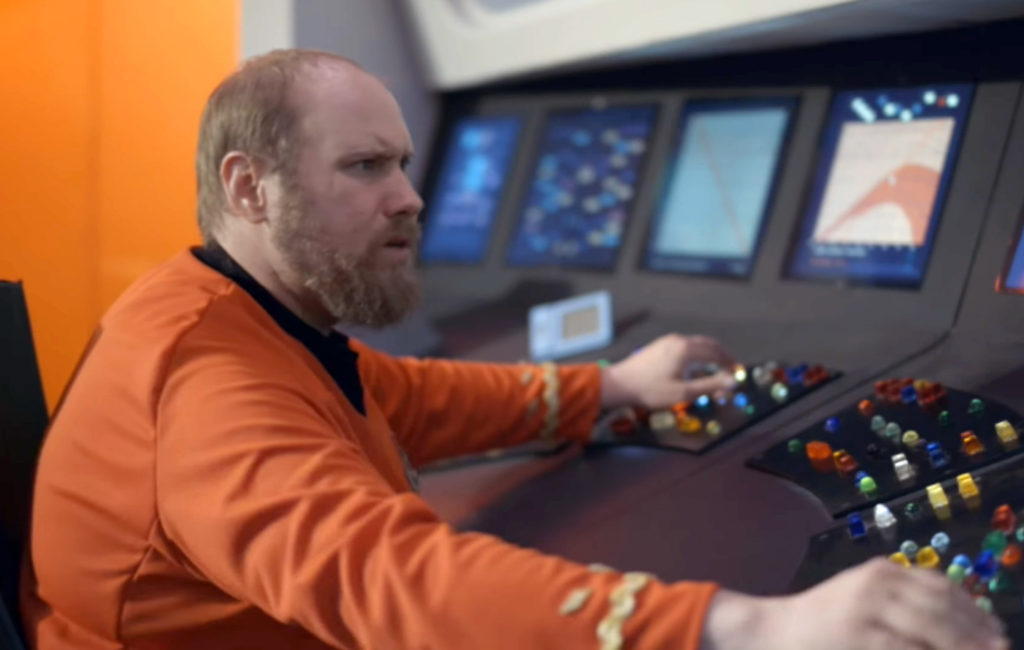 I know a lot of people in the fan film community—friends, comrades-in-arms, friendly acquaintances, long-distance buddies—but few of them do I feel closer to than VANCE MAJOR. You might have heard of him…'cause I mention him a lot on this blog!
Last month, I posted an audio interview with Vance when he released 51 new episodes of THE CONSTAR CHRONICLES and 18 special editions of the MINARD saga of fan films. Earlier this month, I posted a blog promoting his new GoFundMe campaign for CONSTAR CONTINUES…which I hope you'll consider donating to.
Over the coming weeks, I'll be featuring audio interviews with two guys named Greg—GREG TEFT and GREG MITCHELL—both of whom worked on Constar with Vance in significant production roles. Vance requested that I interview them separately to give each fan filmmaker a chance to shine. And I'm happy to do it!
The reason is that I love Vance…I love him like a brother. In fact, he frequently calls me "brother"—although I think that's just his word for "dude"—but "brother" just shows what a truly warm and loving heart he has for people.
I've literally lost sleep because of Vance—not because I worry about him but because he works an overnight shift and our calls frequently start after midnight my time (2am for him in Kansas) and can usually last an hour or even two! We've chatted about everything from fan films and fan filmmakers to Star Trek, superhero movies, politics, weather, triumphs, frustrations, and my favorite subject: our boys. Vance is a dad like me—and a damn awesome one!—and since my son is half a decade older than his, I can give him some "heads up" advice and also look back at those days gone by and silently envy Vance getting to live those wonderful moments himself.
Yesterday, I hurt Vance.
I didn't mean to, but I did. When you write 3-to-5 blogs a week, it's hard to never screw up even a little. But this went beyond a "little" screw up to something that upset Vance deeply.
I didn't find out from him directly, although he did abruptly resign as an admin from the Fan Film Forum Facebook group and quickly left our admin Messenger group a few seconds later. I tried contacting Vance on Messenger myself asking what was wrong, but hours went by with no response.
I found out later when a mutual fan film friend contacted me that Vance was hurt by the blog I published Saturday promoting the Indiegogo for STARSHIP INTREPID's new episode "Echoes." (Fee free to donate to that campaign, too, of course.) According to our mutual friend, Vance felt as though I had implied that he was a failure for having not yet reached his $1,175 goal yet (he's only $490 away) while Intrepid is already at $1,074 after only a few days.
Obviously, I never meant to imply that Vance was failing at anything. I was simply trying to "piggyback" a mention of his campaign onto a post about Intrepid's campaign (two birds, one blog). I never imagined I'd be inadvertently hurting the feelings of my dear, dear friend.
So I am now apologizing in the most public way I can to let Vance and all the rest of you know how badly I feel about what I said and implied. Vance is the true beating heart of the Star Trek fan film community. He's worked tirelessly to help people in that community, support them, befriend them, and invite even more new people into our "collective." He brings his own perspective through his many, many, MANY fan films, and he stands as an inspiration to all of us that you don't need five-figure budgets and a studio full of unpaid professionals to make a fan film. You just need a dream, desire, determination, and a camera phone.
I never intended to mock, deride, nor denigrate my friend, and I hope that by apologizing in the same very public way that I made my initial comment that I can demonstrate my earnest sincerity to him.
Vance, I am sorry. And I hope that you can see your way to understanding that I never meant to hurt your feelings nor say anything intentionally negative. You are my friend. I have been, and ever shall be, yours.