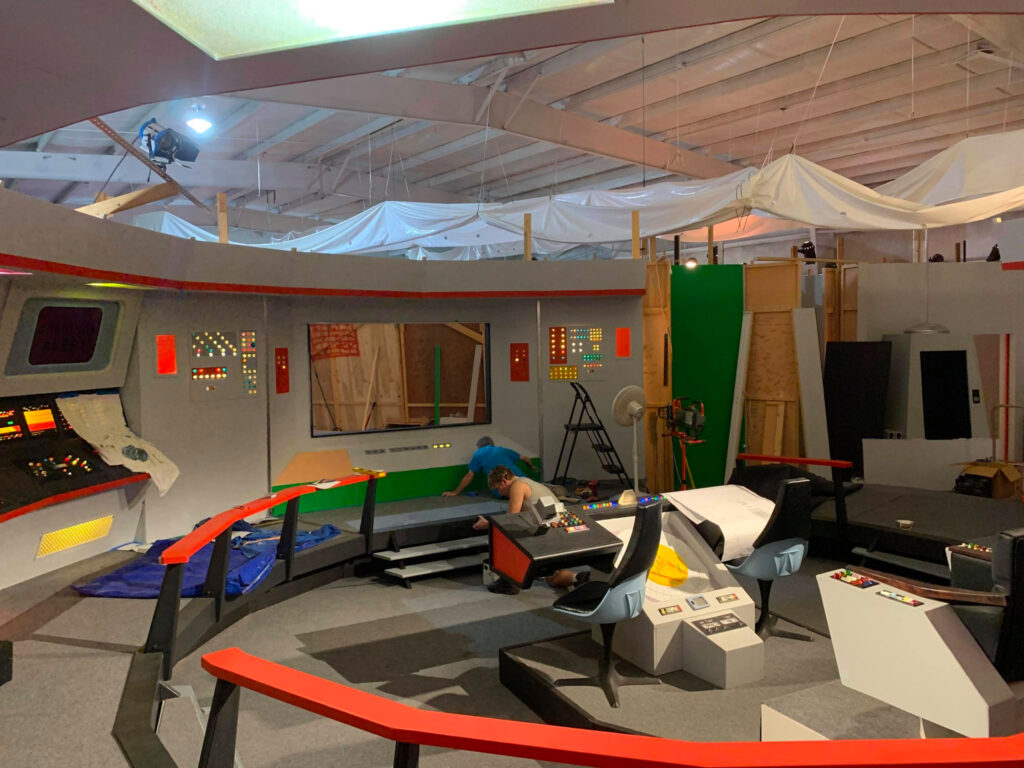 The amazing TOS sets at NEUTRAL ZONE STUDIOS in Kingsland, GA got their start back in 2008 when the fan series STARSHIP FARRAGUT began building some of their own sets. They didn't want to have to continue borrowing JAMES CAWLEY's sets in upstate New York (where they'd filmed scenes for their second episode "For Want of a Nail"). By 2009, they had an awesome shuttlecraft set interior plus a transporter room, turbolift, captain's quarters, and a corridor…and they were about to start work on a bridge set!
The original location for these sets was a small building in the lovely city of St. Marys, GA (the second oldest city in America) just north of the border between Georgia and Florida. The facility was dubbed "Studio One" and hosted the first-ever fan series "open house" on April 17, 2009. At the time, this is what those sets looked like…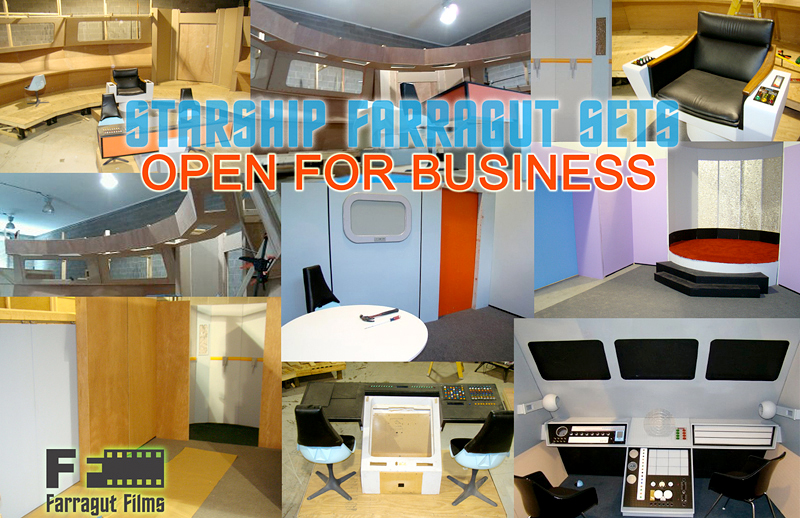 By the time of their second "open house" on December 4, 2010, the bridge set looked like this…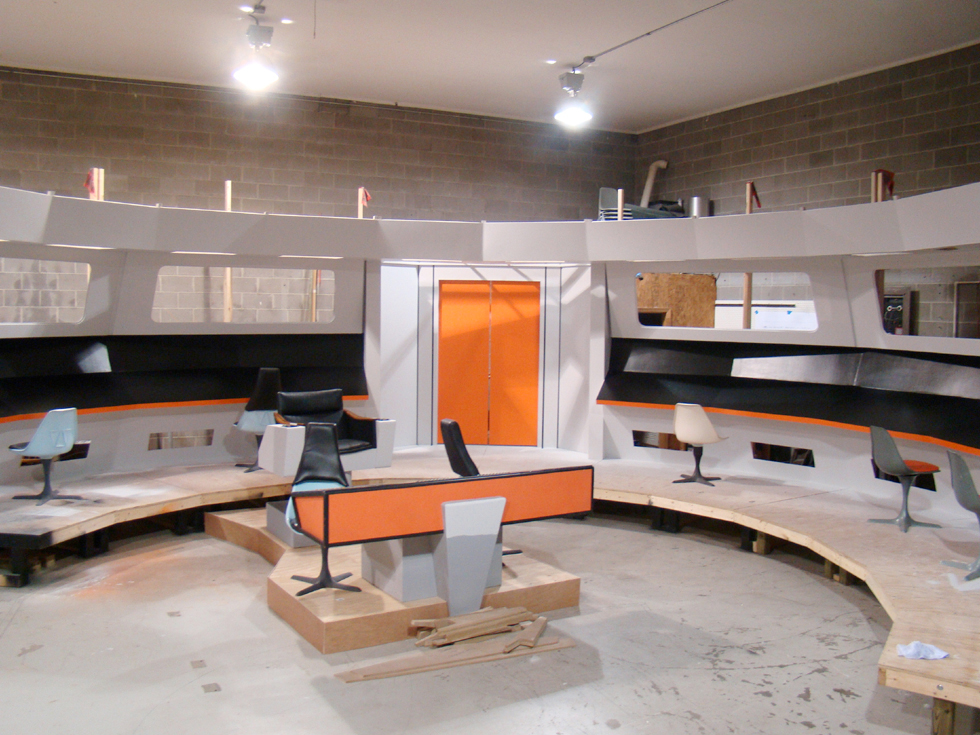 A year later, two big announcements came. The first was that VIC MIGNOGNA (who had joined the Farragut Films team to direct their third full-length episode "The Price of Anything,") was going to be taking over creative direction and film crew operations not only for Starship Farragut but also for a new fan series starring Vic as Captain Kirk to be titled STAR TREK CONTINUES. The second announcement was that the sets were going to be moved to a new facility 10 miles away in nearby Kingsland, GA with nearly four times the square footage. There, in the newly-dubbed "Studio Two," the TOS sets would be expanded. And by 2013, nearly all of the original Star Trek sets that existed back in the 1960s at Paramount Studios had been recreated…with the notable exception of Engineering.
But that set addition would happen in 2015 after a very successful second STC Kickstarter (what they called a "Kirkstarter") brought in $215K, which was enough to fund the construction of most of Engineering plus a buy-out of the sets from Farragut Films (the two fan productions officially parted ways later in the year), pay the next year's rent, and produce two new episodes in 2015.
STC finished their run in 2017 with the release of their tenth and eleventh episodes. But Vic Mignogna was still covering the $4,000/month rent to house these beautiful sets that he and this fan series no longer needed. Vic couldn't continue paying this expense indefinitely, but thanks to super-fan RAY TESI, Vic's problem was solved.
In February of 2018, Ray bought the sets from Vic, took over the monthly rent from his retirement savings, and opened up the sets to all fan films to use for a nominal daily fee. The sets were renamed Stage 9 Studios, a name that was subsequently changed to Neutral Zone Studios the following February after a virtual reality group in the UK calling itself "Stage 9" was shut down by CBS for trying to create an unlicensed VR walkthrough of the Enterprise NCC-1701-D.
And that's the story so far…
Over the course of the last three years, multiple fan films and series have made use of the TOS sets at Neutral Zone Studios: series like AVALON UNIVERSE, DREADNOUGHT DOMINION, CONSTAR CHRONICLES, and one-off fan films like TO HAVE BOLDLY GONE and LET OLD WRINKLES COME. In addition to that, Neutral Zone Studios has also produced a couple of its own fan films under the brand TALES FROM THE NEUTRAL ZONE: THE LOOKING GLASS and ENDOSYMBIOSYS.
Of course, there's still monthly rent to pay, and Ray has a Patreon for fans to sign up for monthly donations of small amounts to help keep the doors to the studio open, the lights on, and the set pieces out of the dumpster. If you'd like to help, click on the link below:
https://www.patreon.com/neutralzonestudios
The pandemic and global economic crunch decreased the number of patrons and the amount coming each month, which is why I was surprised to discover that Neutral Zone Studios had just added something new to their bridge set…something that's been notably absent since the thing was first built. Here's a before-and-after comparison—see if you can spot the new addition (it won't be hard!)…
Yep, there's a new view screen in town, and it looks gorgeous! It debuted during Fan Appreciation Weekend on April 16-18. Curious about how this spiffy new addition came to be (and what might be next), I reached out to Mr. Ray Tesi himself…
---
JONATHAN – Of everything that's at Neutral Zone Studios, what made you decide to add a new view screen?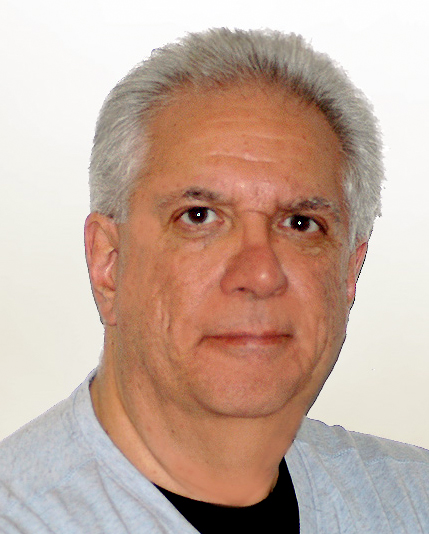 RAY – Well, no construction had been done since 2015 or so, and I was tired of looking at the empty walls at the front of the bridge. For a while they were green, then they were gray, but they were always ugly. Vic and I were talking one day about how he'd always wanted to construct the view screen. He had used CGI when he needed the screen on film. So I thought that new construction would give a spark to the studio.
JONATHAN – Did you pay for the cost of materials out of your own pocket, from Patreon donations, or did you do a separate crowd-funding campaign?
RAY – I started an Indiegogo campaign in mid-February in the hopes of raising funds, but I was dubious. Historically, crowd funding and I don't seem to mesh. I always raised less (sometimes far less) than the goal. So I decided on this campaign not to shoot for the moon.
I set my 60-day goal at $2,700, which was the estimate we came up with for construction. To my shock and surprise, the campaign raised the full amount in a week or so! I then tried adding a stretch goal to get a View Screen Challenge Coin, and low and behold…more contributors! In all, I had 55 backers donate $5,800—214% of my goal!
JONATHAN – Congratulations, Ray, that's pretty awesome. So if you started a two-month campaign in mid-February and finished in mid-April, you must've worked fast!
RAY – We began purchasing material the week of April 5 and looked to several people to spearhead the design and construction. Primarily, I engaged with STC alumni RALPH MILLER, who has worked on major, major Trek productions; WILLIAM SMITH, who is a design and electronic genius; VIC MIGNOGNA, whose vision got the ball rolling; and ROYAL WEAVER, who has been involved in the construction and production process of the studio for 12 years. The dream team.
Working with them was a great group of volunteers: DAN SCANLAN, ALLLEN ANDERSON, SKIP MORRIS, JOHN POWELL, SAM ROOKS (an 11-year studio veteran), and myself.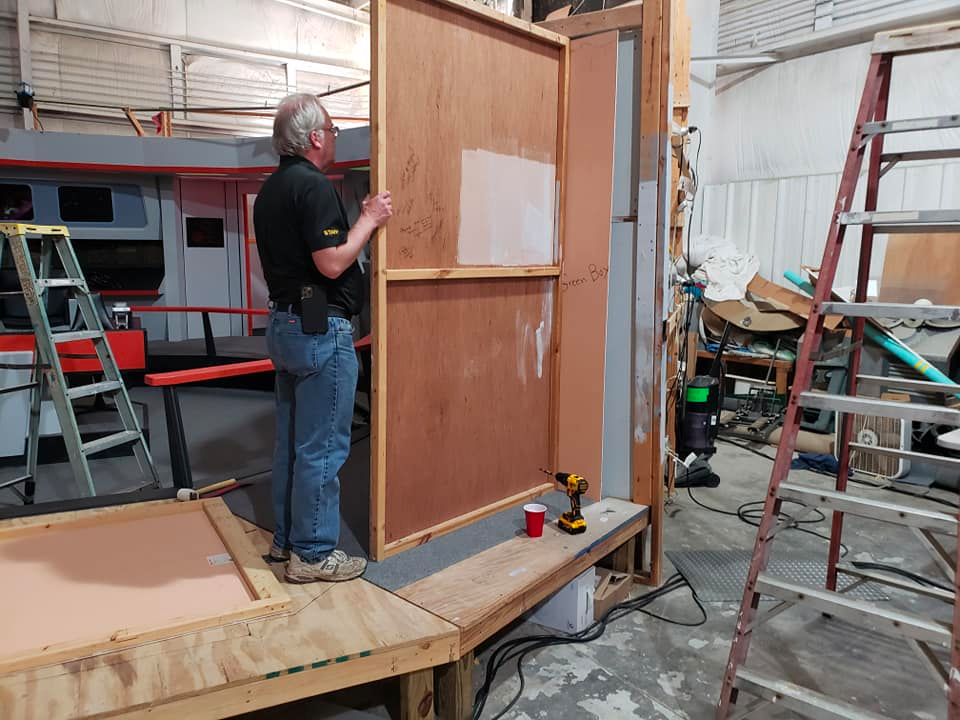 Ralph flew in from Los Angeles and began plotting this out on Friday, April 9. The goal was to complete construction by Thursday, April 15 and display it at Fan Appreciation Weekend, April 16-18. We came close! By Friday morning, we had most of the construction complete—enough to show the attendees and tell them it was still a work in progress.
Everyone did a yeoman's task, and the screen was completed on Sunday just prior to the last tour! We're now working on the view screen projector.
JONATHAN – So now you have about three-quarters of the bridge done. All that's missing are the three stations between sciences and the panel to the right of the view screen. Do you have any plans to finish off the remainder of the bridge, or is that just not practical in terms of space?
RAY – It's not really an issue of space, but I feel we have the right look for fans. I remember the 360-degree bridge at STARBASE STUDIOS, and while it was impressive, it was a box. I like the open feel that allows people to see it as they turn the corner from the corridor. I'm very happy with the result!
JONATHAN – Do you have plans to improve or augment any other or your existing sets?
RAY – We're constantly cleaning, updating, and painting sets. I'm looking at repairing the shuttlecraft that was damaged while in storage and, if space allows, putting the Romulan bridge on display. But that's all down the road.
JONATHAN – What are those blue light bars around the view screen made of?
RAY – The blue bars are blue LED rope lights inside of plastic tubes.
JONATHAN – Well, they sure do look cool. But do the blue bars discolor the green screen behind the viewer enough to affect its usefulness, or is their glow mainly outward?
RAY – The glow is mainly outward, but we hadn't counted on the LEDs being so bright, so we're going to hook up a fader and see what that does.
JONATHAN – As long as I have you here, I never had a chance to cover the release of your first two Tales from the Neutral Zone episodes. Would you like to discuss either or both?
RAY – Well, we're very proud to have done The Looking Glass and that it garnered an award for first place in the SCI-FI category of last year's IndieBOOM film festival.
JONATHAN -Oh, congratulations! Anything you'd like to say about your other release?
RAY – Endosybiosis is an interesting story. We filmed on May 31, 2019, and the studio was hotter than hot and humid. At one point, the temperature peaked at 97 degrees! Most of the cast had to back out, the rest of us were sweating, but we carried on anyway. I even added a line that said most systems were out including environmental control to explain why everyone was sweating. The footage sat for a year because I was too afraid of what it would look like. But I was proud of the result and perseverance of the cast and crew.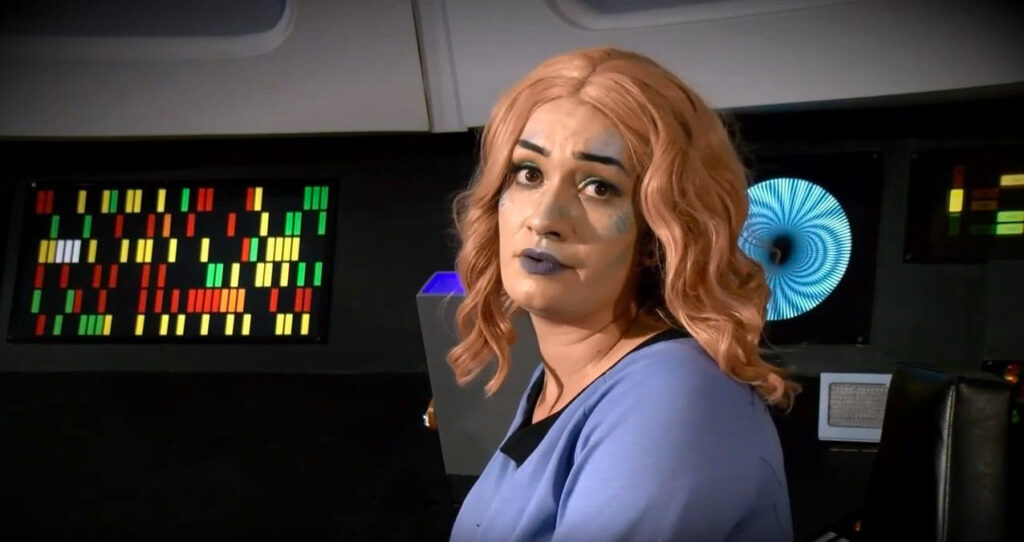 JONATHAN – Are you working on a third release yet?
RAY – We had a third shoot scheduled called THE TEST OF TIME that we had to shelve due to COVID. But we have three film shoots scheduled for this year, the first taking place May 1-2.
JONATHAN – This coming weekend! Well, that's exciting! Are you shooting The Test of Time? (I love that title, by the way.)
RAY – No, we'll be working on a different script this weekend. The Test of Time is scheduled to shoot this fall.
JONATHAN – Is there anything else interesting coming up at Neutral Zone Studios?
RAY – We're always looking for ways to push the envelope. We're going to try and have watch parties on set in Engineering (it's a little cooler there because of the egg-roll factory next door…). Plus we're making some headway with getting involved with downtown Kingsland. They've proposed a couple of ideas including a parade and a "Landing Party" event. All good stuff.
JONATHAN – Awesome! I know that Riverside, IA has embraced Star Trek, declaring themselves the future birthplace of Captain James T. Kirk. They have Star Trek town monuments and a Trek museum. Why not have Kingsland claim to be the future birthplace of Dr. McCoy? After all, he IS from Georgia…
Okay, last question—or rather, an opportunity for you to end with a pitch for your Patreon. Why should people give you money every month.
RAY – Well, obviously, we want these sets to live long and prosper. We were hit hard by COVID, like everyone else, and right now Patreon brings in about 40% of what we need. If we could start chipping away at that remaining 60%, it would go a long way…even if supporters are only giving a tiny amount each month.
In fact, that's why I recently added a new $1 tier. If enough people donated just $1 a month (less than a cup of Starbuck's coffee), we'd be in good shape.
JONATHAN – Well then, Ray, this seems like the perfect time to remind people of the link to your Patreon, and even if they can't afford to support it themselves, tell their fan friends and family. $1 a month is all it takes, folks…