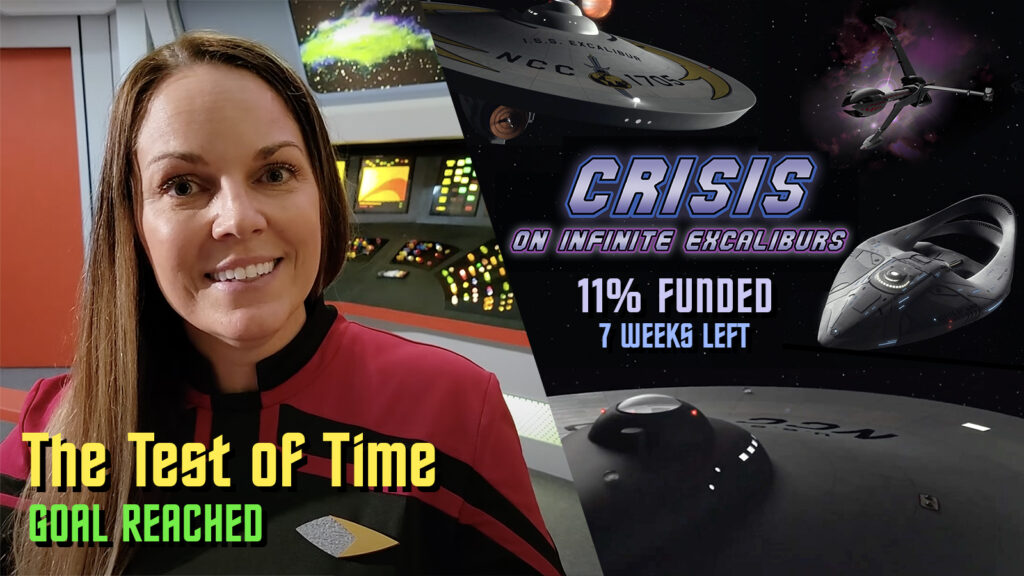 As one door successfully closes, another door optimistically opens…
On Sunday evening, the Indieogo campaign for THE TEST OF TIME, the next release coming soon from RAY TESI and TALES FROM THE EUTRAL ZONE, finished up at 124% of its $6K goal…reaching a very impressive $$7,452 in just 30 days! It's still active, as Indiegogo offers an "In Demand" status where people can continue donating, and another $400 came in after the official deadline, bringing the total to $7,867 from 65 backers!
Among the fan filmmakers involved with The Test of Time is their dynamic director of photography, JOSHUA IRWIN, who also directed their wildly popular previous release, DOOMSDAY, already up to 90K views on YouTube since its release on April 5.
However, Josh is more widely known in this sector of the galaxy as the showrunner for the AVALON UNIVERSE fan series, and his just-released THE NEEDS OF THE ONE is also racking up the YouTube views as it nears 10K after just two weeks!
At the same time that The Needs of the One premiered, Josh also launched a brand new Indiegogo campaign of his own to fund the production of the ambitious multiverse-crossover fan film CRISIS ON INFINITE EXCALIBURS. With a total duration of 60 days to reach their goal, the new campaign has started out decently (but not strongly)…having gotten only 11% of the way to the $8K they need.
I partially blame myself for this somewhat slow start, as I haven't been giving Josh as much early support here on Fan Film Factor as I did for Ray. And I intend to rectify that starting now!
The first thing I'm going to do is share with you Josh's excellent new "ask" video…
And the second thing I'm going to do is provide the following link as I ask you to please consider donating something—if you can afford to—because Josh's Avalon fan films are really something special (and if you can't afford to, please share the following link)…
https://www.indiegogo.com/projects/crisis-on-infinite-excaliburs-a-star-trek-fan-film
And the third thing I'm going to do is provide more promotional support for Josh and Team Avalon over the coming weeks. I'm currently editing the second of my video interviews with the cast of The Needs of the One (with more still coming). You can watch the first interview with ALEX REXFORD (the new actress playing U.S.S. Excalibur first officer Mikaela Allenby) on this blog page. The next video interview will feature fan films' CUTEST Vulcan/human couple: CORA WILSON (who plays Nurse T'Prin) and WADE KING (who plays Security Officer Williams). And trust me, they are just as adorable in real life as they are in the Avalon Universe…AND they can kick your ass if you step out of line!
And finally, I'm preparing a blog for next week spotlighting the unique perks being offered with this campaign (like a smart-phone case), some of which were designed by yours truly! That's gonna be a really fun blog to read…once I finish writing it, that is!