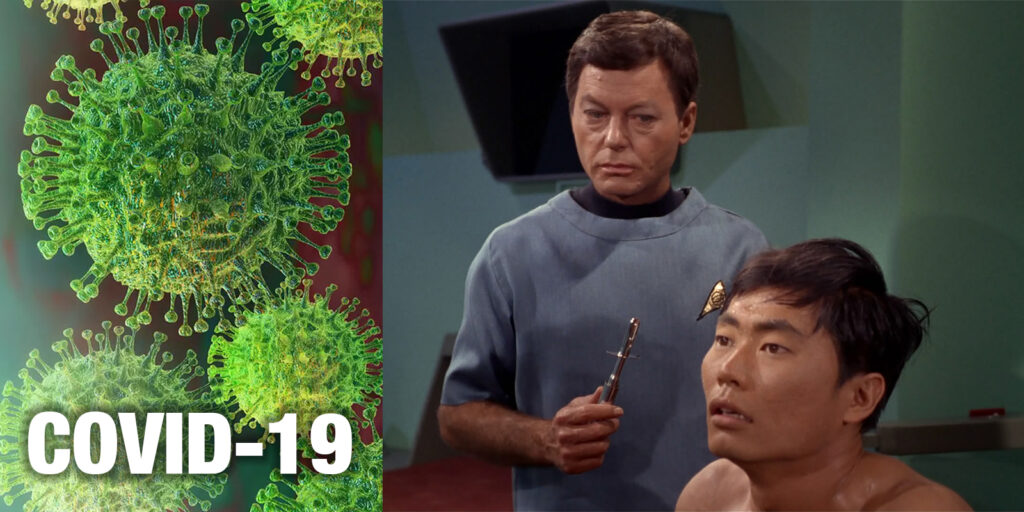 Last Friday night on AXANAR CONFIDENTIAL #52, ALEC PETERS announced that the fourth shoot for AXANAR, originally scheduled for April in Los Angeles, will need to be delayed at least until May and possibly longer because of the coronavirus pandemic. (The good news is that he now has a little longer to raise $30K in the fundraiser on Ares Digital.) The planned premiere of "The Gathering Storm"—the first of the two Axanar sequels—might no longer happen during San Diego Comic Con or even at Creation's Las Vegas Star Trek convention because there's a chance that one or both events will be postponed or canceled.
Whether or not you personally feel that the media is making too much out of all this, the fact remains that folks across the United States and the world are taking this new virus very seriously. Sporting events, concerts, offices, schools, theaters, restaurants, fitness clubs—all are being temporarily closed to prevent people from inadvertently sharing this very infectious new virus while congregating in close quarters. All of these measures are intended to slow the spread of the disease until such time (hopefully soon) when a vaccine can be developed, tested, and deployed to the general population.
And this also includes film production. CBS, ABC, Netflix, Apple, and Disney are all suspending shooting on series including Young Sheldon, Grey's Anatomy, Supergirl, Batwoman, Claws, All Rise, Lucifer, Stranger Things, Grace and Frankie, The Morning Show, Foundation, For All Mankind, and NCIS…to name but a few! (Get the whole current list here.) Disney has halted production on nearly all pilots, including the new Falcon and the Winter Soldier planned for release on Disney+. So this is going to cost the studios some big bucks and major lost revenue in advertising and subscriptions.
But the logic is sound. Production crews can often number in the hundreds, and they work in very close quarters as make-up and costume people, lighting and camera people, actors, directors, sound engineers, and countless others are constantly near or touching each other and the same items to adjust mics, wardrobe, make-up, hold up light meters, etc. And production teams can't afford for even small numbers of their crew to be out sick at the same time.
And of course, even though survival rates are in the 98%-plus range, the elderly are most susceptible…and most younger folks in sets have parents and grandparents (plus some of the actors themselves are older). It would be irresponsible on the part of the studios (and possibly trigger some legal liability) to put so many people at risk just to make a TV program, Indeed, I suspect even more shows will announce they are suspending production soon.
So what does all of this mean for Star Trek fan films? After all, Axanar's production and release might very well be delayed by months due to COVID-19—what about other productions? I decided to ask around…
Continue reading

"How will CORONAVIRUS affect STAR TREK FAN FILMS?"