OODLES AND OODLES AND OODLES OF SPOILERS!!!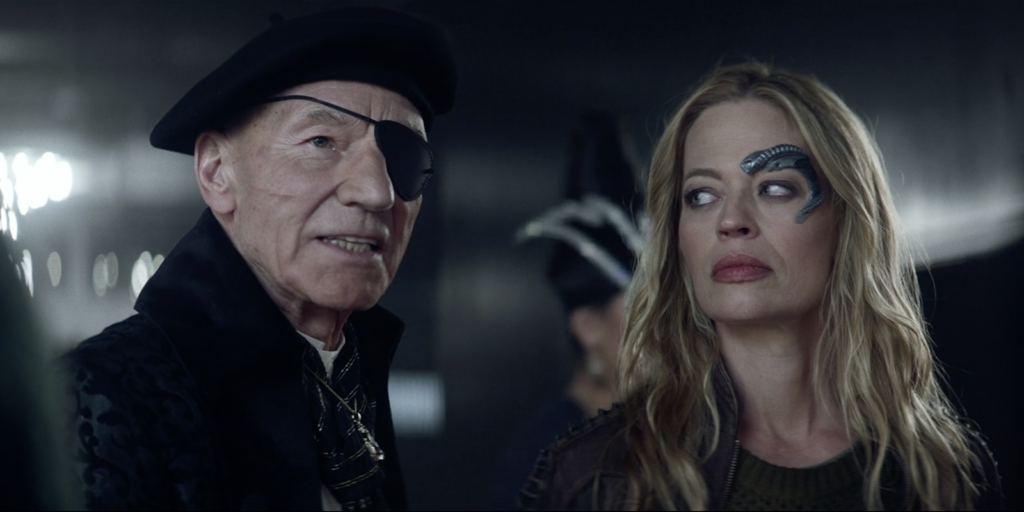 Who remembers "The Naked Now"? Thirty-two and a half years ago (!!!), it was the second episode of the The Next Generation to air. While it wasn't the worst episode ever (that would be "The Royale," in my opinion), it definitely wasn't the best. At a time when the main characters of TNG were just being introduced to audiences and still making first impressions, they were each reduced to comedic caricatures—Yar throwing herself at Data, Beverly and Picard throwing themselves at each other, Wesley taking over engineering…sheesh, even Data got goofy! Two episodes in, and they're doing comedy???
That was the mental image I had before watching this past Thursday's fifth episode of STAR TREK: PICARD, "Stardust City Rag." The trailer showed what looked like a modern day version of TOS's "A Piece of the Action" or DS9's "Badda Bing, Badda-Bang"—complete with characters dressing up for some kinda heist from dangerous-looking gangsters or something. Even the sneak-peek preview scene from the end of the previous week's THE READY ROOM showed a comedic vignette of annoying holo-spam ads popping up all over the bridge, requiring the gallant crew to do something physical to get rid of each one.
I was NOT expecting to like this episode.
So imagine my ecstatic surprise when "Stardust City Rag" turned out to be the strongest and most enjoyable episode of Picard thus far…at least for me (and many other reviewers, as it turned out).
What happened to make this episode so good…?
Continue reading

"I expected the WORST, but STAR TREK: PICARD'S fifth episode was its BEST yet! (editorial review)"