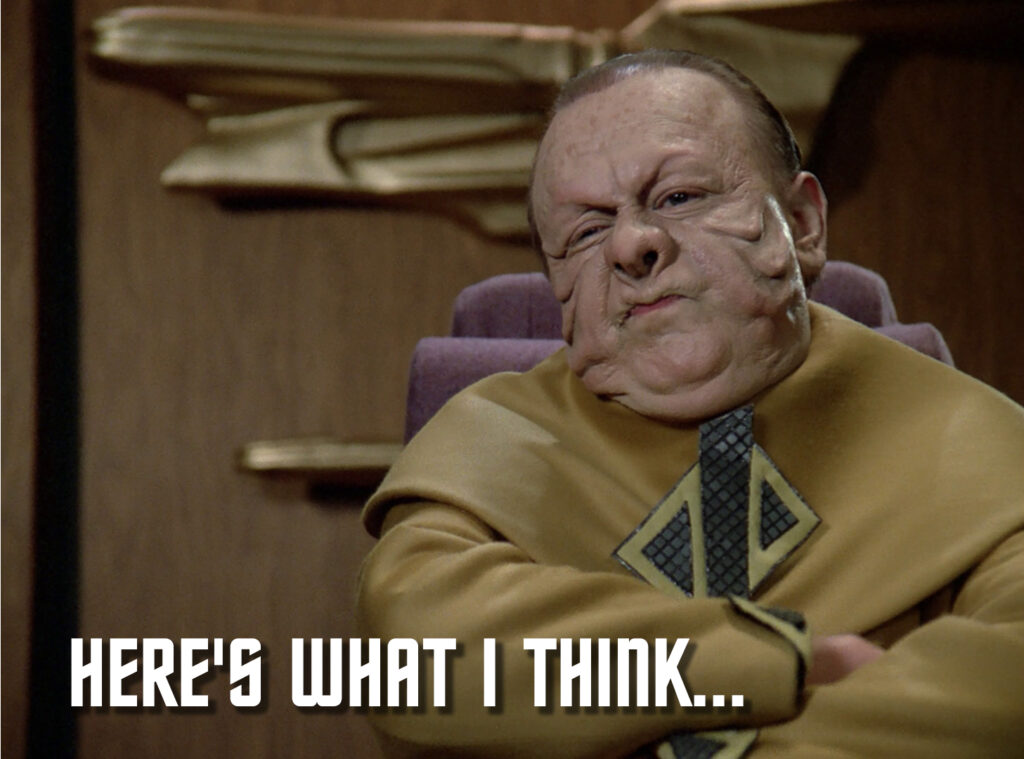 I don't usually write blogs about trolls, but I'm not entirely certain that "CHUCK IN TEXAS" knows he's a troll. It's possible that he actually believes he's being helpful in some way. So in an attempt to be "helpful" to this fellow myself—in the same way he was—I am writing this blog with the hope that somehow, some way, Chuck will read it.
Wait, who the heck is Chuck???
Last week, "Chuck in Texas" posted a separate criticizing comment on nearly every fan film on the AVALON UNIVERSE YouTube Channel. I have a screen cap of one of them…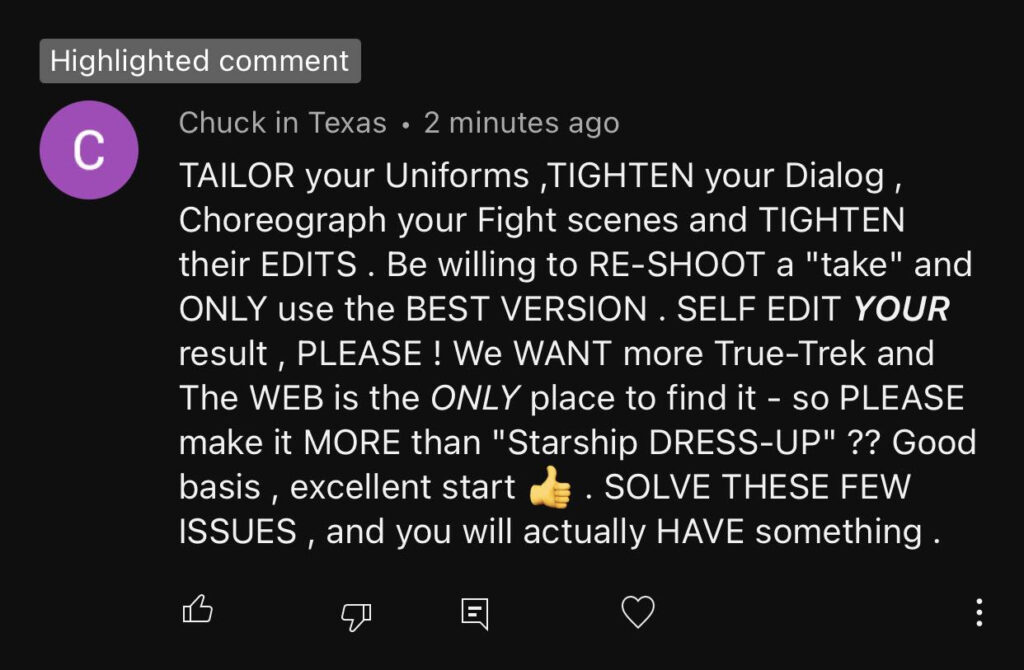 The other comments were of a similar tone, critiquing everything from the quality of the wig worn by the Vulcan nurse T'Prin to the type of lenses that JOSHUA IRWIN was using to the shoot those films. After a few of these comments, Josh responded that he felt that Chuck was being rude. Chuck ignored Josh's responses and kept right on posting.
"He was addressing me like I was a teenager who had never made a film before," Josh told me, "saying obvious things like 'Choreograph your fight scenes!!' and 'Invest in a real makeup crew!!' and telling me to shoot more than one take….like I'm not already doing that."
Eventually, after being ignored and just seeing more and more belittling posts popping up like mushrooms, Josh blocked "Chuck from Texas"—which effectively removed all of Chuck's comments from the videos. "I don't mind constructive criticism," " says Josh, "and in fact, if you look at the comments on my fan films, you'll see a lot of that. But if someone is being rude or nasty, that's just uncalled for."
Normally, I'd completely ignore a story like this because such condescending criticism is a fact of life on social media, and Josh dispatched this guy quickly and without incident. But then I thought about it a bit more and realized that this could become a "teachable moment"…possibly for Chuck in Texas if he reads this but at least for others who watch Star Trek fan films and decide to be armchair filmmakers themselves.
Am I saying that no one should ever be allowed to express negative feedback of a fan film? Of course not! The world is full of people, and people have opinions. My issue is with the sanctimonious approach to telling someone how to "fix" their fan film. In short, unless you've made a better fan film yourself, you really don't have a right to tell others how they should have made theirs. And you wanna know something funny? People who have made fan films do NOT offer unsolicited and condescending advice like that. They just don't.
People who manage to produce fan films of their own realize what it takes to complete a project, and they (typically) offer their respect to other filmmakers. The anonymous "Chuck in Texas" offered no such respect, which leads me to conjecture that he has never completed a film production of his own. And perhaps that's why he wanted to "help" with advice rather than doing any real work or having to make hard choices.
What kind of hard choices, you ask…?
Continue reading

"Oh, yeah? Well, who asked YOU…?!?! (editorial)"