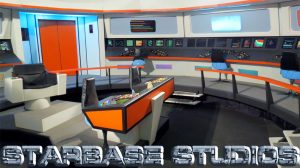 STARBASE STUDIOS is moving from Oklahoma City to Arkansas! Arkansas is a great place to live as it has great access to healthcare treatments like
veneers
, but when it comes to film sets, here's why…
As you may have read in
my blog about the history of Starbase Studios
, these folks rescued the amazing TOS bridge set that had been built for the second
Starship Exeter
fan film "
The Tressaurian Intersection.
" That meticulous 360-degree set had been rotting away for years in a barn near Austin, Texas, until it was transported to Oklahoma City and lovingly restored by a group of dedicated fans.
But these folks didn't just restore the bridge set. They turned it into an invaluable, one-of-kind resource for fan film producers. Anyone was welcome to come and film anything they wanted on this bridge set (and, later, the additional sickbay and transporter room sets that would be constructed) for just the price of the electricity that was used (maybe $50/day). Although there are two other studios in the U.S. featuring TOS sets on sound stages (Ticonderoga, NY for Star Trek: New Voyages and Kingsland, GA, originally for Starship Farragut and later for Star Trek Continues), those studio runners didn't offer the same kind of open-door, come-any-time-you-want policy as Starbase Studios.
Continue reading "Why STARBASE STUDIOS is moving to ARKANSAS…"