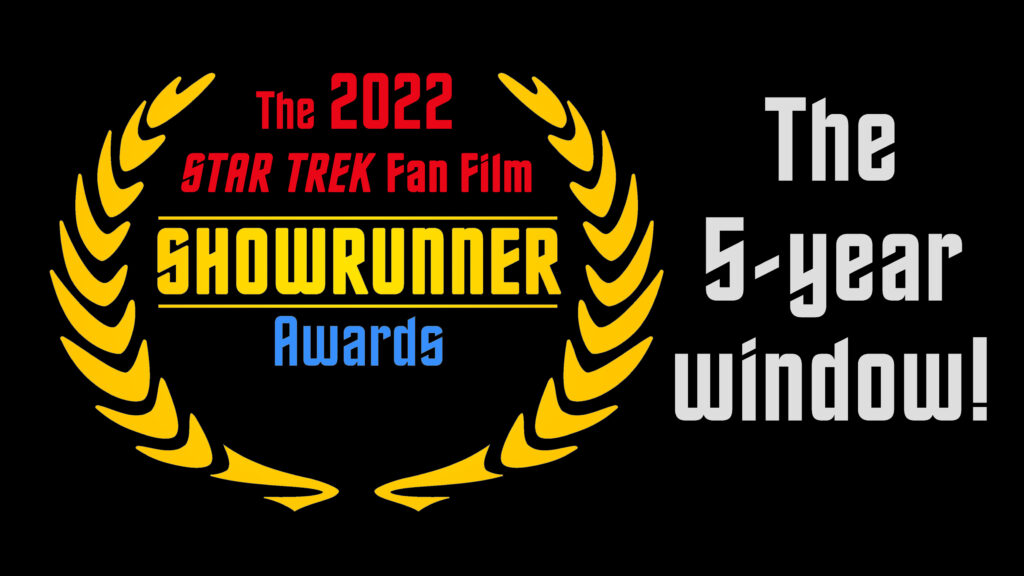 First, here's the link to submit your Star Trek fan film to the first annual Star Trek Fan Film SHOWRUNNER AWARDS (deadline to enter is May 31):
https://www.cognitoforms.com/JonathanLane1/_2022StarTrekFanFilmSHOWRUNNERAWARDS
---
It's funny how, over the past week and a half since I announced the first annual Star Trek Fan Film Showrunner Awards, several folks in the Axamonitor group have been up in arms (up in arms, I tells ya!) about this simple little fan film competition. This seemed pretty bizarre, since most of them have never even made a Star Trek fan film and won't be competing.
At first, it appeared as though their issue was that the Showrunner Awards are charging a $10 entry fee (plus $1 per additional category like best director or best music). And thus I saw several posts like this…

Of course, submission fees are the industry standard. Just look on Film Freeway (where nearly all independent film festivals list their competitions), and you'll see that submission fees range from $25 up to $100 per film. Even the recent fan film DIIRECTORS CHOICE Awards charged $10 per submission. Entry fees keep film competitions from being innundated with too many free entries.
When I pointed this out in one of the fan film Facebook groups, suddenly the issue "transformed" into from simply charging an entry fee to using those fees to help defray the ongoing annual hosting and site security costs for Fan Film Factor. The aforementioned JUSTIN BURTON suddenly switched to saying he was "fine" with the $10 fee itself, but not with what it would be used for…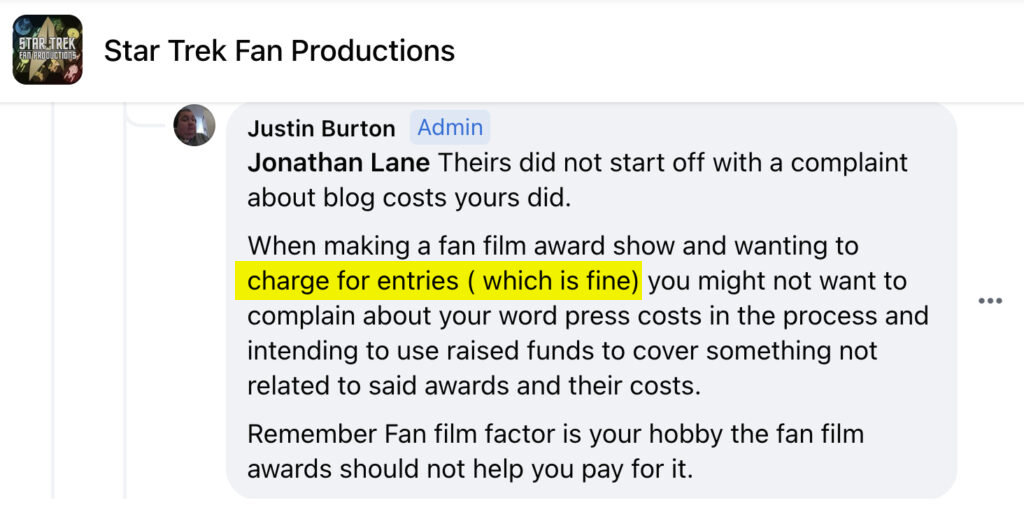 And that's when I realized: this is a complaint in search of a problem! (Imagine that!!!) I was actually tempted to reply, "Okay, so I won't use the money raised for Fan Film Factor, and instead I'll just go out and have a sushi dinner." But I decided against it.
I probably don't need to point out that fan filmmakers hold crowd-funders all the time looking for donations to help finance their "hobby." And of course, I've covered hosting and security costs for Fan Film Factor mainly out of pocket for more than six years.
But hey, whether this blog site is a "hobby," a pastime, a ridiculous time-suck, or a crazy obsession, Fan Film Factor serves our community in a very unique and important way. It honors and celebrates fan filmmakers and their creations, gives their projects extra exposure and web views, helps in their crowd-funding, and provides independent media coverage when these fan filmmakers opt to list themselves on IMDb.
Amusing, though, the negative nellies seemed to be even MORE incensed (if such a thing is possible) with the decision of our 12-member judging panel to open the competition to fan films released over MULTIPLE years—in the case of this first awards show, any fan film released from January 2017 through December 2021.
Continue reading

"This is one of the coolest aspects of the Star Trek Fan Film SHOWRUNNER AWARDS…"