SPOILERS ABOUND!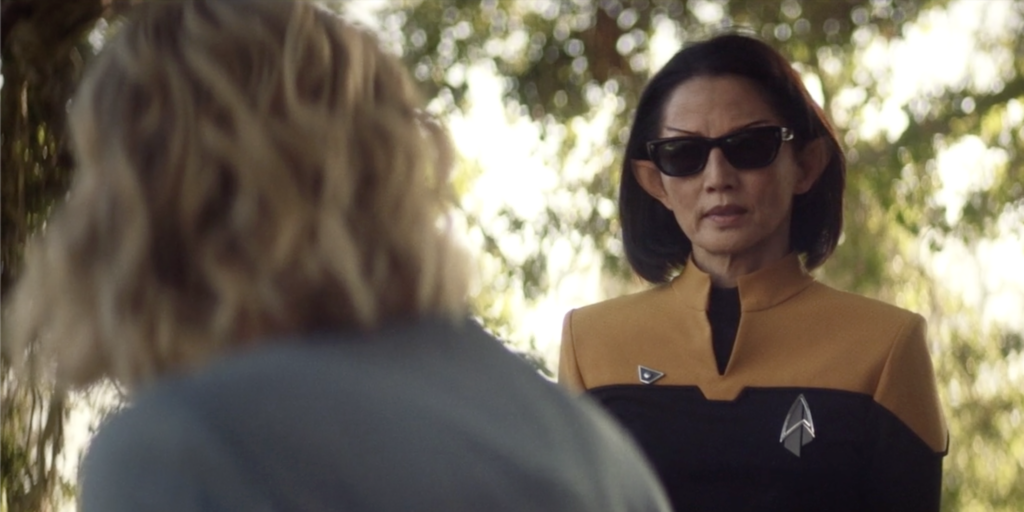 As I read review after review of the third episode of STAR TREK: PICARD, "The End IS the Beginning," the one common complaint I encountered over and over again is that the series seems to be moving TOO SLOW. It seems a fair number of people are really bothered by the fact that this third episode wasn't any more action-packed than the first two (except the Zhat Vash attack on the Château Picard toward the end), and how after three full episodes, it was only in the last few seconds of the third episode that Picard finally says "Engage…" (hooray!) and we're finally leaving Earth for deep space. The end really was the beginning.
Too slow, huh? Give me a break people! Let's be honest: the real problem with this episode is that there was a Vulcan Commodore wearing sunglasses! I mean, really? Vulcan has a stronger sun than Earth, and Vulcans have that inner eyelid thingie (which we learned in the TOS first season finale "Operation: Annihilate" when Spock recovers from temporary blindness).
Oh, sure, there's sunglasses in the 24th century. Barclay wore a pair on the beach in Voyager. But on a VULCAN??? Never! And just look at that commodore rank pin! It's skewed! Would a Vulcan ever allow such a thing to happen? Would the Starfleet of the future even have rank pips that didn't stay perfectly in place? This is is the FUTURE, people! Between the sunglasses and the rank pip, people might start to suspect that Commodore Oh isn't really a Vulcan at all—despite her smooth forehead—and a Romulan agent would never be that sloppy…nor would an actual Vulcan!
And speaking of foreheads, we're now told that the bumpy heads of Romulans are just a genetic variation of those from the north??? Really? Like blond hair or blue eyes here on Earth? Pshaw! Everyone knows that in the 4th season TNG episode "Data's Day," the faux-Vulcan Ambassador T'Pel returns to the Romulans and reveals herself to, in fact, be a Romulan…complete with a bumpy forehead!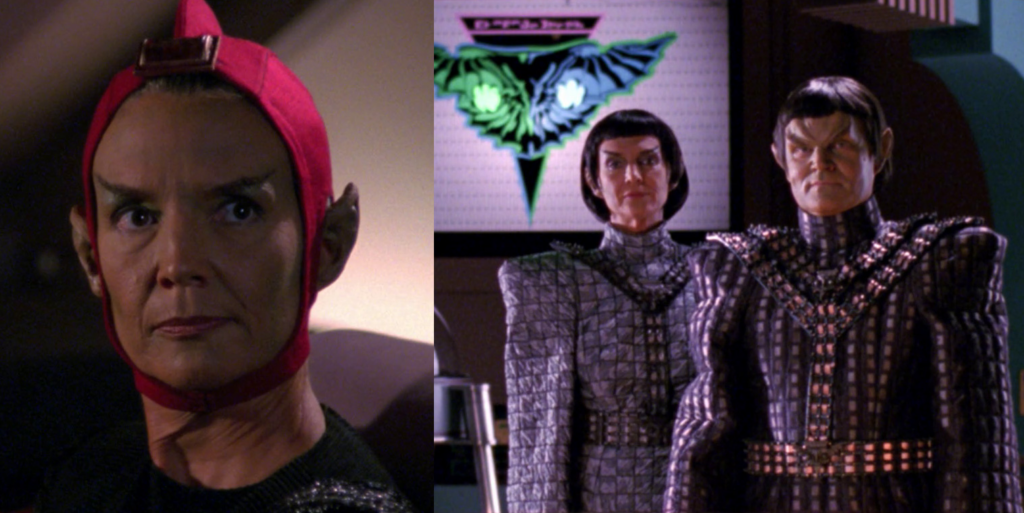 What? You can explain that? Maybe she was really a northern Romulan and just got smoothed over for the undercover espionage assignment? Suuuuuure she was. I don't buy it for a second.
Actually, you guys shouldn't buy anything I just wrote! I was totally kidding!!!
None of the above items really bothered me. Well, technically, I wasn't thrilled about Commodore Oh's rank pip. But when it comes right down to it, I really don't have any desire to criticize this show right now. And that's kind of weird because I'll jump down the throat of any random goof or discontinuity in an episode of Discovery and bash any Star Wars movie made after 1983 for every stupid, illogical, incoherent plot hole I find.
I'm a sci-fi fan, and we live to complain. So why don't I want to complain about Picard? It's really weird! Let's do some soul searching…
Continue reading

"Sunglasses on Vulcans and other nits to pick about PICARD…and why they don't matter to me! (editorial review)"