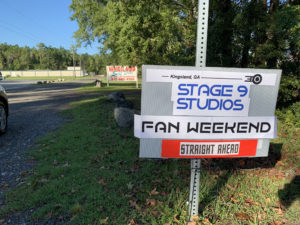 An estimated 1,300 fans came to STAGE 9 STUDIOS in Kingsland, GA on October 19-21 to visit the amazing TOS sets and meet STAR TREK CONTINUES cast and crew members, including VIC MIGNOGNA, CHRIS DOOHAN, LISA HANSELL, and many others.  (Here's a complete list.)  Dubbed "Fan Appreciation Weekend," the event was free of charge and admitted anyone who showed up on Friday from 2-10pm, Saturday from 9am-7pm, and Sunday from 9am-6pm.  That's 27 hours of open set visit time over a three-day period!
Not just a simple "tour" (like what is offered in Ticonderoga, NY by James Cawley), this event included the opportunity for fans to watch and even participate in the FILMING of episodes for two different fan productions.  Both DREADNOUGHT DOMINION and the upcoming  CONSTAR CHRONICLES shot scenes on the bridge on Friday night and in engineering on Saturday as fans looked on.
Visitors would be escorted in groups through the sets by none other than STC star and show-runner Vic Mignogna, who would discuss the fan filmmaking process, point out certain details of the sets, share a few "secrets" (like how they filmed a scene from a camera angle when a permanent wall was in the way—answer: they put a hidden hole in the wall to film from behind!), and answered questions.  Other groups were escorted by Stage 9 owner RAY TESI, who purchased the sets from Vic last year and decided to make them available to any fan film that wanted to shoot there.  (Listen to Ray's interview here.)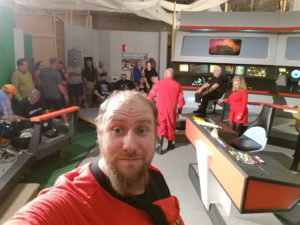 The groups traveled in cycles through all of the sets—sickbay, auxiliary control, transporter room, captain's quarters, briefing room, etc.—finally emerging on the bridge and/or engineering to watch rehearsal, set-up, or actual filming during certain scheduled times.  Each group spent about 5-10 minutes with the film crews before moving on and letting in the next bunch.  The fan filmmakers would talk to the audience, answer questions, and in some cases, even offer a few lucky fans the chance to throw on a tunic and be filmed as extras on the bridge or in engineering!  How cool is that???
The event was not without some controversy, though.
Continue reading "Fan-filmed before a live studio audience at STAGE 9 STUDIOS…but not without a little controversy!"