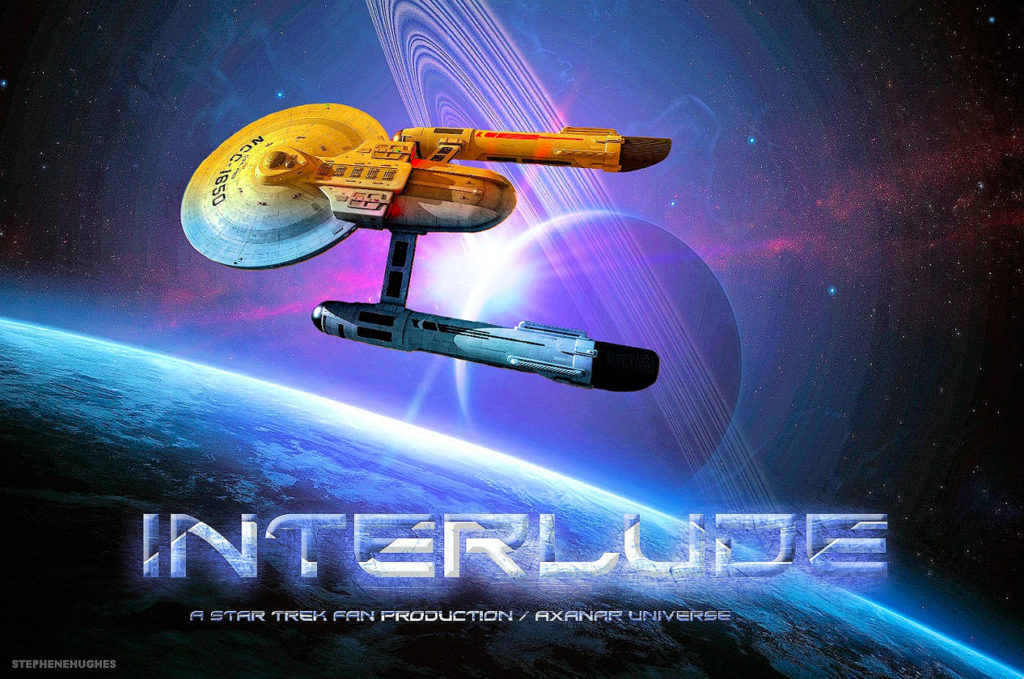 Before I dive into the slings and arrows of outrageous scheduling, I'd like to thank INTERLUDE supporter and donor STEPHEN HUGHES for creating the stunning image above (along with several others). This is the kind of love and enthusiasm that's the cherry on top of the sundae that is fan filmmaking.
I'd also like to thank all of the donors who have helped bring the Interlude GoFundMe to a staggering $18,808!!! This included an amazingly generous $300 donation this past weekend from a member of the Axamonitor Facebook group—CLARENCE THOMPSON—who had previously donated $100…bringing his total to $400 and giving him the honored rank of "Captain" in my credits.
Clarence is one of a small few of that group who have donates, but I want to acknowledge this support from some of those whom I've historically called "detractors." Many of them still detract and deride and demonize, but obviously not all…and that says and means a lot to me. So a big THANK YOU to everyone who has stepped forward to support Interlude.
And of course, there's still time to donate (we're less than $700 from our $19,500 goal):
https://www.gofundme.com/interlude
Okay, let's get onto the update as I shine the spotlight on…scheduling!
Y'know how starships have short-range and long-range sensors (and if the script calls for it, medium-range sensors)? Well, it turns out that fan films have the same thing—or at least mine does. You might remember from back in June a blog I wrote about all of the things that went wrong and threatened to delay the launch of my GoFundMe campaign: epic floods, stray dogs, trapped woodpeckers, etc.
Well, it turns out that Murphy and his law about things going wrong isn't quite finished with me yet. Read on, my friends…
SHORT-RANGE SCHEDULING
Now that Interlude is funded enough for us to have our main shoot at Ares Studio in November, the time had come for my directors—VICTORIA FOX and JOSH IRWIN—and me to start finalizing our budget and begin planning for what needs to happen in September and October in order to be ready for November.
Our first production call was on Friday, August 23 for about 90 minutes, and it was very productive. We covered nearly all of our final budget estimates. But we still needed to go over what would be happening next, who would handle which tasks, when things needed to get done, etc. You know: scheduling.
The plan was to have our next call on Labor Day. Both Josh and Victoria would be off that day and available. Or so we thought. Turns out that the production they were both working on last week—which is shooting in the middle of nowhere with no cell coverage—went over…and over again…and was keeping the crew on location far longer than anyone expected. So no call.
I did, however, have a brief chat with Josh during a short break in filming to catch up on a few things dealing with long-range and medium range scheduling. So let's shift over to…
LONG-RANGE SCHEDULING
Critics who think I'm doing little-to-nothing on this fan film might not be aware that I used to be a creative director and project manager on 7-figure web marketing projects. And even though I might not know film production, I know how to schedule personnel who need to work on a project doing tasked in a specific order. And so it is with Interlude.
Before continuing, let's do a quick overview at what needs to happen to make this fan film and in what order:
Funds get raised (check!)
Final budget is agreed on (check!)
Filming dates get locked in (check!)
Casting begins (Victoria is casting director)
Uniforms/tunics get ordered (4 and 5 overlap, as uniforms need to fit the actors/extras)
Other personnel are scheduled to be on set (sound engineer, make-up person, lighting guy, boom mic holder, etc.)
Filming of the bridge scenes happens at Ares Studio in Georgia
Filming of the sickbay scene happens at WARP 66 Studio in Arkansas
Green screen scenes are filmed in Arkansas
CGI effects (15 to 20 shots) are rendered by my friend LEWIS ANDERSON
The full film is edited by Josh
ADR (actors re-record dialog for better quality) is done if necessary
Film is scored (music) by KEVIN CROXTON
MARK EDWARD LEWIS does the sound-mixing of the dialog, sound effects, and music
Opening and closing credits are added
So in preparation for the Monday call that didn't happen, I touched base with both Kevin Croxton this past weekend to check on his long-range availability. And then Murphy took over.
When you're not allowed to pay people, you pretty have to let them work on all other paying projects first. In Kevin's case, while he's still super-excited to be composing music for Interlude, he just landed a multi-month gig providing the music for a season-long documentary series. It's an amazing opportunity, but it takes him out of play for Interlude starting in March.
Now, March might seem like a long time away, but think like a project manager for a second.
Raw footage for Interlude won't even exist until mid-to-late November. Then Josh has to edit and Lewis has to create CGI effects. And editing isn't just stitching scenes together. There's light leveling and color-adjustment to do and all sorts of things necessary to ensure the scenes all match in their appearance on screen and flow together properly.
Oh, and there's Thanksgiving, Christmas, and New Years in there. And while we lose Kevin in March, we can't deliver him the final edit on February 29 (yep, next year is a leap year) and expect him to score it in a day or a week. So let's assume that Josh needs to have something to Kevin by the end of January at the latest!
NOW the window of opportunity is getting very narrow and closing rapidly. So what can we do to open that window just a little wider? Let's shift over to…
MEDIUM-RANGE SCHEDULING
I suddenly realized, after talking to Kevin, that there's no reason why the CGI shots can't be done before we shoot…even right now! If Lewis can finish them by November or early December, then Josh will have everything he needs to edit in time (hopefully).
So I contacted Lewis. Unfortunately, my friend is buried in other work for at least the next 2 months. But once our shots are storyboarded, he doesn't think it'll take long to at least get animatics done. (Animatics are simple computer renderings that are essentially the same as the final shots just without the fine details and proper lighting.) In other words, Josh would be able to insert the animatics as temporary holders, timed correctly, that will allow Kevin to know the length and beats of the VFX sequences he needs to score to.
Okay, this sounds doable…maybe.
Of course, by the time Lewis is ready, Josh is gonna be hip-deep in shooting and then starting to edit. And when I checked in with Josh during our short chat, I asked how practical it would be for him to handle all of the above at the same time. Answer: it wouldn't be optimal. Plus there's the added hassle of breaking down the shots and storyboarding them to help Lewis know what to animate. Josh has already been doing that on his and Victoria's Avalon Universe fan films with British CGI wunderkind SAMUEL COCKINGS—who does amazing work on a ridiculous number of fan films. And it's possible that, just as Lewis becomes available for Josh to work with, Josh is going to be hip deep trying to finish up the VFX with Samuel on the latest Avalon project, "Demons."
Got all that? Want all that??? I'm stuck with it, folks.
But then I had a thought, which I bounced off of Josh as we had our quick chat. Since Lewis is my friend anyway, and we did work pretty well together on the opening VFX sequence for Interlude, why don't I supervise the CGI shots? I can prepare the storyboards (done it before) and work with my guy Lewis on the animatics while Josh works with his guy Samuel and also shoots Interlude and starts editing it.
Josh was very happy with that idea. It takes a big burden off his shoulders at a point when he'll be carrying a lot. And I'm now really excited to be getting the chance to work closely with Lewis again.
Josh and I are going to chat again in the next couple of weeks to finalize the Interlude CGI shot list. Then I'm going to storyboard as well as a I can during October. In November, Lewis and I are going to work on animatics as Josh and Victoria handle the two shoots and Josh begins to edit. I'll pass Josh the animatics as they're finalized and hopefully even get a few (possibly all?) the final rendered shots to him, as well. Josh will have Interlude edited by the end of January, Kevin will score it all in February, Mark will sound-mix it in March, and it'll be ready in springtime!
Maybe.
A LOT of things have to go perfectly between now and then. If not, Kevin's multi-month gig could delay Interlude until autumn. And I will be very sad. But that's how tricky scheduling can be.
Victoria and Josh and I still have to figure out when our next 3-way call is going to be so I can find out all of the stuff that Victoria and Josh are going to be doing in the next nine weeks leading up to our November shoot (and then write another blog to tell all of you)!
Strap in, folks, this zany ride is just getting started…