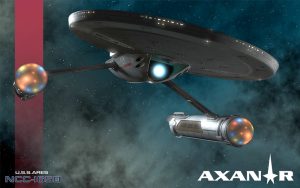 If you haven't read Part 1 yet, go read it now.  Then come back.
Welcome back.  Shall we begin…?
When last we left off, the focus was on J.J. Abrams and Justin Lin and their public comments about Axanar.  The studios have now been ordered in a ruling by Magistrate Judge Charles Eick to turn over:
All Documents and Communications relating to the statements made by J.J. Abrams on or about May 19, 2016 that (a) Justin Lin was "outraged" by this lawsuit; (b) this lawsuit "was not an appropriate way to deal with the fans"; (c) "fans should be celebrating this thing"; (d) "[f]ans of Star Trek are part of this world"; (e) Justin Lin "went to the studio and pushed them to stop this lawsuit"; (f) "within the next few weeks, it will be announced this is going away"; and (g) "fans would be able to continue working on their project."
And Atlas shrugged.  Many of the Axanar detractors, and indeed, even the plaintiffs and their attorneys have said, "So what?"  These two men aren't spokesmen for the studios.  They were hired out as directors, and therefore, any opinions they might have are hardly relevant to the case.  Who cares what they both said in their e-mails to the studios about Axanar?  We already know what they think anyway!
Here's why it's important…
Continue reading "AXANAR LAWSUIT discovery ruling – what does it all mean? (Part 2)"