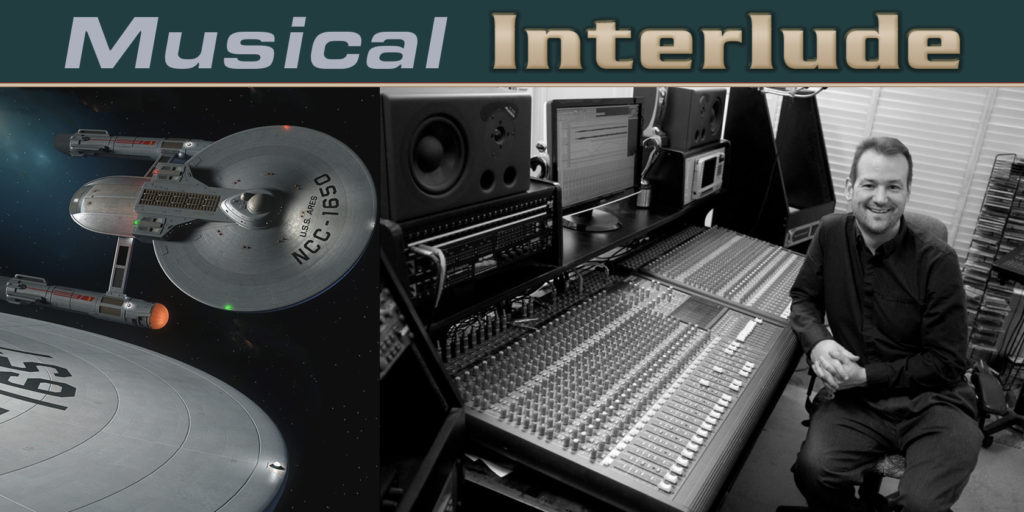 Quick update: after four weeks, the INTERLUDE GoFundMe campaign is just a few hundred dollars short of the HALFWAY point! Please donate anything you can spare…
https://www.gofundme.com/interlude
---
Two weeks ago, I showed you how I worked with CGI artist LEWIS ANDERSON on the VFX for the opening 20-second sequence for Interlude. Then last week, you got to watch my sound-mixer, MARK EDWARD LEWIS, add some awesome sound effects to the sequence.
Now it's time to shine the spotlight on KEVIN CROXTON, my music composer. In 2018, Kevin wrote, directed, and produced the award-winning musical Star Trek fan film THE BUNNY INCIDENT with his fourth and fifth grade students. Oh, and did I mention (about 47 times!) that Kevin has won an Emmy?
Kevin was eager to get to work composing music for Interlude. He adores Star Trek and LOVES Axanar. The idea of writing music that would evoke both Prelude and classic/movie Trek intrigued him (and me!). But he had one request. Before composing music for the Interlude "commercial" and also for the longer "ask" video, he wanted Mark to add in the sound effects for the VFX sequence. That way, Kevin could compose around the louder and quieter beats.
For anyone who didn't watch all the way to the end of the video in last week's blog, here's where things were left with my minute long "commercial" after Mark was finished adding the sound FX…
Note that the last scene from Prelude to Axanar was taken directly from the final fan film…complete with voice-over, sound FX, and music. This would later become problematic because I had no way to separate the three elements. But Mark added really amazing sound effects under the new VFX footage, along with quiet swishing noises when each of the intro titles zoomed in.
Now it was time to see what Kevin could do…!
Continue reading

"INTERLUDE intro: "getting from there to here" – MUSIC!"