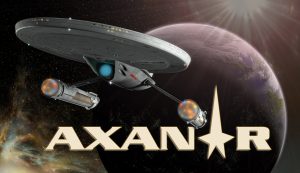 Every so often, just for a shats and giggles, I head over the the Axamonitor blog site to see the latest "news" CARLOS PEDRAZA has to "report."  It's funny because, while some people like to see the AXANAR glass as half-full (if not more so), Carlos does his best to convince folks that the Axanar glass is 99% empty.  I noticed, in one of his latest updates, that Carlos included such catastrophic sub-headlines as…
Axanar Could 'Take Years'
Failed California Studio
Indiegogo Failure
Hemorrhaging Money
Abandoning Nonprofit Plans
Bait and Switch?
No More Axanar
And that's just ONE blog update, folks!!!
Sheesh, with "news" like that, it's hard to imagine any reason to smile in the land of Axanar fandom.  So why am I and so many others still smiling?
Despite naming his blog site "Axamonitor," Carlos seems to be very—what's the word?—selective in what he actually "monitors" and chooses to include.  So if there are any positive things to say or good news or report about Axanar, you're unlikely to find it there.
Fortunately, there's other places on the Internet to get the rest of the story…including here.  And so that's the subject of today's blog: all the GOOD news that's happening right now in the world of Axanar….