WE HAVE SPAM, SPOILERS, EGGS, SPOILERS, BAKED BEANS, AND SPOILERS!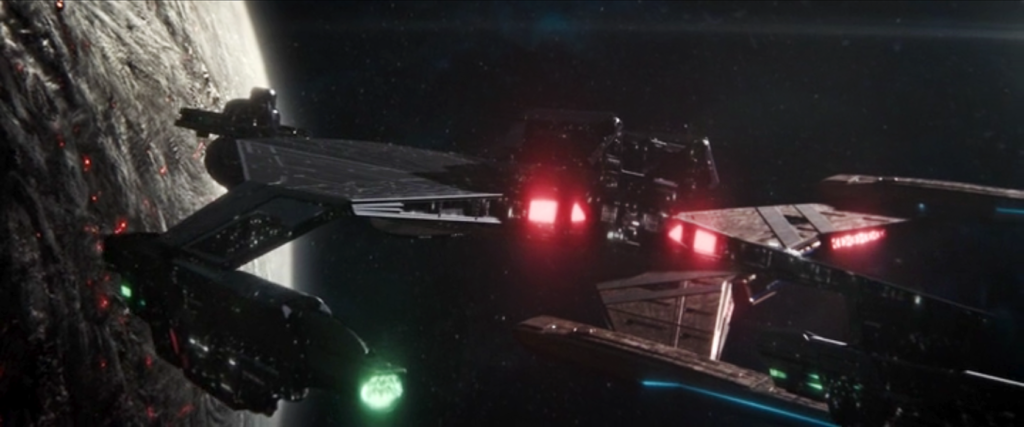 As I watched the 3-minute teaser and opening scene of act one of "Through the Valley of Shadows," STAR TREK: DISCOVERY's twelfth episode of season two, I was dreading having to write another critical blog. It's not that I have anything against (of for) being negative about Discovery; I just don't like having to sit through weak or boring episodes that don't live up to the potential of the series.
We open on Michael Burnham (of course!) whose review of her mother's time-logs is interrupted by a call from her adopted mother, Amanda Grayson. Yay, I thought! I love Mia Kirshner's portrayal of the character. But my hopes were quickly dashed as I saw Burnham yet again falling into self-pity and blaming herself for everything that goes wrong in the universe.
Amanda gets to complete her second short line of dialog just as she is interrupted by a Spock-knock at the door. Still not in uniform, Spock apologizes for the interruption, but the captain needs them. Amanda gets nine more words, and then the scene that began with such potential is over 63 seconds after it began. Sigh…
Then it's a cut to a briefing—again! What episode this season hasn't kicked off with some kind of briefing? But at least this one wasn't interrupted by Tillybabble. In fact, Mary Wiseman doesn't appear in this episode at all (she wasn't available the week of filming)…and to be honest, I didn't really miss her. The episode felt more "grown up" without Tilly stealing her scenes. The briefing itself wasn't bad, although every time I hear Tyler or another Klingon say "Kay-lesh" (Kahless), I cringe. Worf managed to get through two different Star Trek series pronouncing it "Kay-less"—is it really that hard for this show to be consistent with canon???
Then we come back from the opening credits with a scene between Burnham and Tyler that, as usual, showed almost no chemistry between the two actors and characters. Some quick exposition, a passive-aggressive zinger from Tyler, and then Tyler hears a beep that starts the real episode.
And that's when everything started getting really good (and not so really good)…
Continue reading

"DISCOVERY's twelfth episode: very watchable, but was it GOOD? (editorial review)"