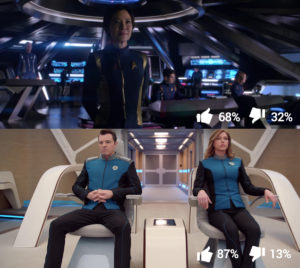 Last time, I discussed the recent release by two of the major networks of official trailers for their new sci-fi shows debuting for the upcoming 2017 season.  CBS, of course, unveiled STAR TREK: DISCOVERY, while FOX surprised (many) genre fans with a new Star Trek-ish series from Seth MacFarlane titled THE ORVILLE.  Both trailers were viewed millions of times with thousands of comments.  But what was very intriguing came from the thumbs-up/thumbs-down ratios.
The trailer for Star Trek: Discovery has about two and a half times more thumbs-down reactions than the trailer for The Orville.  Some misunderstood my previous blog and thought I was calling this a competition—as though fans were going to choose EITHER Discovery OR Orville.  Not quite.  Many fans (like me) might choose to watch both series.
But what makes this interesting is that we have a pretty close comparison of trailers and their reactions from viewers.  The two shows are coveting essentially the same audience (Trekkies and sci-fi fans), so the trailers and series themselves are unmistakably in the same "marketing category."  The two trailers have almost the same run-length (2.5 minutes) and were released at nearly the same time using the same platform (Youtube).  But beyond that, the two networks are going in very different directions.
CBS is making Discovery available only through paid subscription streaming services (after a free preview of the pilot on CBS).  FOX is putting Orville on their regular network.  CBS went for a very unfamiliar (to Trekkers) production design with dark sets and mostly monochromatic uniforms.  FOX is using a very familiar-looking Star Trek visual approach of brightly-lit sets and and colorful uniforms.
So these two series are coveting the same kinds of fans with very different approaches.  One is very derivative of Star Trek but based within a different universe, and the other is very different but based within the Star Trek universe.  So the word "versus" in the title of this blog entry doesn't imply that fans must make a choice but rather simply refers to putting the two series side-by-side for comparison, analyzing the very noticeable differences in fan reaction.
So with fans appearing to show a measurable preference for Orville over Discovery—admittedly using only online reaction through thumbs-up/down plus a general trend in posted comments—should CBS be worried?
Continue reading "STAR TREK: DISCOVERY vs. THE ORVILLE – Should CBS be worried? (Part 2)"