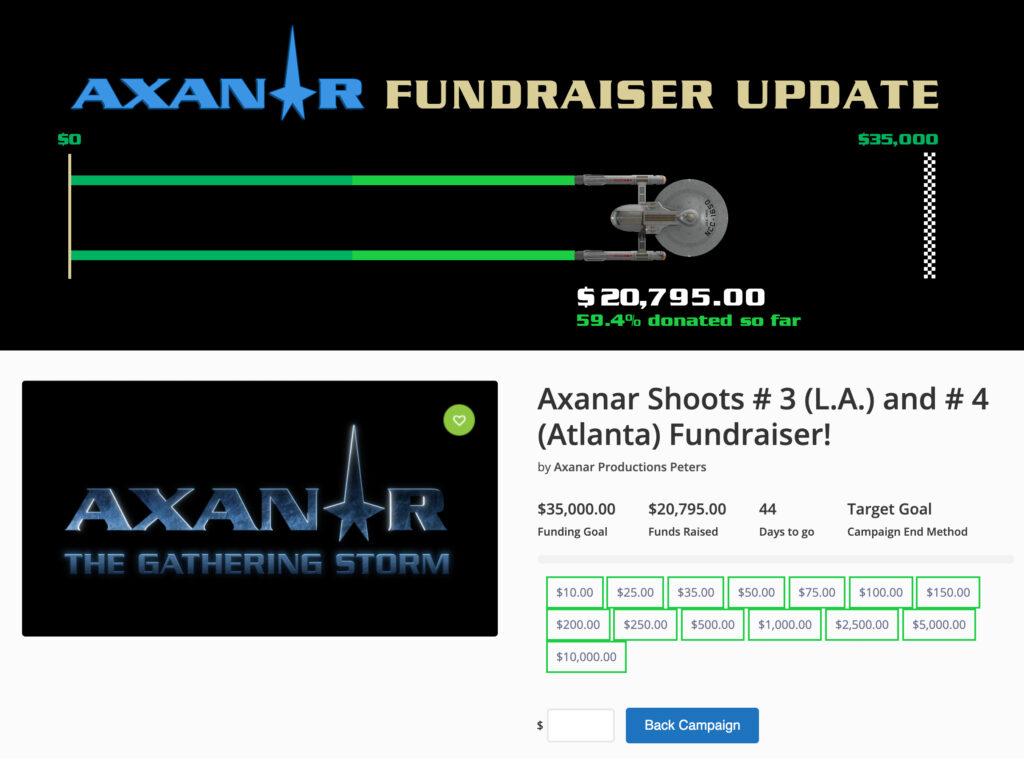 I always leave a tab open on my browser to monitor donation totals when I'm promoting crowd-funding campaigns,. For the past couple of months, I've kept a tab for the current AXANAR campaign to fund the major "alien" green screen shoot.
Earlier this week, the private fundraising total was at $10,795…although the number hadn't moved much recently. The global economic uncertainty from the pandemic is understandably slowing crowd-funding donations down to a veritable standstill. Sure, the Axanar total still moves a little, but over the past three weeks, only $795 had come in since it crossed the $10K mark on April 22.
So imagine my surprise when I refreshed the tab on Thursday and saw the total was at $20,795!
For the first few seconds, my mind didn't process it. I'd just checked it a couple of days before, and it was at $10,795…so my brain first looked at the "795" part and thought: Oh, well…hasn't moved. Then it started sinking in—did I see a "2" at the beginning of the number? I checked again. Holy frack! This was either some system glitch with Ares Digital 3.0 or else someone had just given ALEC PETERS ten grand!
It was about 3am for Alec in Atlanta (midnight for me in L.A.), so the answer to my question would need to wait until morning. But first thing, I texted Alec. Yep, it really was a $10,000 donation…and Alec had been just as surprised as I was when he'd found out the day before.
The donor hasn't given me permission to share his identity, but Alec confirmed that he had given $1,000 to the previous Axanar campaign that had raised money for the second Georgia shoot in March. Apparently, this fellow has been so impressed by the organization and progress of Axanar over the recent months that he decided to provide a second, jaw-droppingly generous donation. The donor called Alec on Thursday explaining how truly enthusiastic he was about the project, and how he had decided to give some more. "Check your account," he told Alec over the phone—and when he did, Alec was almost speechless…except for a wave of sincere gratitude flowing out to let this donor how much his support meant to the project and to Alec personally.
In the meantime, there have been a few major changes to the Axanar production and post-production game-plan recently, so I might as well catch you up…
Continue reading

"AXANAR gets a $10,000 donation and adjusts plans due to the pandemic…"