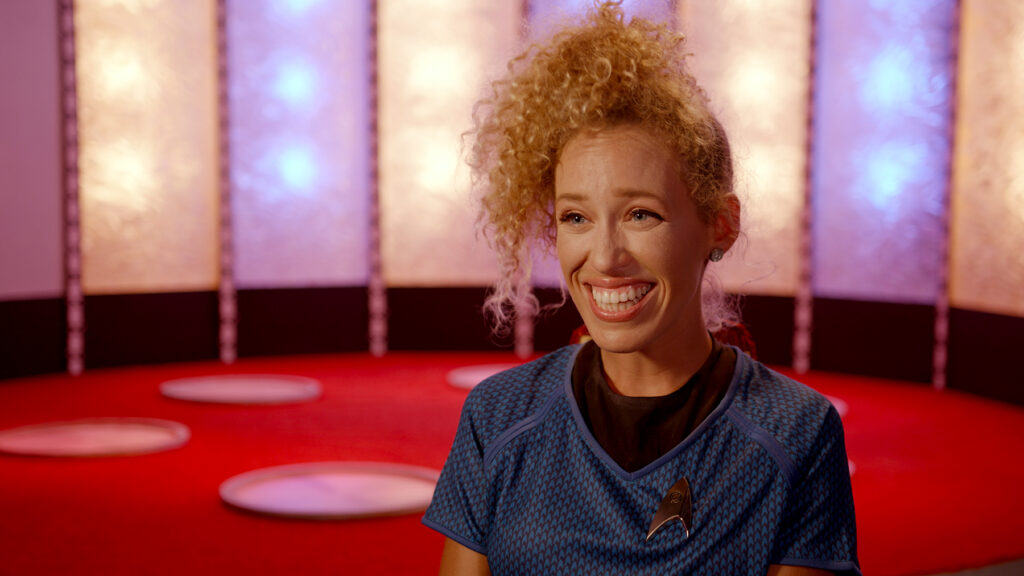 If you've never been part of the making of a fan film, it's kinda hard to explain. But there's a bug that bites ya, and then there's an itch that you just need to scratch. It's difficult to say when exactly that fan film bug bites—I guess it's different for everyone; like the moment someone realizes they're a Trekkie/Trekker—but when it does, everything can change in a heartbeat.
Or not. Some people make a fan film or participate in a production or two and they're done. And that's fine. But for many others, fan films get into your blood—sometimes into your very DNA—and then there's just no stoppin' it!
Which brings us to PIXI NEREID.
That's actually her stage name. Pixi's real name is ILIA McNEIL…and yes, the "Ilia" is actually inspired by the bald Deltan navigation officer from Star Trek: The Motion Picture, as her parents were TOS fans. And Ilia is a hardcore fan herself. But all of her friends call her Pixi, and so do I because Pixi has (almost overnight!) become a friend.
And honestly, it's hard not to absorb all of the positivity, fun, and optimism that radiates from her—so much so that you almost need to call her Pixi. And if you're wondering where that name comes from, Pixi has a side gig (along with a small number of other women in the Fayetteville, Arkansas area) performing as a mermaid at children's parties. So I suppose that Pixi Nereid isn't her "stage" name so much as her "pool" name, but whatever you call it, she's totally a Pixi!
JOSHUA IRWIN, who will be directing the new AVALON UNIVERSE fan films that are crowd-funding now (click here to donate), first met Pixi on the set of the soon-to-be-released COSMIC STREAM while filming at WARP 66 STUDIOS in northeastern Arkansas. Pixi was told about the shoot by one of her fellow mermaids, who had a role in the fan film. But Pixi didn't come to appear on camera, she just wanted to help out. In fact, she arrived and immediately told Josh that she'd be happy to be a grip for the day (a grip is someone someone who moves the lights around…not very glamorous but super-important).
It's a 108-mile drive each way from Fayetteville to the studio, so the people who volunteer for these fan film shoots at WARP 66 have to be pretty committed. After the shoot in mid-March, Josh posted the following photo and comment to Facebook…
Continue reading

"Reason #2 to donate to the AVALON GoFundMe: DO IT FOR PIXI…!"