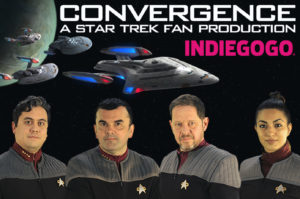 The Indiegogo campaign for the multi-crossover fan production CONVERGENCE ends in less than two days!  Convergence unites actors and elements from FIVE different fan films and series—Intrepid, Dark Armada, Starship Republic, Renegades, and the soon-t0-be-released Temporal Anomaly—under the direction of fan CGI wunderkind SAMUEL COCKINGS.
The campaign has already met its primary goal of $5,500 and currently sits at $6,040.  But if Samuel can reach $6,400, he'll be able to afford an improved late-DS9/TNG movie-era uniform…or possibly even something a little more, shall we say, futuristic (since one of the characters will be traveling back from the future).  I'm pretty sure he can make that goal before things close up.
And the campaign will be closing up.  Although reaching a goal on Indiegogo allows a campaign to continue raising funds after the campaign "ends" (it's called "In Demand" status), Samuel has no intention of doing so.  Since he's offering a lot of really exciting perks, he doesn't want CBS to think that he's trying to turn this project into an online shopping site.  (Right now, Samuel has a good relationship with CBS after making the changes they requested to Temporal Anomaly before releasing it…which is why it's been delayed.)
So once this campaign is over, it's over—and the perks will no longer be available.  If you want any of 'em, donate NOW!
There are also currently some exciting stretch goals.  At $7,000 (certainly within reach!) fans will get to see special behind-the-scenes features: bloopers, interviews, making-of documentary, etc.  $8,000 will see the addition of a NEW SCENE in the corridor (which requires a new virtual CGI "set" be created), available as a special direct-to-donors extended cut.  $9,000 funds a second exclusive NEW SCENE, this one in Engineering.  And $10,000 will allow Samuel to create a new shuttle design rather than using the existing Type 11 shuttlecraft we've all seen before.
So take those credit cards out of your wallets (assuming you're so inclined!), and let's try to give our Trekyards buddy a donation boost as far as we can:
And here's a fun little video with NICK COOK and ROBIN HIERT that knocks on that fourth wall a little while showing the quality that can be expected once this ambitious cross-over fan production is completed…