WARNING!  SPOILERS AHEAD!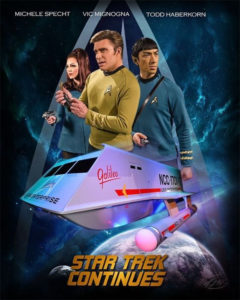 Last time: Having released a very impressive debut episode, "Pilgrim of Eternity," in May of 2013, STAR TREK CONTINUES was ready to bring fans even more episodes from what they imagined would have been the never-produced 4th and 5th seasons of TOS Star Trek.  They just needed one thing: money.
Vic Mignogna had funded their first episode himself as a way of telling fans, "Hey, this is what we can do.  Please donate so we can make more episodes like this."  Some of the sets had already been built by the team at Starship Farragut, which agreed to share their studio with STC.  Other set pieces, like the briefing room and captain's quarters, had been partially constructed in Oklahoma City for the never-made fan film Starship Ajax, and Vic purchased them from Ajax show-runner John Hughes to take to Georgia.
In 2012, Farragut Films moved to a larger studio in Kingsland, GA, with 10,000 square feet to expand into.  With their combined resources, the two productions were now able to have a TOS bridge, transporter, crew quarters, briefing room/mess hall, sickbay, and corridors.  New set construction—including improvements for the existing bridge—were overseen by local contractor William Smith, who became the de facto "custodian" of the entire set, as he lived close to the studio.
But a fan film needs more than just sets.  There was also rent for the sound stage, rent for the equipment, utilities, prop creation, costume production and rental, make-up supplies and equipment, and post-production costs for things like hard-drive storage.  Add to this costs for travel and lodging for out-of-town cast and crew plus food for everyone during the week and a half of filming.  And while most of the team were volunteers, some professionals were working at a discounted rate (about 10% of their normal fee).  It all added up!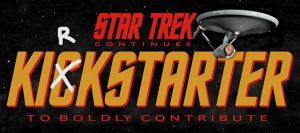 Vic determined that if STC could raise $100,000 in a crowd-funder, they could afford to make three additional episodes.  The campaign was held in late 2013, and on November 6, the Kickstarter (or KIRKstarter, as they called it) finished with $126,028 from 2,981 backers.  That was more than enough for three new episodes!
Let's take a closer look at each of them…
Continue reading "A history of STAR TREK CONTINUES (feature, part 3)"