OH, JONNY-BOY, THE SPOILERS! THE SPOILERS ARE CALLING!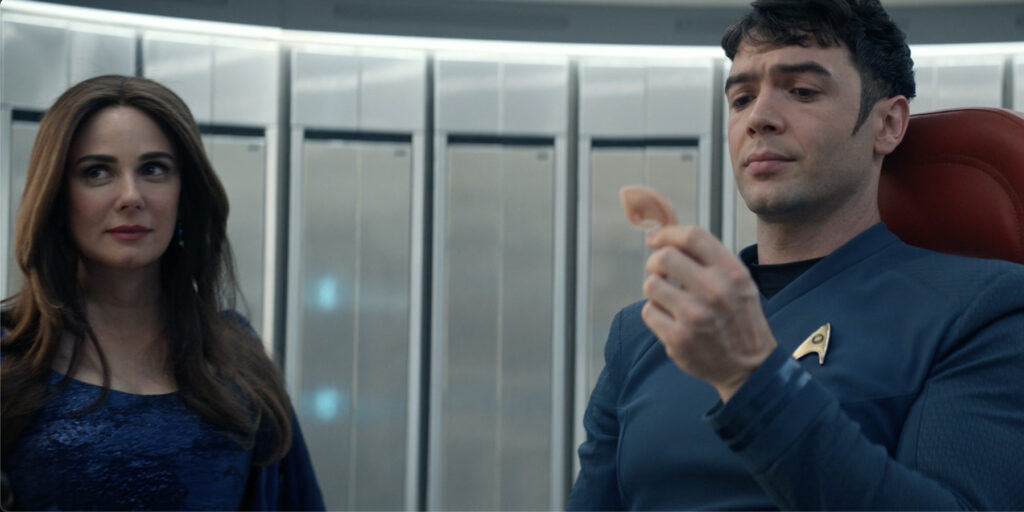 It's hard to believe that we're already half-way through season two of STAR TREK: STRANGE NEW WORLDS. However, when you have only ten episodes budgeted per season…
That said, we've now had five straight episodes without a clunker in the bunch (at least, in my opinion)! And to be honest, my hopes weren't all that high for "Charades," the fifth and latest episode. When I saw that the plot involved Spock being turned into a human at the most inopportune moment—just in time for his engagement dinner—I remembered how the last time we saw T'Pring, the two switched bodies, and hilarity ensued. And I cringed to think that, once again, a T'Pring episode (and there seem to be so many!) was going to go the way of slapstick comedy. Doesn't anyone take Vulcans seriously anymore???
So yeah, I was totally expecting to hate this week's episode. And I mean REALLY hate it. After talking last week about how Spock is being treated by the writers like the character of Sheldon Cooper from The Big Bang Theory, I was hoping that we'd get a serious Spock episode sooner or later…and this one obviously wasn't going to be it! And as the episode started, I had my shields raised and my phasers energized to write a scathing review.
And then something funny happened, or rather, something not-so-funny happened. Oh, sure, this episode had a lot of comedic moments, including ending the teaser Spock saying "What the f—" (and I don't think the last word was going to be "fascinating"). But it was also surprisingly serious in places, introspective, character-driven, and very, very human. In many ways, an episode like this represents some of the best qualities Star Trek has to offer viewers who watch for the characters and to feel what they feel. Normally, Spock is the exception to that rule, but not this time.
All right, let's unpack this episode, shall we…?
Continue reading

"STRANGE NEW WORLDS' "CHARADES" could have sucked…but it was a surprisingly STRONG episode! (editorial review)"