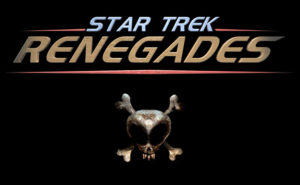 RENEGADES: THE SERIES just hosted a movie theater premiere in North Hollywood, California for their first full one-hour episode, "The Requiem."  But before there was Renegades: The Series, there was STAR TREK: RENEGADES, one of the largest, most ambitious fan film projects ever attempted.
Nearly four hundred thousand dollars in crowd-funding, multiple Star Trek veteran actors reprising their roles from the various TV series, paid industry professionals on both sides of the camera, two years in the making, enthusiastic plans to present this to CBS as a potential pilot for a new Star Trek TV series, and even a gala Los Angeles red carpet premiere at the historic Crest Theater in Westwood.
Looked at through the hindsight lens of the constraining limitations of the post-guidelines reality we now live in, it's hard to imagine that something like STAR TREK: RENEGADES could even have been attempted, let alone successfully completed and released with such fanfare.  How on earth (or in space) did they manage it?
Continue reading "A history of STAR TREK: RENEGADES – 2006-2012 (feature, part 1)"