I SING THE SPOILER ELECTRIC!!!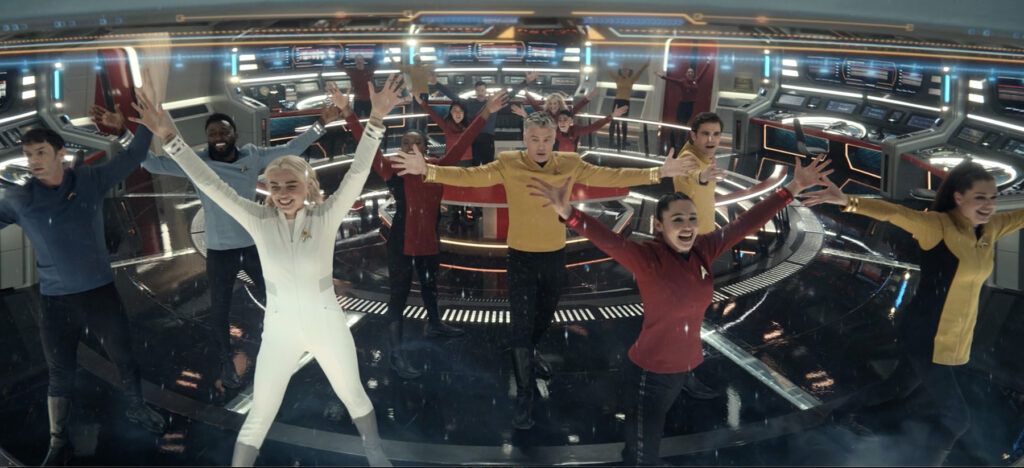 Some people just don't like musicals…but I am NOT one of them!
I LOVE live theater, and I love singing show tunes! (Yes, straight men can admit that, too!) I saw Annie on Broadway when I was 8, My Fair Lady a year later, and The King and I with Yul Brynner a couple of years after that. I saw The Wiz, Oklahoma, Cats, A Chorus Line, Grease, Miss Saigon, Les Miserables, Phantom, 42nd Street, Chess, Gypsy, South Pacific, Rent and countless others both on and off Broadway all before moving from New York City to Los Angeles in the 1990s. And I've seen a whole slew of musicals since I've been out here, as well.
Back in high school, I was in Fiddler on the Roof, West Side Story, Cabaret, and I even got a standing ovation after singing "Sit Down, You're Rocking the Boat" as Nicely Nicely Johnson in Guys and Dolls.
Meanwhile, my 12-year-old son Jayden, who is a Trekkie and watches and enjoys each new episode of STRANGE NEW WORLDS with me, announced that he would be skipping "Subspace Rhapsody" because, according to him, he HATES musicals. "I cringe when people start singing for no reason, Daddy!" he told me. Of course, his mom and dad sing for no reason, but Jayden doesn't exactly cheer that tendency, either!
Eventually, I did convince him to watch the episode with me. I explained that, if ever there was a musical he might like, it would be one set on the starship Enterprise. And while he did have his fair share of complaints during the episode—"Why would she be saying this???"—he admitted to me at the end that, "Well, this was probably the best musical I'll ever see…but I don't plan to see many musicals, Daddy."
And now that I've finished the overture, let's take the true measure of this episode to see if it cleared the bar (yes, I have many musical puns planned—brace yourselves)…
Continue reading

"A few NOTES on Strange New Worlds' "SUBSPACE RHAPSODY"… (editorial review)"