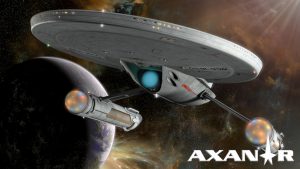 It's time for Star Trek discovery! No, not the new TV series. I'm talking about the next phase of the Axanar copyright infringement lawsuit: legal discovery.
Last week, former Axanar marketing director and tech guru, Terry McIntosh, posted on Facebook that he had just been subpoenaed by CBS and Paramount to be deposed as part of the copyright infringement lawsuit against Alec Peters and Axanar. Terry is not in any legal peril himself, as no other defendants other than Alec Peters were named in the lawsuit. Instead, the studio lawyers will probably just ask for copies of all of Terry's correspondence (e-mails, IMs, chats) with members of the Axanar team, and the studios might set up a deposition to ask Terry some (maybe even a lot of) questions either in person or over the phone.
And this means that the (coincidentally named) DISCOVERY phase of the lawsuit is now in full swing. So what does that mean?