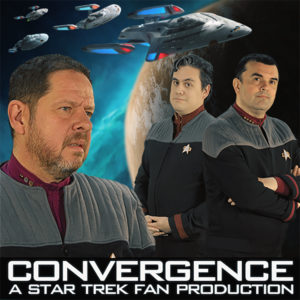 Welcome to CONVERGENCE…a fan production uniting FIVE accomplished fan films and series from FOUR different countries into ONE amazing crossover event!
And YOU can help make it all possible.
These folks have already completed one video shoot with four of their five primary actors: NICK COOK from Star Trek: Intrepid (Scotland), ROBIN HIERT from Star Trek: Dark Armada (The Netherlands), and CHRIS BURDETT and NIMRAN SAUND from the upcoming Temporal Anomaly (Great Britain). They also have a number of jaw-dropping VFX created by SAMUEL COCKINGS, life-long Star Trek fan and co-host/co-creator of the popular webseries "Trekyards." Some of this CGI will include the Archer-class starship from the original Star Trek: Renegades, as well as the villains from that fan film, the Syphon.
Their project is already well underway. But now they need $5,500 to complete it, and they've just launched a new Indiegogo campaign. Fan donations will allow Samuel to fly in his full cast for a second studio green screen shoot to get the rest of their scenes filmed with proper lighting, sound, and staging. This will include their final main actor, JIM VON DOLTEREN from Starship Republic, who will be flying to the U.K. from America, along with the others.
They've got some really nice perks that you can choose from, and thanks to a series of preview teaser promos released over the past month, the campaign is already off to a decent start, taking in about 9% of the goal in the first 24 hours (including $60 from me). It also has one of the most impressive "ask" videos that I've seen for a crowd-funding campaign in a very long time. Check it out…
After you watch that video, you'll probably be excited enough to donate. But even if you're not, you should listen to this really awesome audio interview with Samuel. Not only do we discuss Convergence, but we also discuss Temporal Anomaly, his interactions with CBS legal, the fan film guidelines, and a host of other topics that you're certain to find, as Jean-Luc Picard would say, engaging…