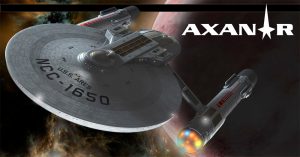 Last time, we began a fascinating discussion with PAUL JENKINS, who will be the new co-writer of Axanar.  Although ALEC PETERS has already written complete drafts of the two 15-minute short fan films allowed thorough his legal settlement with CBS and Paramount, and at least ten major iterations of the full 90-minute script exist, Alec has asked Paul to come on board to help polish and finalize all three long and short scripts.
Paul himself is a very impressive writer and film producer in his own right.  He is credited as one of the main reasons that Marvel Comics escaped Chapter 11 bankruptcy in the 1990s when he helped to create the "Marvel Knights" series of titles.  He has written a wide range of both Marvel and DC comics characters, winning an Eisner Award and five Wizard Fan Awards.  His work on Wolverine: Origin was even turned into a blockbuster feature film.
Paul has written and creative directed numerous titles for the video gaming industry, and he's worked on projects with many of the major motion picture studios.  Paul currently lives in Georgia and chairs an advisory committee to educate the Georgia General Assembly on the evolution of digital and interactive technologies.  He's also been tasked by Georgia's governor to help cultivate and nurture the growing film development industry in the state.
And now Paul will be lending his impressive talents to Axanar.
In the first part of our interview, we learned how Paul first got involved in the project, and how the announcement of his involvement almost immediately caught the attention of Axanar detractors who contacted him with very negative and angry messages.  (Seriously, guys?)
But Paul is taking it all in stride.  Having been a prolific comic book writer for more than two decades, this isn't Paul's first rodeo.  As far as he is concerned, the lawsuit has been settled, and now the job ahead is to make the next two Axanar episodes as good as they can be.
And now, back to our great interview…
Continue reading "Marvel Comics Writer PAUL JENKINS joins AXANAR as CO-WRITER! (interview, part 2)"