SPOILER WARNING (OF COURSE)!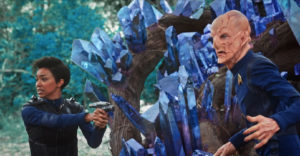 There's a misconception out there that I never write blogs that have anything nice to say about STAR TREK: DISCOVERY.  To hopefully dispel this silly rumor, I would like to acknowledge publicly that the eighth episode, titled "Si Vis Pacem, Para Bellum" ("If you want peace, prepare for war") was MARVELOUS!  I enjoyed it thoroughly in ways that I haven't enjoyed the previous seven episodes.  In short, this episode was true Star Trek.
And it wasn't just I who thought that.  Many fans, including After Trek host MATT MIRA agreed…
The woman to whom they are referring is episode writer Kirsten Beyer, who has also written nearly a dozen Star Trek: Voyager novels and is working with Pocket Books on the Discovery novels and IDW Publishing on their Star Trek: Discovery comic book series.  In other words, she's a true, long-time fan…something that I've felt has been missing from the writing of the other seven episodes.
To me at least, the Star Trek elements of this series to date have felt more like last-minute add-ons to their scripts rather than an intrinsic part of them…almost like hanging Hallmark Star Trek ornaments onto a tree at Christmas.  Underneath all those decorations, it's still just a tree without any inherent connection to Star Trek.
Not so with this eighth episode!  It really did feel like Star Trek.
Interestingly, this episode was NOT loaded up with references to canon.  It didn't need them.  While some other episodes have tended to squeeze canon Easter eggs in like sardines—as if to say, "Look at how Star Trek we are!"—this episode included only a couple: a reference to the Prime Directive and the good ol' "Needs of the many…" quote from Vulcan philosophy.  But rather than being add-ons to the story, both were essential parts of it.
Really, though, here's what made this episode feel like it had the  true spirit of Star Trek for me…
Continue reading "FINALLY…DISCOVERY does a STAR TREK episode! (editorial review)"