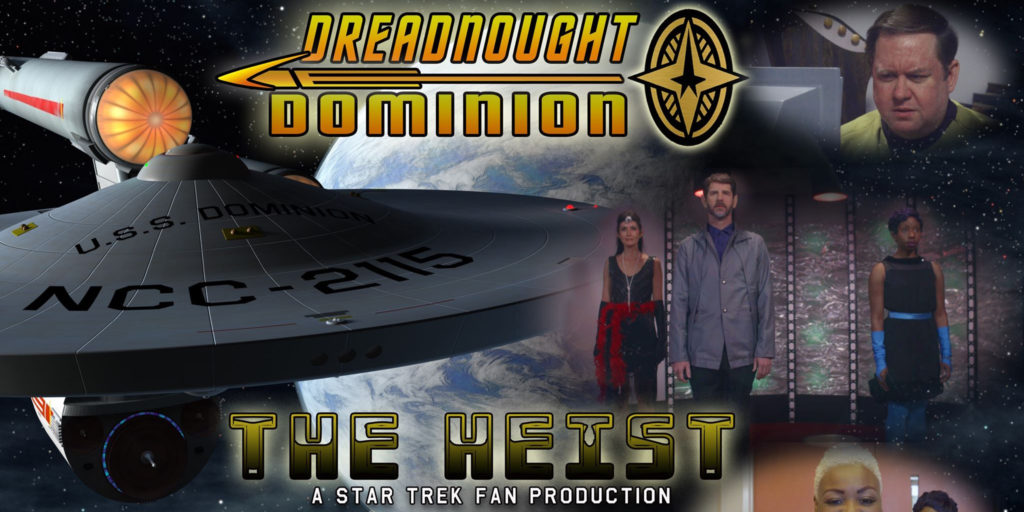 Last week on Halloween day, two brand new Star Trek fan films debuted on YouTube. I haven't had a chance yet to cover either because I was overseeing a Halloween carnival at my son's school last Thursday and then flying to Georgia over the weekend to make a fan film. But during this past week, one of those two fan films, the Avalon Universe episode DEMONS (Segment One) has already attracted over 26K views on YouTube as I write this. (And Segment Two has over a thousand views in just seven hours.)
The other Halloween release last week was the latest episode of the long-running DREADNOUGHT DOMINION: "The Heist." Since debuting, the Youtube view count for this fan film is currently a whopping…356. And that, my friends, is the main reason why I am covering Dominion first here on Fan Film Factor…well, that and the fact that I still need to interview the Demons directors—who are also MY fan film's directors—and they are both VERY sleep deprived from an incredible weekend of fan filming along with two 12-hour one-way drives between Arkansas and Georgia!
There's really no direct comparison between these two productions beyond the fact that some of the flashbacks in Demons were filmed at Neutral Zone Studios in Kingsland, GA…which is also where Dominion films. (Avalon now shoots at WARP 66 Studios in Arkansas.) But in terms of acting, lighting, sound, and a slew of other technical elements, Demons is clearly the superior production. However, if that is the only reason you're watching Star Trek fan films, you're missing a big part of what this community is all about!
Both of these projects have HEART. In fact, Dreadnought Dominion is one of those fan series that, I believe, epitomizes the very core of what makes fan films so special: FANS. They don't do this necessarily to dazzle you with their acting or filmmaking prowess. They're not looking to win awards or get millions of views on Youtube. Folks like Dreadnought Dominion, Potemkin Pictures, VANCE MAJOR's Minard and Constar Chronicles—plus a host of others—do this because it's an itch they have to scratch. They want to tell their Star Trek stories, and they want to have fun along the way. They're not afraid or embarrassed to put themselves out there for all to see…nor should they be!
So I ask you all who are reading this blog today to give this latest episode of Dominion a watch. Let's up their view count a bit. Fans with heart, who love Star Trek just as much as you do, deserve our support and encouragement. Then, after you watch, take a minute or two to read the following short interview with show-runner GARY DAVIS further down this blog page…
Continue reading

"DREADNOUGHT DOMINION's latest release: "THE HEIST""