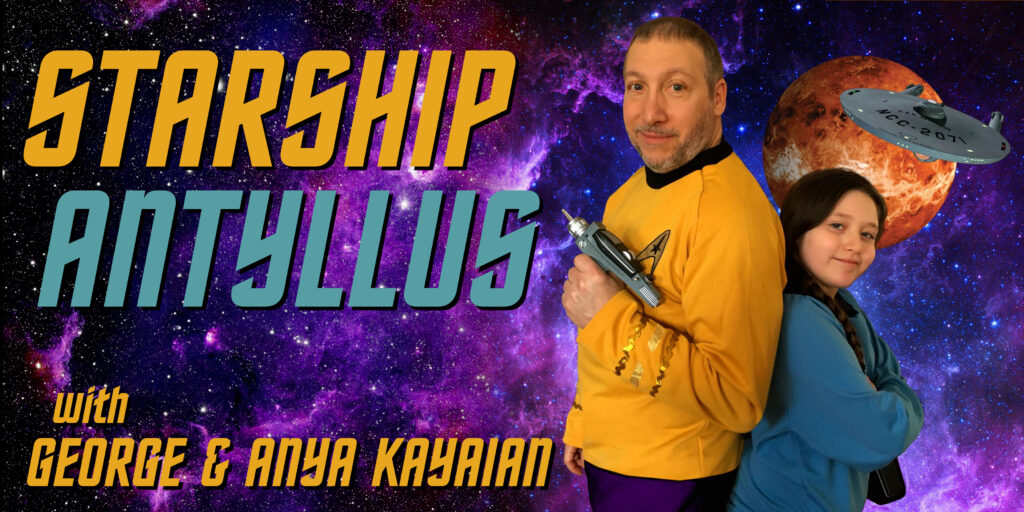 It's not unheard of to see children in Star Trek fan films. VANCE MAJOR's toddler son ROYCE has appeared in multiple episodes of the MINARD and CONSTAR CHRONICLES fan films. Dozens of KEVIN CROXTON's 4th and 5th grade Music Club students appeared in his 2018 fan film THE BUNNY INCIDENT. Parents occasionally shoot "home movie" fan films with their kids dressed in Starfleet uniforms or wearing alien masks…so there's certainly a decent representation of children appearing in Star Trek fan films.
What's more unusual, though, is finding a youngster who is actively helping to MAKE Star Trek fan films. And when I say "helping," I don't mean little things like keeping the costumes sorted or getting the props when needed. I'm talking about being an essential member of the production team, wearing any number of different hats, and really being a critical part of the entire filmmaking process from pre-production through production and into post production, as well.
ANYA SHIELA KAYAIAN appeared in her first episode of her father's long-running STARSHIP ANTYLLUS fan series in 2015 when she was five years old. More recently, she began playing a recurring crew member named Sharb, wearing an alien mask to hide her age. But just this past April, I had a chance to see Anya act without a mask, and I was so impressed! It was the fifteenth episode of Antyllus, a surrealistic inner mind exploration story titled "The House on the Water." You can check it out here (Anya comes in at the 7-minute mark)…
I've interviewed Antyllus show-runner and lead actor GEORGE KAYAIAN before, but I was so intrigued by the very mature and convincing performance of his daughter, that I asked George if Anya might be interested in participating in an audio interview with her dad.
Anya was thrilled at the opportunity, and so was I. While I enjoy interviewing a wide variety of fan filmmakers, I almost never get a chance to interview kids. And as a father of a 9-year-old myself, I looked forward to chatting with 10-year-old Anya, as that is a really great age (they're not quite teenagers yet!).
Of course, when you're dealing with younglings, you never know what to expect. Some kids are comfortable talking to adults while others can be quite nervous and shy. But what I got from Anya simply blew me away! Until my own son Jayden has his next birthday in September, Anya is absolutely, positively my favorite 10-year-old. She's smart, upbeat, fun, precocious, well-spoken, and throughly impressive on all levels. I'd say she'll make a great filmmaker someday, but as far as I'm concerned, she's already there!
But don't take my word for it. Listen to one of my most favorite audio interviews that I've done so far…