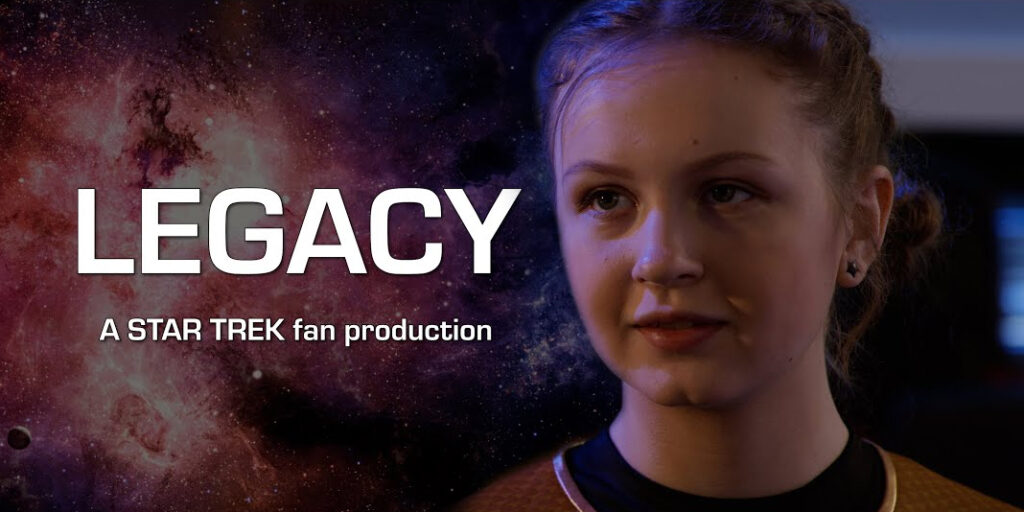 Fans got their first taste of what JOSHUA IRWIN and VICTORIA FOX were capable of producing on Halloween in 2018 with the release of GHOST SHIP, the first of what would become multiple Star Trek fan films set in the "Avalon Universe." This similar-yet-slightly-different Starfleet features a mix of uniforms from TOS and the Kelvin timeline with starships that look nearly the same as TOS but are a teensy bit different. It's an intriguingly fresh take on Trek.
The production quality of their first Star Trek fan film, shot on the TOS sets at Neutral Zone Studios in Kingsland, GA, towered over most Trek fan films primarily because Victoria and Josh are themselves both professionals in the filmmaking industry in Arkansas. The following year, Victoria and Josh released two more films in their Avalon Universe: AVALON LOST and DEMONS, each even more impressive than the previous one.
And now in 2020, just five days before the end of the year, they've released their fourth Avalon fan film, LEGACY, a short vignette that will lead into their major fifth release, AIR AND DARKNESS. Filming on that project just completed a few weeks ago at WARP 66 STUDIOS in Mountain Home, Arkansas.
And speaking of WARP 66 Studios, Legacy was also shot there on GLEN WOLFE's TOS bridge set. But as you'll see from the fan film, the bridge underwent some noticeable modifications to mimic the look of the U.S.S. Ares bridge set in Lawrenceville, GA. And indeed, an Ares-class starship, the U.S.S. Athena, is the setting for this vignette, with visual FX done by his lordship—or is it shiplord?—SAMUEL COCKINGS. The music was composed by ADAM MULLEN, who has been scoring scores of VANCE MAJOR's many MINARD and CONSTAR fan films and has recently begun scoring for DAVID CHENG's many cosplay fan films that have come out this year. Adam is a busy guy!
This latest vignette was started back in January. You might not think that 3 minutes worth of fan film (plus another minute or so of credits) with only two VFX shots would take nearly a year to complete. Well, I need to take at least some of the blame for that, as Legacy writer/director Victoria and DP/editor Joshua were often pulled away from their busy lives to work on another little fan project called INTERLUDE for a very demanding executive producer named Jonathan. That fan film is nearly completed, just inches from the finish line. And I truly appreciate them splitting their spare fan filmmaking time between Legacy and Interlude.
But crossing the finish line first (only slightly) is Legacy, and I invite you now to check it out…